XM690 The organization of Australian tribes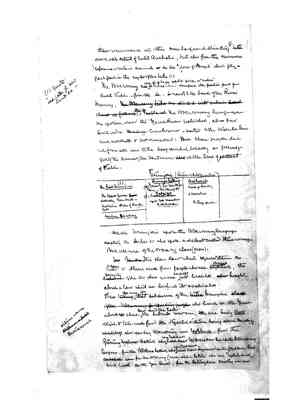 8
their occurrence in other more backward standing tribesover a vast extent of Central Australia, but also from the numerous references to certain animals as the "sons of Bunjil" which play a great part in the myths of this tribe (1).
[Left margin note - (1) quote old tales from new lands &c-]
The Woeworung was on of a large related group, or "nation" tribes which occupied the greater part of Central Victoria - from the Sea [crossed out - to] nearly to the banks of the River Murray. [Crossed out - The Woeworung tribe was divided into certain] [crossed out - clans as follows: - the people] The Woeworung language was spoken over the Yarra River watershed, and as far South inland as [crossed out - Dandenong] Cranbourne - western Werribee River and northwards to Mt Macedon: But these people did not form all one tribe being divided locally as follows:- giving the names of the Headman [crossed out - who] at the time of settlement of Victoria.
[Table]
[Title] Wŭrunjeri (Wŭrun = white gum tree)[Column 1](3) The Real Wurunjeri [underlined] The Upper Yarra [crossed out - from]including Yarra Flats - Northern slope of Dandenong Mtns.Southern [Mackay?]
[Column 2](a) [Kurnage-belung?] [underlined]Yarra R from Yarra Flat down - the Plenty R (b) Bebejan [underlined] Saltwater River up to Mt Macedon [Billibilleri?] [underlined]
[Column 3]Boiberit [underlined]west of Sunbury and Werribee.Bŭng-erim
All the Wurunijeri spoke the Woeworung language excepting the Berberits who spoke a dialect called [thŭri-wurung?] - But all were of the Waang class (crow).
The clan law which which required them as waang crows to obtain wives from people who were Bunjil (Eaglehawk), the segregation of the two class names severally into localities [crossed out - also] [?] about a law which was local in its application.
Thus [crossed out - taking] the men of that subdivision of the [crossed out - tribes] Wurunjeri [crossed out - also] [crossed out - of the Woeworung for speaking people] who lived in the Yarra about where Kew and the eastern the suburbs now are, [crossed out - the] were being crow [underlined] obliged to take wives from the Ngarūk Willŭm living about Dandenong who although also speaking Woeworūng were Eaglehawk [underlined], from the Gūnŭng [crossed out - willum] Ballŭk who were Eaglehawk lived near Mt Macedon but spoke Būnwurung language, from the Būthera balluk who were Eaglehawk lived near Seymour on the Goulburn River [crossed out - and spoke ?] from the Waring (cave) illŭm ballŭk who were Eaglehawk and lived on the Yea River, from the BalŭungKara Muttŭng who were
Last edit 3 months ago by
Christine
XM759 Field notebook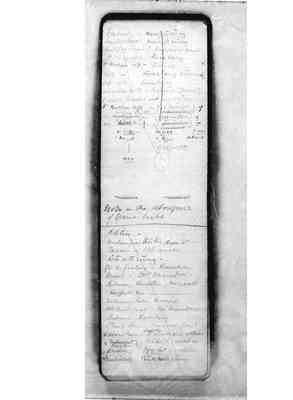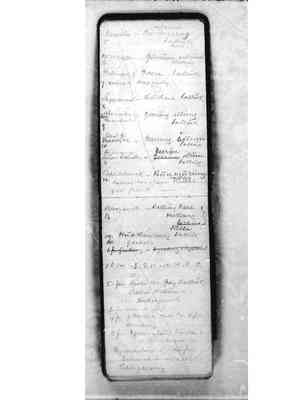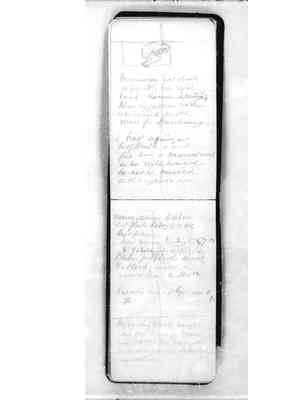 [Drawing of grave and placement of body in foetal position]
Murawin now was stuckin ground by his right hand. [Buaurn? a Mūrŭp crossed out]When my father [mother?] was buried the old man from Dandenong
- half ngŭrungait and half Doctor said give him a murriwun in his right hand he never missed a Kangaroo -
[next page]
Yerun illum Kūlin eat flesh belonging to all leg and foot and arms. 1. 3, 5 7 13 ------8. 9 & kidney fat. (11 & 14) kidney fat. Western Port blacks [drink?]the blood, as well asarm and legs 2. 4. 12
Eat skin only - of legs & [arms?] 8. 9.[7 crossed out]_______________________________________Jajawrung blacks caught an old man frm Yarraand took out his kidney fat he went as far as [Betty Oak?]and died.
Last edit about 1 month ago by
ALourie
XM765 Field notebook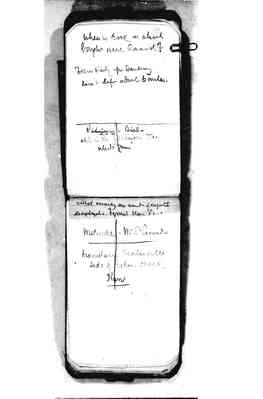 Last edit about 1 month ago by
ALourie