hw0391 Notes by Howitt on Kulin from Barak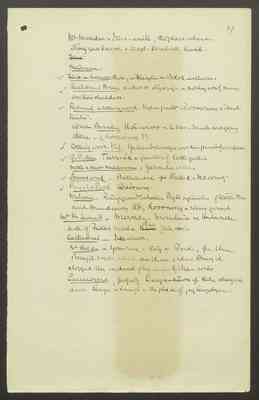 Last edit about 1 year ago by
ALourie
68The Jajaurong (Ja-jau – Lips or mouth wurong eg. Speech)_______________________________________________See Brough Smith quoting the remarks of E S Parker and J Parker – vol 1 p 41. 42 Parker's work is The Aborigines of Australia – a lecture – 1854 – probably in the Melbourne Library.Parker was the Superintendent of the aboriginal Station at "Jim Crow" near Daylesford – in the Jajaurung country – of where the old story is told thus – a blackfellow said of him:"Kobon that one yabber "gib-it daily head – but baal that one gib it damper".He says "the Jaj owurrong inhabited the plains and tributaries of the Loddon."J Parker says "the Ja-jow-er-ong was divided into seven tribes.(1) Leak a bulluk(2) Pila-uhin-goondeetch (3) Kalk-Kalk-goondeetch x(4) Wong-hurra-ghee-rar-goondeetch(5) gal-gal – bulluk(6) Ton-num-burr-lar-goondeetch(7) Way-re-rong-goondeetch
Parker says of (7) that in their country was the only quarry of tomahawk stone to which all of the neighbouring tribes resorted for a supply. He also says that the Jajaurong country extended from the Eastern slopes of [the - crossed out] Mt Macedon to the Pyrenees. This includes the country which William Berak claimed as belonging to one of the divisions of the Woiworung – namely Mt Macedon and the Tomahawk quarry which was[?] the inheritance of one "mob" of which Billibileri* was the Headman.
[written in left side margin](E. S Parker)(I think theson of J Parker)
x i.e. people of theforest (Kalk-Kalkfor Kalk=wood)
*see next pagere Billibelari- who was evidentlya Jajaurong:
Last edit 23 days ago by
ALourie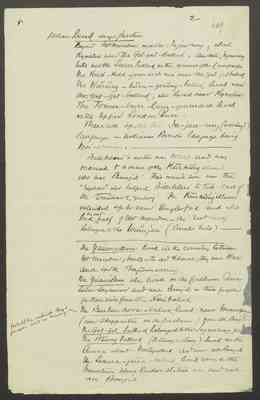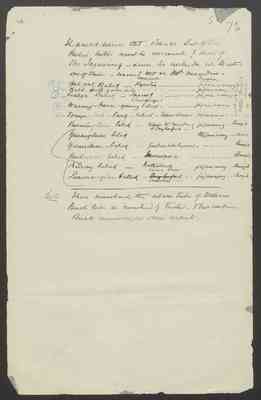 hw0429 Questions for William Berak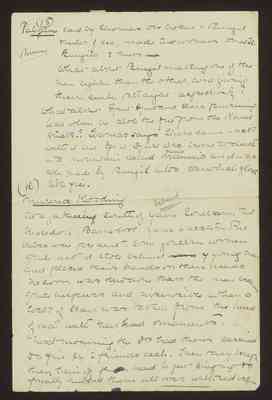 15 Palyan said by Thomas to be brother to Bunjil+ ruler of sea made two women to matchBunjil's 2 men [made - crossed out]What about Bunjil making one of themen lighter than the others, and givingthem curly or straight respectively?What about Djent Djent and Thara pursuingWaa when he stole the fire from the Karaigūrk? Thomas says Thara came backwith it that Djurt Djurt was buried to deathinto mountain called munnid munis and wasafter made by Bunjil into a star which glowslike fire.
(16)Murena KoodingAt a gathering south of Yarra Goulburn, MtMacedon, Barrabool Yarra a Western Porttribes were present. Some Goulburn womenquite naked stole behind [some - crossed out] young menand placed their hands on their headsno soon was this done than the men becamequite helpless and insensible when alock of hair was taken from the headof each with their head ornaments.
Next morning the drs had them carriedto the fire by 2 friends each. Then they scrapedtheir hair off from head to feet - singingfinally rubbed them all over with red ochre
[written in left side margin]Thomas
Last edit 5 months ago by
ALourie