XM600 Wakelbura ceremonial gatherings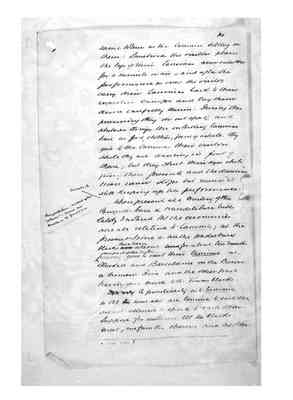 14same totem as the tarrimas sitting onthem. Sometimes the visitors placethe legs of their tarrimas across each otherfor a minute or two - and after theperformance is over the visitorscarry their tarrimas back to their respective camps and lay themdown carefully therein. During thisproceeding they do not speak andwhatever things the onlooking tarrimashave as food, clothes, fancy articles theygive to the tarrimas their visitorswhile they are dancing in front of them; but they shut their eyes whilegiving these presents and the dancing man never stops but receives itstill keeping up his performance.
When present at a meeting of theBurgullabura + Wandilibura tribeslately I noticed that the ceremonieswere all relative to tarrima; at thepresent time x all the Wakelburablacks have been [are - crossed out] absent [and - crossed out] for about ten monthsone part of the tribe having gone to visit their tarrimas atBlackall and Barcaldine on the Barcooor Thomson River and the other parthaving gone north to the Towers blacks.
A peculiarity as to tarrimais that two men who are tarrima to each otherare bot allowed to speak to each other.Suppose for instance that two blacksmeet, one from the Barcoo and the other
x- [?1851?]
[written in left side margin]see contra A
Burgullabura - called after"plains" - classes areMallera + Yungera
Last edit over 1 year ago by
ALourie
hw0305 Letter from Cameron to Howitt 14/July/1884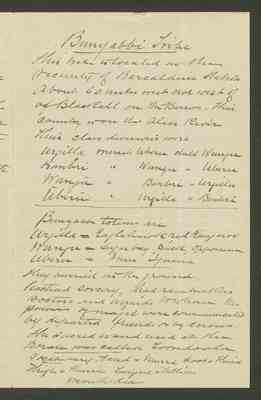 Bunyabbe TribeThis tribe is located in thevicinity of Barcaldine StationAbout 60 miles west nor west ofof [sic] Blackall on the Barcoo. Thiscountry is on the Alice RiverTheir class divisions wereUrgilla marries Uberu child WunguBanbri [ditto] Wungu [ditto] UberuWungu [ditto] Banbri [ditto] UrgillaŪberū [ditto] Urgilla [ditto] Banbri
Bunyabbe totems areUrgilla = Eaglehawk, red KangarooWungu = Sugar bag, Duck, OppossumUberu = Emu Iguana
They burried [sic] in the groundPracticed sorcery, had rain makersDoctors and wizards to whom thepowers of magic were communicatedby departed friends or by dreamsThe sacred wand used at theBorah was called ToondoolaVocabulary Hand= Murra Foot=ThinaThigh= Thurra Toungue=Tallienmouth=dea
Last edit 4 months ago by
ALourie
tip70-10-33-19 Howitt to Fison 26 September 1878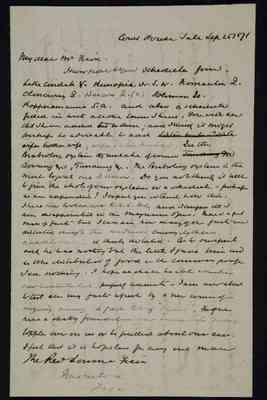 Court House Sale Sept 26 1878
My dear Mr Fison I now post you schedules fromLake Condah V. Kunopia N.S.W. Nomaulin Q. Cloncurry Q. Barcoo Q. (2) Solomon Is. Kopperamanna S.A. and also a schedulefilled in with all the terms I have. You will see that I have added two or three; and I think it mightperhaps be advisable to add [Sisters brother's Sister -crossed out] wife's brother's wife, wife's sister's husband. In the Brabrolong system they would be of course [Tundung +c - crossed out]Bowung &c, Tundung &c. The Brabrolong system is the most logical one I know. Do you not think it wellto give the whole of your system in a schedule - perhapsas an appendix? I expect you intend to do this.I have now looked over R. B. S. book and I confess that Iam disappointed in the Magnum Opus. There is a great mass of facts but I can see how many of the facts aredistorted through the meduim conveying them, and their value is thereby distorted. As to our special work he has nothing but the little I gave him and as to the distribution of food in the common group I see nothing. I hope we shall be able to make our contribution perfectly accurate - I am now aboutto test all my facts afresh by a new course ofenquiry among a fresh lot of "Kurni." For if we have a shaky foundation our house will perhapstopple over on us or be pulled about our ears. I feel that it is hopeless for any one man The Rev. Lorimer FisonNavuloa Fiji
Last edit about 21 hours ago by
ALourie
XM667 Handwritten notes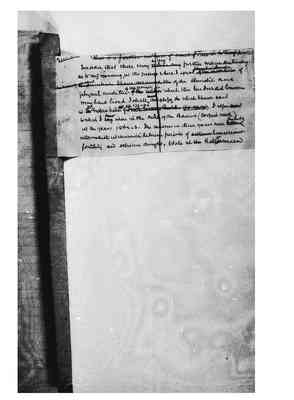 [This is a farther instance of want of care on Mr Lang's part- crossed out]In order that there may [not be any- crossed out] be no further misunderstandingas to my meaning, in the passage where I speak [of the conditions - crossed out] of[the country know which I have assumed the - crossed out] of the climatic andphysical conditions of the country in [of the under - crossed out] which the Undivided Commonsmay have lived I shall amplify what I have saidin [the - crossed out] my Native tribes [of South Eastern Australia (pp 172, 173) - crossed out] pp 173-174. I refer [now - crossed out]to what I [say- crossed out] saw when in the delta of the Barcoo (Cooper's creek)in the years 1862-3. The seasons in these years were [I think - crossed out] probablyintermediate in character between periods of [extreme -crossed out] luxuriantfertility and extreme drought. While at [the - crossed out] Kaliomaru
Last edit about 1 month ago by
ALourie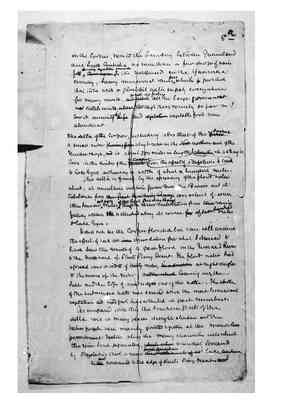 8aon the Cooper, near to the boundary between Queenslandand South Australia no more than a few drops of rainfell during [there were - crossed out] during eighteen months. To the northwards on the Yaurukacountry, heavy monsoonal rains fell which providedthat tribe with a plentiful water supply everywherefor many months, [and filled- crossed out] as well as filling all the large permanent[wat- crossed out] catchments [where - crossed out]. All through their country so far as Isaw it animal [life -crossed out] and [vegetation - crossed out] vegetable food wereabundant.
The delta of the Cooper, including also that of the Fromea small river [flowing from - crossed out] which rises in the [North - crossed out] northern end of the Flinders range, and is about 350 miles in length from the offset of Strezelecki's creek [along the - crossed out] in a straight line in the direction of the [From -crossed out] Cooperto Lake Eyre and having a width of about a hundred miles.
This delta is formed by the spreading of the flood waterwhich, at uncertain intervals pour down the Barcoo and itstributaries from [the Great Dividing Range - crossed out] an extent of somethree hundred and fifty miles of the Great Dividing Range and the lesser distribution from [the - crossed out] rainsfalling within the watershed along its course [for - crossed out] of seven hundred milesto Lake Eyre.
I did not see the Cooper flooded but can well conceivethe effect of such an [inn - crossed out] inundation from what I observed tohave been the result of a great flood in the Everard Riverto the northward of Sturts Stony Desert. The flood waters hadspread over a width of twenty miles, [in a direction - crossed out] at right angles to the course of the river [and the whole - crossed out] leaving only thehills and the tops of sand ridges out of the water. The wholeof the submerged tracts were covered with the most luxuriantvegetation and wild fowl had collected in great numbers.
As compared with this the southern parts of thedelta were in many places drought stricken and thetribes people were mainly gathered together at the more or lesspermanent waters along the many channels into whichthe river had separated, [which exte - crossed out] extending southwardsby Strezelecki's creek to near [South Australia the settlements at - crossed out] Lake Callabonna[to the - crossed out] and northwards to the edge of Sturt's Stony Desert
Last edit 5 days ago by
ALourie