XM689_ICDMS_lowres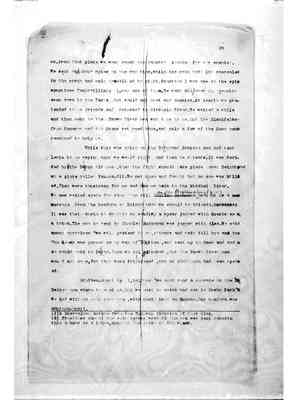 35.
so. From that place we went round the country looking for our enemies.We sent out four spies in the day time, while the main body lay concelaedin the scrub and only travelled by night. Sometimes I was one of the spiessometimes Tankewillin (p ), was one of them. We went all over the countryeven down to the Tarra, but could not meet our enemies. At length we pre-tenede to be friends and returned to Mitchell River. We waited a whileand then sent to the Snowy River men who came to us. But the blackfellowsfrom Maneroond the Ovens returned home, and only a few of the Omeo menremained to help us.
While this was going on the Dairgo and Braiaka men had sentlewin to me saying that we would fight and then be friends. it was deci-ded by the Dairgo old men, that the fight should take place nearDeightonat aplace called Yau-un-dit. We met them and fought but no one was kill-ed. They were too strong for us and ran us back to the Mitchell River.We now waited again for some time till one of the Brataualung brought us amessage from the Headman at Dairgo that we should be friends. it was their custom to do this bysending a spear jagged with quartz asa token. The one he sent by Charley Buchanan was jagged with glass. We saidamong ourselves "we will pretend to be friends and wait till bye and bye.The spear was passed on by way of Bruthen, and sent up to Omeo and so round and back to Dairgo. Then we all gathered, but the Snowy River menwould not come, for they were frightened, two of their men had been spear-ed.
Bruthen-munji (p ), told us "we must send a message to theDairgo men where to meet us, but we must be quick and get to BushyPark"We had with us Omeo men, with their Headman Nukong. Our Headman wasBruthen-munji.
(I) A Brabralung native from the Wuk-Wuk division of that clan.(2) Sometimes one of the skin aprons worn by the men was sent round inthis manner as a token, hung at the point of the spear.
Last edit 7 months ago by
ALourie