tip70-10-24-1 Taplin to Fison 5/9/1872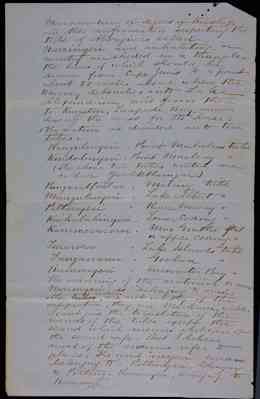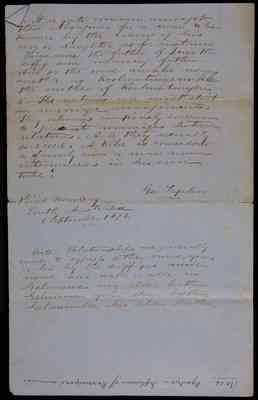 It is quite common amongstthese Aborigines for a man to beknown by the name of hisson or daughter as for instanceTina arni the father of Tina thesuffix arni meaning father.And so the word anikke meansmother as Koolmatinyeanikkethe mother of Koolmatinyeri.5. The natives are most strictin marriage arrangements.They always anxiously endeavourto present marriages betweenrelatives. And they usually succeed. A tribe is considereda family and a man neverintermarries in his owntribe.
Point MacleaySouth Australia5 September 1872
Note. Relationships are generallymade to express either mine, yours,or his by the suffixes auwenowe and walle or alle as Gelanowe my elder brotherGelauwe your elder brotherGelauwalle his elder brother
[upside down on bottom of page]No. 4 Ngaitye - Inflections of Narrinyeri nouns
Last edit 8 months ago by
ALourie
tip70-10-24-2 Taplin to Fison 5/9/1872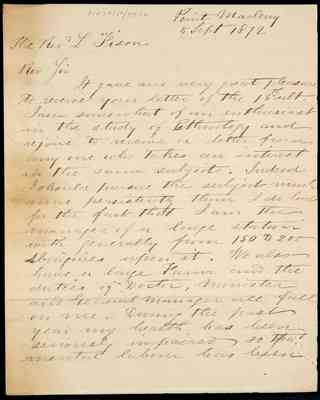 Rev SirIt gave me very great pleasureto receive your letter of the 13th ult.I am somewhat of an enthusiast in the study of Ethnology and rejoice to receive a letter fromany one who takes an interestin the same subject. IndeedI should pursue the subject much more persistently than I do butfor the fact that I am themanager of a large stationwith generally from 150 to 200Aborigines upon it. We lso have a large Farm and the duties of Doctor, Ministerand General Manager all fall on me. During the pastyear my health has been seriously impaired so thatmental labour has been
Last edit 6 months ago by
ALourie
tip70-10-24-3 Taplin to Fison and Smithsonian Schedule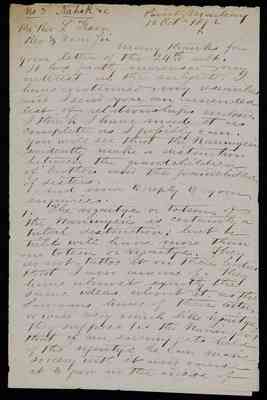 No. 3 Nahik +cPoint Macleay15 Octr 1872The Rev L FisonRev & Dear SirMany thanks foryour letter of the 24th ult.It has greatly increased myinterest in the subject. I havecontinued my researchesand I send you an amendedlist of relationships enclosed. I think I have made it ascomplete as I possibly can.You will see that the Narrinyerievidently make a distinctionbetween the grandchildrenof brothers and the grandchildrenof sisters.And now to reply to yourenquiries.1. The ngaitye or totems of the Narrinyeri is certainly atribal disctinction; but atribe will have more thanone totem or ngaitye. Theydo not tattoo it on their bodiesthat I am aware of. Theyhave almost exactly thesame ideas about it as theSamoans have of their aitic,a word very much like ngaitye.They suppose (i.e. the Narrinyeri)that if an enemy gets hold of the ngaitye he can makesorcery with it and causeit to grow in the inside of
Last edit 6 months ago by
ALourie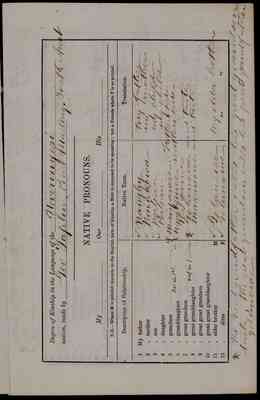 [table]
Degree of Kinship in the Language of the Narrinyerination, made by Geo Taplin, Point Macleay, South Aust
NATIVE PRONOUNS
My Our HisN. B. - Where M is printed opposite to the English term of kinship, a Male is supposed to be speaking; but a Female where F is so printed.
Description of Relationship. Native Term. Translation.
1 My father Nanghy my father2 [ditto] mother Nainkowa my mother3 [ditto] son porlean my child4 [ditto] daughter Porlean my child5 [ditto] grandson Maiyarare. Fathers sidenot in [?1°1 or 1st?] Ngaityuwe mothers side6 [ditto] granddaughter the same7 [ditto] great grandson not in 1* Gelanowe and Tarte8 [ditto] great granddaughter Maranowe and Tarte9 [ditto] great great grandson10 [ditto] great great granddaughter11 [ditto] elder brother M Gelanowe my elder brother12 [ditto] ditto F Gelanowe [ditto] [ditto]
[written under table at bottom of page]* The Great grandfather calls his great grandsontarte, the great gradnson calls his great grandfathergelanowe
Last edit 8 months ago by
ALourie