tip70-10-33-6 Brazier to Howitt 28/10/1873
Mission Station, Condah, Oct.28.1873
My dear Howitt
I have been long in sending you thesefew answers, & even now they are not complete. I will however[??] send you the other list "A" as early as possible. It is quitelikely that some of these answers or names may not be covered, asthe aborigines seem to have forgotten many of their words & theyconstantly use English representations for their naive terms. I putthese questions to a number of blacks all being seated at theirleisure round a table in the dormintory, & having obtained thebest answer available, I set it down. We were two hours in going through the lot, & this time was equally disbanded overtwo sittings. Probably you know how difficult it is to makethese people understand what one means in presenting a question.Sometimes also even when the question was understood, theyhad to think & talk before the right word came. I tell you thisin order that you may see that I have done the best in mypower to make these answers correct, & if you find any difficultyin classifying the, the real cause may be that there is some error.However,I have kept a copy of this & you can refer to any wordby the figures, & so get a little cross questioning done. I am notstudying the language of the blacks, as I cannot use it for [??]& the people are fast forgetting it.
My spare time is mostly devoted to classics & elementafy mathematicswith a view to teaching my children. I wish I had a mapping and drawing facility like yours, for my geography lessons.
Can you tell me (1) Into what lake does the Murray River flow (Victoriaor Alexandria or something else) 2. Is Taylor the butcher using or abusing mypaddock in the gully on your side of the river. I can get no rent. When is thenext county court at Bairnsdale.We are all well, & join in kindest regards to you & Mrs Howitt & children
I remain your faithfullyAmos Brazier
Mr. Howitt Esq. P.M.
Last edit 3 months ago by
ALourie
tip70-10-33-7 Howitt to Fison 29/12/1873
for you some tabulated relationshipsfrom the Snowy River and Buchan blacks.The Bidwelli tribe have so far eluded me.I am anxious to meet with the last remainingmembers as it is almost extinct and is interesting as having been secludedin the dense jungle east of the Snowy River and some peculiarities mayhave been evolved.
I also enclose a communicationfrom my correspondent the Revd ABrazier from Lake Condah. It isimproved but is still contradictoryand I have sent him two dozenqueries for reply which I trust willcomplete that system.
I am very glad that I havebeen able to be of some servicein your enquiries. I have takenmuch interest in everything
Last edit 3 months ago by
ALourie
tip70-10-37-3 Rev Stahle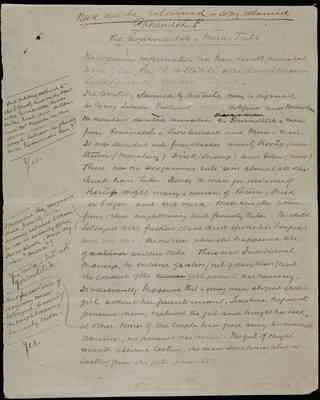 Need not be returned - copy retainedAppendix FThe Gournditch=Mera Tribe
The following information has been kindly furnishedto me by the Rev. J. H. Stahle of the Church MissionLake Condah, Western Victoria.The territory claimed by this tribe may be definedas lying between Portland, [Lyons], Hotspur and MacarthurIts members described themselves as Gournditch - mera [crossed out] above Gournditch is mera = man]from Gournditch = Lake Condah and Mera = Man.It was divided into four classes namely Kerup (water)Bum (mountain) Dirck (Swamp) and Gilger (river)There was no exogamous rule as in almost all otherAustralian tribes. Hence a man for instance ofKerup might marry a woman of Bum, Dirckor Gilger and vice versa. Wives were also takenfrom other neighbouring and friendly tribes. The childbelonged to the fathers class and spoke his languageand not that of the mother when she happened to beof [crossed out]- a strange another tribe. There was Individual marraige by exchange of sisters (not of daughters) andthe consent of the [crossed out] - womans] girls parents was necessary.
Last edit 3 months ago by
ALourie
tip70-10-41-11 Brazier to Howitt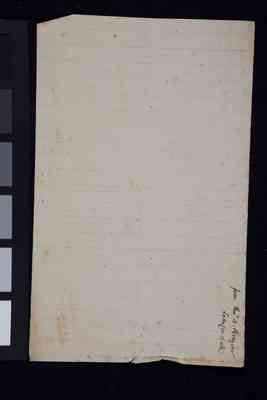 Last edit over 1 year ago by
ALourie
hw0414 Notes on Mukjarawaint with a map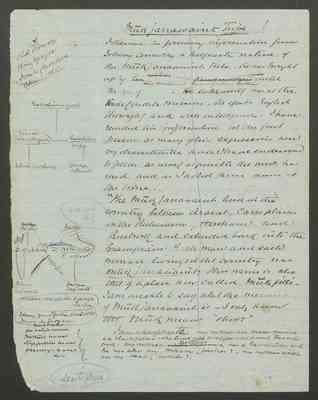 Mūkjarawaint Tribe
Old TurnerKing Major Donald CameronCharlotte
[Genealogy]
Gart-chŭka-gurkYirani Gartchukagurk - Gartchŭka WifeJohnny Gartchŭka George Wūrant
I obtained the following information from Johnny Connolly, a half-caste native of the Mukjarawaint tribe. He was brought up by his maternal grandfather's brother until the age of [blank]. He subsequently was at the Lake Condah Mission. He speaks English thoroughly and with intelligence. I have recorded his information in the firstperson as many of his experioences werevery characteristic and I have endeavoured to follow as near as possible the words heused and as I noted them down atthe time.
"The Mūkjarawaint lived in the country between Ararat, Carrs Plainson the Buchaussan [?], Horsham andBrrehork [?] and extedned back into the Grampains. Each man and each woman living in that country wasMukjarawaint. The name is alsothat of a place now called Mūkpilli.I am unable to say what the meaning ofMūkjarawaint is - I only knowthat Mūk means "short".
I am a half caste my mother was never married to a blackfellow. She lived with a digger who found Pleasant Creek. My mothers [sisters husband - crossed out] brother was a Gartchuka andhe was also my maam (father) - my mothers sisterwas my baap (mother)
Last edit 3 months ago by
ALourie