tip70-10-33-6 Brazier to Howitt 28/10/1873
Mission Station, Condah, Oct.28.1873
My dear Howitt
I have been long in sending you thesefew answers, & even now they are not complete. I will however[??] send you the other list "A" as early as possible. It is quitelikely that some of these answers or names may not be covered, asthe aborigines seem to have forgotten many of their words & theyconstantly use English representations for their naive terms. I putthese questions to a number of blacks all being seated at theirleisure round a table in the dormintory, & having obtained thebest answer available, I set it down. We were two hours in going through the lot, & this time was equally disbanded overtwo sittings. Probably you know how difficult it is to makethese people understand what one means in presenting a question.Sometimes also even when the question was understood, theyhad to think & talk before the right word came. I tell you thisin order that you may see that I have done the best in mypower to make these answers correct, & if you find any difficultyin classifying the, the real cause may be that there is some error.However,I have kept a copy of this & you can refer to any wordby the figures, & so get a little cross questioning done. I am notstudying the language of the blacks, as I cannot use it for [??]& the people are fast forgetting it.
My spare time is mostly devoted to classics & elementafy mathematicswith a view to teaching my children. I wish I had a mapping and drawing facility like yours, for my geography lessons.
Can you tell me (1) Into what lake does the Murray River flow (Victoriaor Alexandria or something else) 2. Is Taylor the butcher using or abusing mypaddock in the gully on your side of the river. I can get no rent. When is thenext county court at Bairnsdale.We are all well, & join in kindest regards to you & Mrs Howitt & children
I remain your faithfullyAmos Brazier
Mr. Howitt Esq. P.M.
Last edit 23 days ago by
ALourie
tip70-10-33-7 Howitt to Fison 29/12/1873
for you some tabulated relationshipsfrom the Snowy River and Buchan blacks.The Bidwelli tribe have so far eluded me.I am anxious to meet with the last remainingmembers as it is almost extinct and is interesting as having been secludedin the dense jungle east of the Snowy River and some peculiarities mayhave been evolved.
I also enclose a communicationfrom my correspondent the Revd ABrazier from Lake Condah. It isimproved but is still contradictoryand I have sent him two dozenqueries for reply which I trust willcomplete that system.
I am very glad that I havebeen able to be of some servicein your enquiries. I have takenmuch interest in everything
Last edit about 1 month ago by
ALourie
as well as much [??] surveyabout 54 sqr miles round Bairnsdale.Add to this all my evenings occupiedwith examination of the metal mineral+c of that district and I think you willsee that I am at any rate not oneof those who have spare time to devoteto ethnological imquiry and do not avail themselves of it.
The marks I have made uponMr Braziers document will not Ihope be in your way.
Believe me my dear Mr FisonYours faithfullyA. W. Howitt
Last edit 23 days ago by
ALourie
tip70-10-41-11 Brazier to Howitt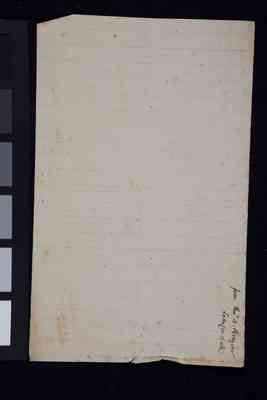 Last edit about 1 month ago by
ALourie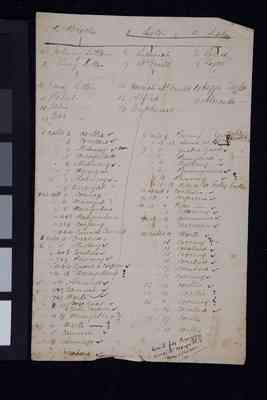 1 Brother - 2. Sister - 3. Sister
4. Johnny Sutton 6. Susannah 8. Louisa5. Lucy Sutton 7. McDonald 9. Taylor
10. Emily Sutton 14 Hannah McDonald 17. Haggie Taylor11. Robert - 15 Alfred - 18. Alexander - 12. John - 16 Euphemia -13. Eva -
1 calls 2 cockie ✓ 6 calls 9 Penneng[ditto] 3 cocahera ✓ [ditto] 10-18 same as 4 _ ? mutatis mutandis[ditto] 4 Mahmong ✓ son 7 [ditto] 1 Quat-a-Quat ✓[ditto] 5 Werongahera [ditto] 5 Penenghera✓[ditto] 6 Mahmong ✓ [ditto] 6 Mallong ✓✓[ditto] 7 Werongat [ditto] 8 Penenghera ✓[ditto] 8 Mahmong ✓ - [ditto] 9 Peneng ✓ ?[ditto] 9 Werongat [ditto] 10-18 Like 4 or Sookey Sookey [could be Lookey Lookey]2 + 3 call 1 cocung ✓ 10-13 call 1 cookurn ✓[ditto] 4 Werongat ? 14-18 [ditto] 1 Napoom ✓[ditto] 5 Werongahera 10-13 [ditto] 4 Pepi _ ✓[ditto] 6 + 8 Pahpinhera [ditto] [ditto] 5 Nurrung ✓[ditto] 7 + 9 coopeng 14-18 [ditto] 4 quummi ✓[ditto] 10 to 13 Curruck Curruell [ditto] [ditto] 5 carreen ✓2 calls 3 cocahera ✓ 10 calls 11 Warti ✓4 [ditto] 5 Mullong ✓ [ditto] 12 coocung ? ✓[ditto] 6+8 Cocahera ✓ [ditto] 13 cocahera ✓[ditto] 7 + 9 Penneng ✓ [ditto] 15 coocung ✓[ditto] 10 to 13 Quart + coopurn ✓ [ditto] 16 cocahera ✓[ditto] 14-18 Werrongathera ? [ditto] 17 cocahera ✓5 [ditto] 4 Annup ✓ [ditto] 18 coocung ✓5 [ditto] 6 + 8 camuch ✓ 13-10 cockie ✓[ditto] 7 + 9 Warti ✓ 13-14 cockie ?[ditto] 10-13 Boys, Quart ✓ Girls, Coopurn ✓ 14-11 coocung ?[ditto] 14-18 Werrongathera ? [ditto] 16 cocahera ✓6 [ditto] 4 Warti _ ? 18 [ditto] 17 cockie[ditto] 5 Camuch ✓ [ditto] 10 cockie[ditto] 7 Annup ✓8. Cocahera ✓
[at bottom of the page in black pen] Wait for Brazier'sans. to Howitt's questions
Last edit 16 days ago by
ALourie