hw0421 Notes by Howitt on the Wotjobaluk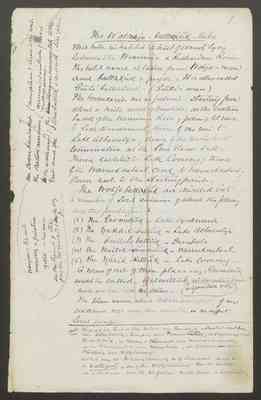 1The Wot- jo-ballŭk - tribeThis tribe inhabited a part of country lying between the Wimmera and Richardson Rivers.The tribal name is taken from Wotjo = man and ballŭk = people. It is also called Gūli bullaiak. (Guli = man).The boundaries are as follows : - starting from about a mile north of Dimboola on the eastern bank of the Wimmera River following that river to Lake Hindmarsh thence by the river to Lake Albacutya, thence by the river to its termination at the Pine Plains Lake.Thence eastward to Lake Coorong; thence by the Warracknabeal creek to Warracknabeal;thence west to the starting point.
The Wotjo ballŭk are divided into a number of local divisions of which the followingare the principal:
1. The Gromillŭk - Lake Hindmarsh2. The Yakkil - ballŭk - Lake Albacutya3. The Kreitch ballŭk - Dimboola4. The Weitch wŭndaiŭk - Warracknabeal5. The Yárik-killŭk - Lake CoorongA man of one of these places eg Gromillŭk would be called Gromillŭk or Gromillŭk Wotjo in describing himand so on with the others. The totem names which I shall now speak of are scattered all over the country in the different Local groups.
Note: the people who lived at Lake Hindmarsh were Kromillŭk - Dimboola and Horshamwere Jūraballŭk, Jŭngping were Yaram [balluk - crossed out] biŭk, at Longerong were Jó-in ballŭk, at Murtoa + Warranoke were Waitchwŭndaioke,and at Waracknabeal were Yarambiŭk, at Ledcourt [were - crosesd out] and Mŭkpilly were Wotojoballaiuk.Old Bob says that Johnny Connolly is of Ledcourt and is a Watagoli- one of the Wotjoballaiuk . That his mother was a black woman but that his father made him a halfcaste.
[written in left side margin]Wenjen = lie on itsMarong = pinetreeGitch = has beensee the legend of thepine tree that reached to the sky p.
The Doen bauraket (doen = planes) lived to the westThe Balŭk mernén (mernen = sandhills / [??] it"sand hill fellows"to the northwards: the [Wen-crossed out] Wengen marongitch to theEast and the Jūroballŭk to the south Jūro = plain
Last edit 6 months ago by
ALourie