XM98_ICDMS_lowres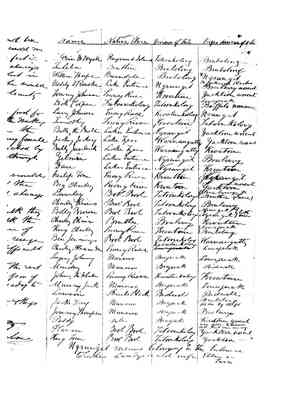 [Table]
Name, Native Place, Division of Tribe, Wife's division of tribe
William McDougall, Raymond Island, Tatoonkolong, BrabolongTuleba, Bruthen, Brabolong, BrabolongWilliam Thorpe, Bairnsdale, Brabrolong, *Ngrangit the entrancal Blacks.Neddy O'Rourke, Lakes Entrance, Ngrangit, Braberry worcutTommy Johnson, Snowy River, Kroathun, Yacktoon worcutDick Cooper, Tatoonkolong, Tatoonkolong, Lowajerak Buffalo womanLarry Johnson, Snowy River, Kroatunkoolong, NrangitTimothy, Snowy River, Kroathun, TatoonkolongBilly the Bull, Lake Entrance, Ngrangit, Yacktoon worcutJacky Jacky, Lake Tyres, Warrnangatty, Yacktoon worcutBilly Jumbuck, Lake Tyres, Warnangatty, KroatoonYelmi, Lake Entrance, Ngrangit, BraberryDan, Lakes Entrance, Ngrangit, KroatoonKerlip Tom Snowy River, Kroatun, NgrangitBig Charley, Snowy River, Kroatun, Yucktoon worcutLamby, Bool Bool, Tatoonkolong, Brabeerry Brathu (turee)*Charley Rivers, Bool Bool, Tatoonkolong, BraberryBobby Brown, Bool Bool, Tatoonkolong, Ngrangit Ngrangit (both wives)Charley Muir, Bruthen, Braberry, KroathunKing Charley, Snowy River, Kroatun, Lowajerak BrabolongBen Jennings, Bool Bool, Tatoonkolong, Warrangatty Charley Alexander, Snowy River, Kroatunkolong, LowajerakSinging Johnny, Maneroo, Brajerak, LowajerakMunday, Maneroo, Brajerak, BidwellJohnny the plater, Snowy River, Kroatunkolong, KroatunMurray Jack, Maneroo, Brajerak, LowerjerakLawson, Scrub black, Bidwell, Bidwell. Jack Hay, Maneroo, Brajerak, Brabrolong taken by theftJimmy Thompson, Maneroo, Brajerak, Braberry Paddy, Sale, Brajerak, Kroatun worcut has girls - to himdid not marryHanner, Bool Bool, Tatoonkolong, Yacktoon worcutKing Tom, Bool Bool, Tatoonkolong, Yacktoon
Ngrangit means belonging to the Entrance to Lakes. Lambys +c and wife Ellen are Tara
Last edit 3 months ago by
ALourie
XM689_ICDMS_lowres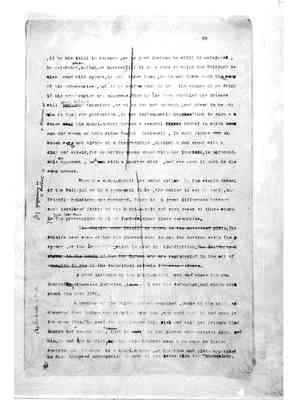 39
if by his skill in defence, or by good fortune he still is uninjured,by gujerung, kulluk, or kurning (I) (???) If it is a case in which the Wait-jurk isalso armed with spears, he may throw them, or he may throw back those weaponsof his adversaries, but it is seldom that he has the chance of doing soif his adversaries are numerous. When he has been disabled his friendswill almost certainly interfere, or if he has had enough, and gives in he mayrun to them for protection. It not infrequently happens that in such acases the Nungi-nungit became a general combat in whichmen and women of both sides fought furiously. In such fights awoman was no always at a disadvantage, against a manarmed with aclub and shield, for an active woman armed with her Yamstick, is as formi-able an ooponent, as a man with a quarter staff, and she uses it much in thesame manner.
When the Nungi-nungit has ended either by the single ordealof the Wait-jurkor by a general fight, the matter is set at rest, andfriendly relations are restored. There is a great difference betweensuch legalised fights as the Nungi-nungit and such cases as those wherein (??) the prosecution of blood feuds without these ceremonies,
The shields were paintedas shown in the subjoined plate, Theshields used were either the Bamaruk that is one for turning aside thespears or the (?) which is used in club fighting. The latter areshown in the hands of the teo Kurnai who are represented in the act ofengaging in one of the individual ordeals for some offence.
A good instance of the Nungi-nungit was one where the man Bunbra, otherwise Jetbolan, (p ) was the defendant, and which occuredabout eh year 1850.
A brother of the Tulaha before mentioned, awoke in the night andobserved that Bunbra was standing over him, who said that he had come forsome fire. The next day the former fell sick and told his friends thatBunbra had "caught him" that is he had placed smoe magical spell onhim. By and bye he died, and his male kindred sent a message to Bunbradesiring him to come to a Nungi-nungit. At the time and place appointedhe dult appeared accompanied by many of his clan the Tatungalung,
Last edit 3 months ago by
ALourie
hw0404 Notes on Kurnai 150 pages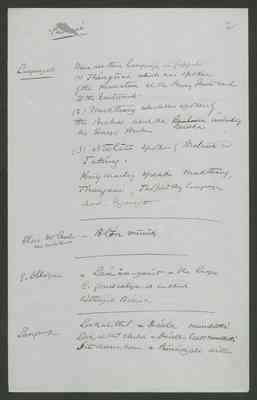 Languages There are three languages in Gippsland(1) Thángūai which was spokenby the Krauatun at the Snowy River and to the Eastward.(2) Mukthang which was spoken bythe Braha and the [Bialaua - crossed out] Baiaka includingthe Dargo [?Mountains?](3) Nūlīt spoken by Brataūa andTatŭng.King Charley speaks Mukthang,Thanguai, Twofold Bay languageand Ngarego
Blue Mt ParrotBlue Mountain Parrot - Blēn mūrūk
E. Oblique = Laú-ŭn-gerŭt - the largeE. goniocalyx is calledBūnjil Binak
LanguageLook at that = Deála mundattiLook at that child = Deálla leet mundittiSit down here = Būnŭngali ditta
Last edit about 1 month ago by
J Gibson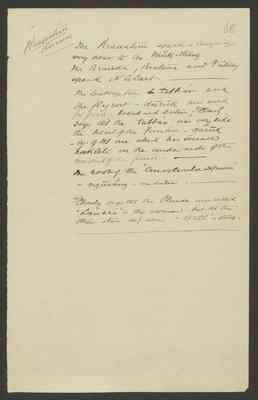 68Krauatun KurnaiThe Krauatun speak a languagevery near to the mŭk-thāngThe Braiaka, Brataua and Tatungspeak Nūlart.The Cabbage tree tabbár andthe flag root – dūrūk were usedfor food, baked and eaten; King Charleysays that the tabbár was very likethe head of the ferntree- gárūk-i.e. of that one which has smallhooklets on the under side of themidrib of the frond.The root of the "convolvulus sepium"- ngūrŭng – was eaten.
King Charley says that the [?Oluade?] were called"Laúeri" = the women but that theother stars only were "Brīl" = stars.
Last edit 4 months ago by
ALourie