XM526_ICDMS_lowres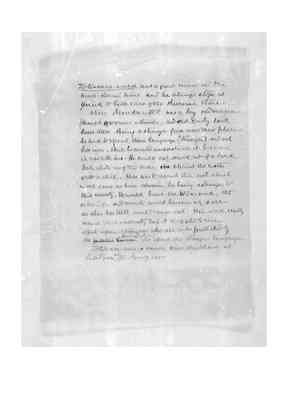 Toto-wara-wara was a great man in the muk-kurnai time and he always stops atYerick to take care of the Kurnai there. When Bundawāl was a boy old Morgan(Bunjil gwaran = thunder) and old Darby tookhim [??]. Being a stranger from another placehe had to speak their language (Nangai) and nothis own. But he could understand it because it was like his. He could only drink out of a bark bowl while one of the men stirred the waterwith a stick. This was to avoid the evil which would come in him otherwise he being a stranger to this country. He would have the Wia-wuk reallyis his lips and mouth would become [??] as also his teeth would come out. Wia-wuk really means "Bad-country" but it is applied to theeffects upon strangers who are not all protected by the [people Kurnai -crossed out] Brataualung who speak the Nangai languageTotawara-wara is known to all the blacks at Lake Tyers and the Snowy River.
Last edit 3 months ago by
ALourie
hw0404 Notes on Kurnai 150 pages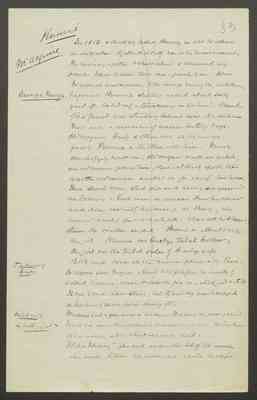 33Kurnai
McAlpineNunga NungaIn 1856 a black boy called Benny was with McAlpineas stock rider. A girl called Sally was in the house as servant.They ran away together to Snake Island + remained away6 weeks. When they returned there was a great row. When McAlpine went down to the camp hearing the disturbancehe found Bennie standing naked about sixty yards off. He had only a turnmung in his hand. A numberof his friends were standing behind him at a distance.There were a number of women beating rugs.Old Morgan Darby + others were at the campfacing Bennie + the others with him. Muchspeechifying went on. Old Morgan made an oration,an old woman followed him, then Old Darby spoke thenanother old woman and so on for nearly two hours.Then several men stood out each having one spear andone boomerang. Each man in succession threw his spear and then instantly his boomerang at Benny, whohowever warded off or dodged all. When all had been thrown the matter ended. Bennie was allowed to keepthe girl. Bennie was Darby's tribal brother;the girl was the tribal sister of Darby's wife.Both were born at the same place - the Tarra.
Taking FatMcAlpine saw Morgan + Darby take fat from the inside ofa dead Kurnai, roast it over the fire on a stick and eat it.It was to make them strong, but they were very much enragedat his having seen them doing it.
Witchcraft + taking fatMcAlpine had a young man in his service. This man one morning said"I shall die - some blackfellow has done something to me." He lay downin his camp and in about six weeks died."[?Poldue?] Johnny" also died under the belief that someone had taken his fat out while he slept.
Last edit 3 months ago by
ALourie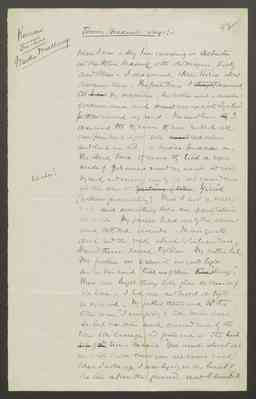 42Kurnai
Tommy Hoddinot says:-
Doctors Mulla MullungWhen I was a boy I was camping at Albertonin the Police Paddock with Old Morgan, Darbyand others. I dreamed three times aboutthe same thing. The first time I [thought - crossed out] dreamedthat [I was - crossed out] my old father, his brother and a number of old men came and dressed me up with Lyrebirdfeathers round my head. The second time [they - crossed out] Idreamed that they came they were rubbed all over from head to foot with [naial - crossed out] red ochreand each one had a budda brillda on.The third time they came they tied a ropemade of fish sinews round my waist and roundmy neck and swung me by it and carried mein the air to [Yertŭng (Wilson - crossed out] Yirŭk(Wilsons promontory). There I saw a wall of rock and something like an opening betweentwo rocks. My father held me by the armand took me inside. It was quitedark and the rocks shut to behind me,I heard them knock together. My father ledme further on to where it was quite lightand he then said "take one of these [Kīn - crossed out] "thing".There were bright things like glass on the side ofthe wall. I took one and held it tightin my hand. My father then said to theother men "I am going to take him back."He led me out and carried me by therope to the camp and put me in the limb[top - crossed out] of [the - crossed out] a tree. He said "You must shout outnow to let them know you are come back."When I woke up I was lying on the limb of the tree above the ground and I then did
[written in left side margin]Whales?
Last edit 3 months ago by
ALourie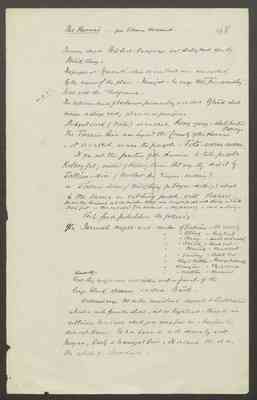 48The Kurnai per Tommy Hoddinot
Tommy speaks Nūlert language and Billy Wood speaksMŭkthang.The people at Yanaki - when the sand hills are were calledby the name of the place - Nanjet - he says this name has somethingto do with the "Badground".The extreme end of Wilsons promontory is called Yīrŭk whichmeans a steep rocky place - or precipice.Stockyard Creek (Foster) is called Kong-gong = White headed osprey.The Tarwin River was beyond the Country of the Kurnai- it is called as are the people - Toto-worra-worra.It was not the practice of the Kurnai to take people'sKidney fat; instead of killing them that way they did it byTallán-din (Noolert for Tongue-chokeing [sic]) or Tállan-dian (Mŭkthang for Tongue-choking) whichis the same as catching people with Barn.It was the Brajerak and the Melbourne Blacks who caught people with strings and tooktheir fat - this was called by the Kurnai - ngarang = cord or string.
As for food prohibitions the following:The Jeraeils might eat males if Dakwŭn = Bk Wallaby[ditto] [ditto] Blāng = Ringtail[ditto] [ditto] Baui = small scrub wallaby[ditto] [ditto] Baiŭk = Bush rat[ditto] [ditto] Menŭk = Bandicoot[ditto] [ditto] Taiŭng = Rabbit Rat[ditto] [ditto] Būnjil Wattŭn = Phascogale [?pencilata?][ditto] [ditto] Wrangŭn = Flying mouse[ditto] [ditto] Wattŭn = opossum[But they - crossed out]But they might not eat either male or female of the large black opossum called Brŭk.Hoddinot says that on the mainland opposite to Rabbit Islandabout a mile from the shore - not on high land - there is anentrance to a cave which goes very far in - how far hedoes not know. He had been in to it when a boy withMorgan, Darby + Warrigal Jim. It is said that it wasthe abode of Baakan.
[written in left side margin]see p. 90
Last edit about 2 months ago by
ALourie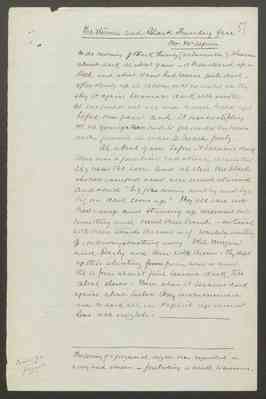 51the Kŭrnai and Black Thursday fireMr McAlpine
On the morning of Black Thursday (at Tarraville) it becamealmost dark at about 9am - it then cleared up alittle and about 11 am had become quite dark -after clearing up at 12 noon so that we could see thesky it again became so dark with smoke that one could not see one's hand held up before one's face and it was so stiflingthat the youngsters had to get under the houseon the ground in order to breathe freely.
At about 9am before it became darkthere was a peculiar red streak across thesky near the sun and at this the blackswho were camped near were much alarmed and said "big fire coming and by and byebig one dark come up". They all ran intotheir camp and standing up screamed outsomething and waved their hands - motionedwith them towards the sun as if warding somethingoff, or driving something away. Old Morgan and Darby were there with them. They keptup this shouting [from - crossed out] for an hour or morethat is from when it first became dark tillabout eleven. Then when it became darkagain about twelve they recommencedand as dark set in kept it up more orless all night.
Cooing of a pigeonThe cooing of a pigeon at night was regarded asa very bad omen - foreboding a death to someone
Last edit 3 months ago by
ALourie