XM524_ICDMS_lowres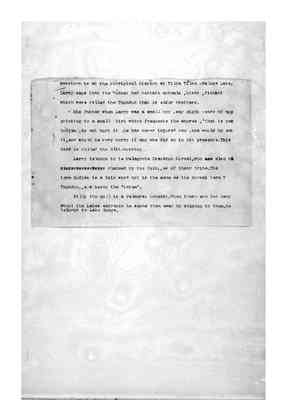 Merriman is at the Aboriginal Station at Tilba Tilba - Waloga Lake.Larry says that the Kurnai had certain animals, birds, fish&ctwhich were called the Thundun that is elder brothers.
His father when Larry was a small boy, say eight years of agepointing to a small birk [sic] which frequents the shores, "that is yourbudjan, do not hurt it. He has never injured one, nor would he eatit, and would be very sorry if any one did so in his presence. Thisbird is called the Blit-burring.
Larry belongs to the Malagoota Krauatun Kurnai, who are alsoclaimed by the Yuin, as of their tribe. The term Budjan is a Yuin word but is the same as the Kurnai term Thundun, as being the "totem".
Billy the Bull is a yalmerai (shark). When there are too manyabout the Lakes entrance he sends them away by singing to them. Hebelongs to Lake Bunga.
Last edit about 1 month ago by
ALourie
XM702_ICDMS_lowres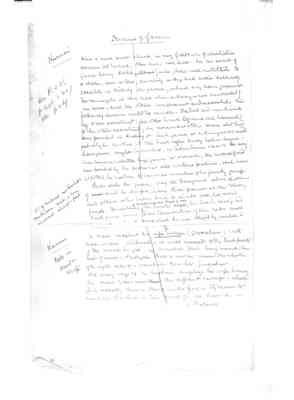 Division of GameKurnai[written in left side margin] take in under at ※A man supplied his wife's mother? [Howitt's question mark] (giveabun) with meat – called Nebŭrak – it would consist of the best parts of the meat he got – eg Wombat flank being considered thebest of meats – Billy the Bull's mother received the whole of the right side of a wombat from her Giveabun.Old Mary says that the husband employs his wife to carry the meat to [her mother - crossed out] the different camps – when it is usually thrown down on the fire – they seem to have an objection to take food from the hand.Bulmer.
Last edit 15 days ago by
PMF Donovan
XM98_ICDMS_lowres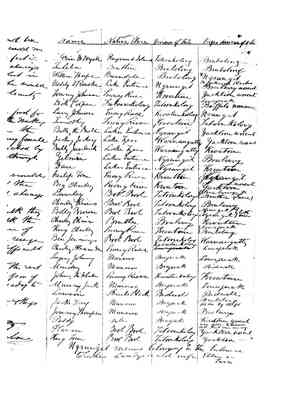 [Table]
Name, Native Place, Division of Tribe, Wife's division of tribe
William McDougall, Raymond Island, Tatoonkolong, BrabolongTuleba, Bruthen, Brabolong, BrabolongWilliam Thorpe, Bairnsdale, Brabrolong, *Ngrangit the entrancal Blacks.Neddy O'Rourke, Lakes Entrance, Ngrangit, Braberry worcutTommy Johnson, Snowy River, Kroathun, Yacktoon worcutDick Cooper, Tatoonkolong, Tatoonkolong, Lowajerak Buffalo womanLarry Johnson, Snowy River, Kroatunkoolong, NrangitTimothy, Snowy River, Kroathun, TatoonkolongBilly the Bull, Lake Entrance, Ngrangit, Yacktoon worcutJacky Jacky, Lake Tyres, Warrnangatty, Yacktoon worcutBilly Jumbuck, Lake Tyres, Warnangatty, KroatoonYelmi, Lake Entrance, Ngrangit, BraberryDan, Lakes Entrance, Ngrangit, KroatoonKerlip Tom Snowy River, Kroatun, NgrangitBig Charley, Snowy River, Kroatun, Yucktoon worcutLamby, Bool Bool, Tatoonkolong, Brabeerry Brathu (turee)*Charley Rivers, Bool Bool, Tatoonkolong, BraberryBobby Brown, Bool Bool, Tatoonkolong, Ngrangit Ngrangit (both wives)Charley Muir, Bruthen, Braberry, KroathunKing Charley, Snowy River, Kroatun, Lowajerak BrabolongBen Jennings, Bool Bool, Tatoonkolong, Warrangatty Charley Alexander, Snowy River, Kroatunkolong, LowajerakSinging Johnny, Maneroo, Brajerak, LowajerakMunday, Maneroo, Brajerak, BidwellJohnny the plater, Snowy River, Kroatunkolong, KroatunMurray Jack, Maneroo, Brajerak, LowerjerakLawson, Scrub black, Bidwell, Bidwell. Jack Hay, Maneroo, Brajerak, Brabrolong taken by theftJimmy Thompson, Maneroo, Brajerak, Braberry Paddy, Sale, Brajerak, Kroatun worcut has girls - to himdid not marryHanner, Bool Bool, Tatoonkolong, Yacktoon worcutKing Tom, Bool Bool, Tatoonkolong, Yacktoon
Ngrangit means belonging to the Entrance to Lakes. Lambys +c and wife Ellen are Tara
Last edit about 1 month ago by
ALourie
XM689_ICDMS_lowres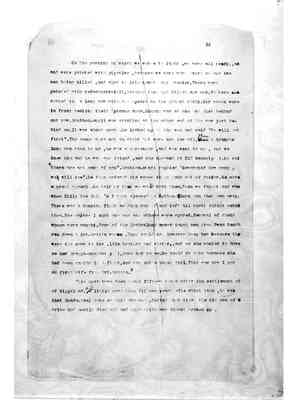 36
On the morning on which we were to fight, we were all ready,and were painted with pipeclay, because we were very angry at our twomen being killed, and also to frighten our enemies. These werepainted with redochre (naial), vbecause they had killed our men. We wereseated in a long row withour spears on the ground ready. Our women werein front beating their 'possum rugs. Nukong was at one end just behinfour row. Bruthen-munji was standing at the other end of the row just be-hind me. It was about noon. He looked up at the sun and said "We will eat first". The enemy were not in sight but were not far off. Then a Brabralungman came to us, he was a messenger, and was snt to us, but weknew him and he was our friend, and the husband of Old Nanny (p ). He said"there are not many of you". [Bruthen-munji]] replied "Nevermind how many,we will see". He then ordered the women to go back out of danger. he madea great speech. he told us that we would beat them. Then we fought andwhen Billy the Bull's father speared a Kutbun-taura man they ran away.There was a running fight as they ran off and left all their things behindthem. Bye and bye I shot one man and others were spared. Several of theirwomen were caught. Some of the Brabralung young men from Swan Reachran down a Brt-britta woman. They could n ot however keep her because theywere too near to her, like brother and sister, and as she wanted to haveme her Breppa-mungan (p ), gave her to me. He could do this because shehad been caught in a fight, and was not a young girl. This was how I gotmy first wife from Brt-britta".
This must have been about fifteen years after the settlement ofGippsland, and a little more than fifteen years after that time, it wasthat Bunda-waal gave me this account. During that time the old men of thetribe had mostly died off and the tribe was almost broken up.
Last edit 9 days ago by
ALourie
XM92_ICDMS_lowres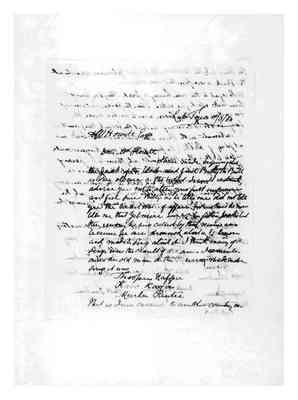 Lake Tyers 11/3/84
A.W. Howitt Esq
Dear Mr Howitt
I have made enquiry aboutthe Jaak of the blacks and find Billy the Bullis very obscure on the subject. I would certainlyadvise you not to alter your past informationas I feel sure Billy as he tells me did not tellyou the exact state of affairs [Instead? ......] he nowtells me that Yelmire was not his father's Jaak butthe reason he was called by that name wasbecause he once dreamed about a Yelmireand made a song about it. I think many of thesongs were the result of dreams. I rememberonce an old man on the Murray made such asong, it was Thoopu NappuKaro KooraMurla Rintee
That is it was carried to another country on
Last edit about 1 month ago by
ALourie