XM765 Field notebook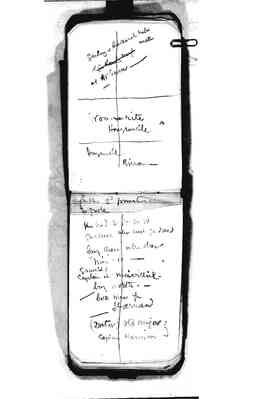 XM775 Field notebook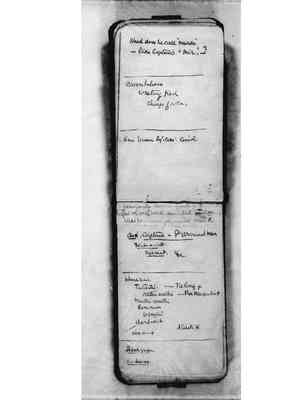 Last edit about 1 month ago by
ALourie
hw0419 Wotjobaluk Notes, Songs, Maps etc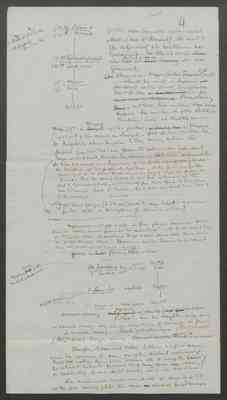 4[chart](1) M Barim +(1) F Mim ①
(3) M Tenamet-jaurlich(4) F Sera nim
(5) major(6) wife
no child
(1) This man belonged to a place calledMarr (near St Arnaud). He went tothe Wotjo country at Pine Plains nearYellamjip. He claimed a wife [then - crossed out][who was at Lake Coorong - crossed out] from that place who wasGanutch.[(2) - crossed out] Their son Major's father Tenamet-jaurlichwho claimed his country at St Arnaud [at - crossed out]also claimed as his country Pine PlainsHis wife was [a Laitchi- Laitchi - crossed out] from[and was a Kilpara - crossed out] Pine Plains.[Then -crossed out] and took her mother's clan nameKilpara. Her mother was of the Laitchi-laitchi tribe at Kulkyne.
Major (5) is [Bunjil - crossed out] Wrappel after his father, [or speaking - crossed out] and Wrappel(Eagle hawk) is the same as Bunjil. But after his mother heis Kilpara when he goes to the Murray tribes. Hispaternal grandmother was gamulet and as to her tribe descentruns in the female line [??] where is [??] tribe is Gamutch.He takes his country as a Jajauworung from his father + grandfather; he alsohas Pine Plains after his father who lived there, and also from his grandfatherwhose wife was from that place. He also claims the country where his father wasburied. Thus the country of which he was "free" is bounded in thewest by Yanambrak creek, on the north from Lake Tyrrel to Pine plainsnear Yellamjip, South to Murtoa (where his father was buried) and East toto St Arnaud.
(7) the child of Major (had he one) would he says take his namefrom his mother a Woring class from Alexandra - but ?
Major could not get a wife at Pine plains because it wasthere his mother came from - and his "mother's blood" would be too near to himin the people there. He would have to go to some place where there were no people "too near to him". Horsham would do because he had friendsthere who would find him a wife.
yaur= flesh = totem = class
M Nga-pung brother + mother - brotherF Kukuk sister + sister sister
F Lera-nim ngalŭk daughter
Major - māp-gurk daughter
cannot marry [māp-gurk - crossed out] ngaluk (daughter of [mo gra - crossed out] mother'sbrother) nor his daughter - māp-gurk-cannot marry any one in this line of descent as faras could be traced. Read "forbidden degree" of Wotjoballuk([?Bob ?Nephew?]) Major said "cannot marry those"Therefore I amount to this to obtain a wife a man must be [??] to some one of the distant intermarryinglocalities - where there is some woman who is not of the "Yaur" ofthe intended husband. He must therefore marry some [one -crossed out] woman ofthe opposite class from some distant locality who is not near to him.
This matter would require consideration and therefore it is thatgreat meeting of tribes the men discussed [?preferred?] marriages.
[written in the left side margin]+= Paternal grandfather=① paternal grand mother
ngapung - [father - crossed out] mother's fatherkukun = mother's mother
Major's mother
Last edit about 1 month ago by
ALourie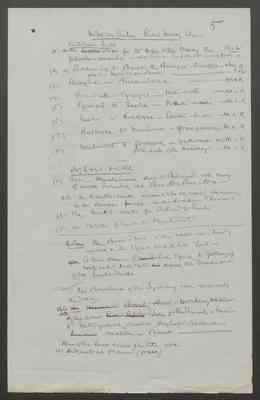 Last edit about 1 month ago by
ALourie
hw0418 Howitt Notes on Wotjobaluk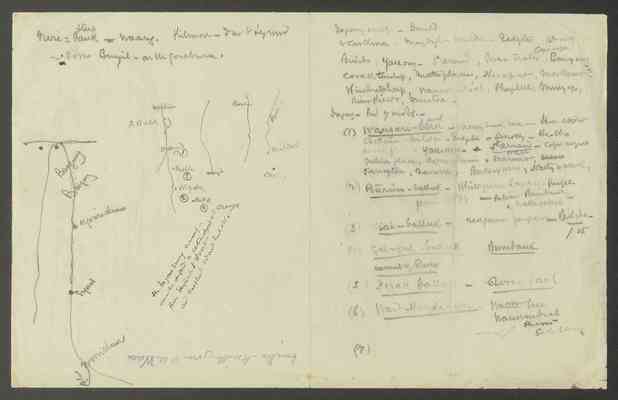 Neri = steep bank = waang Kilmore - down to Seymoursome Bunjil - on the Goulburn
[map showing location of communities]
[written under map]the Jajaurung countrycan be defined as extending N + Sfrom Daylesford to Boortand [??] [??] East + W.
Jajorung country - Donaldto [?Castlema?] - Maryborough- Maldon- Eddington- Dunolly[??]Bialiba, Yallong - St Arnaud, Swan Water, Cope Cope, BangerangCorak township, Morton plains, Naraport, Morlburt?Wimbutchup, Warraknabial, Sheephill, Minyip,[Kiew-crossed out] Kiewr, Murtoa.
[??] had 7 mobs-
(1) Wangari-bŭrk creek - stringy bark tree - Jim CrowCastlemaine-[?Maldon?] - Eddington - Dunolly- BealbaAvoca forest - Yau-ung - St arnaud warr - Cope CopeGuthrie's place, Avoca plain - Marano, [cres - crossed out]Tarragton, Navarre, Berke-yurn, Natty yallock(2) Būrŭm-balluk - white gum S. aphy peoplepart of (1) - Between Brimbank + Natti yalluk(3) Bial-balluk - redgum people - Bialiba(4) gal-gal-balluk Brimbank[??] of River(5) Derak-balluk - Avoca forest(6) Wait-kundi-uk Wattle treeWareknabealBriemLakeCorong(7)
Last edit 7 days ago by
ALourie
Displaying Page 1 - 5 of 8 in total