hw0397 Bulmer to Howitt 12/April/1899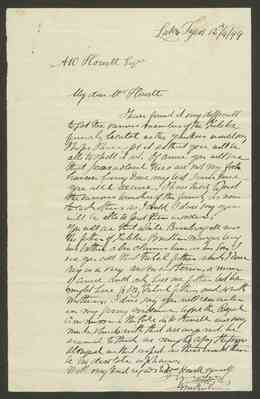 AW Howitt Esque
My dear Mr Howitt
I have found it rather difficult to get the various members of the Tuleba family located as the Yankees would say I hope I have got it so that you will be able to spell it out. Of course you will see that geneaolucal [sic] trees not my forte however having done my best I am sure you will excuse. I have tried to put the various branches of the family as near to each others as I could I dare say you will be able to put them in order.
You will see that while Bimbingall was the father of Tuleba Bruthen munjie being his brother also claims him as his son. I see you call that tribal father which I dare say is a very convenient term, a man of course could only have one father but he might have 1/2 doz tribal fathers and so withmothers. I dare say you will remember in my giving evidence before the Royal Commission. The late Sir W Stawell was very much struck with that arrangement, he seemed to think we might copy this from Aboriginal [sic] in that respect, as there would thenbe no desolate orphans,
With very kind regards to Mrs Howitt and yourselfI am faithfullyJohn Bulmer
Last edit 2 months ago by
ALourie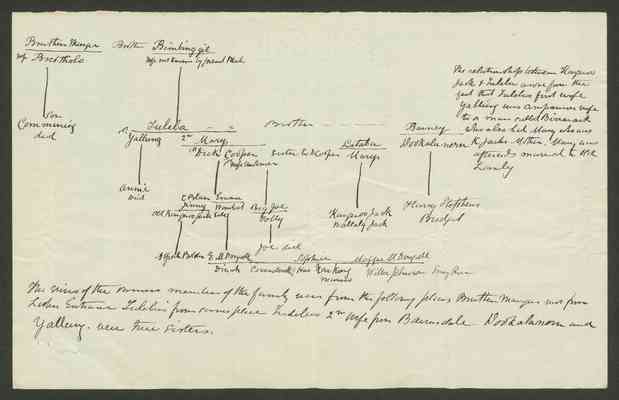 [Diagram family relationships]
Bruthen Munjie Brother Bimbing gilwife Bret-thalo wife not known by present blacks
Dead 1st
Yallung
2nd Mary
Dookalunern
Annie
Harry Stephens
died
Bridget or Budgel
Lataba
1st Wife unknown
Kangaroo Jack
Jinny Wombat Polly
Old Kangaroo Jack
Joe died
Dinah Coranderrk husband Willie JohsonNew Kong Snowy RiverManero
The wives of the various members of the family were from the following places Bruthen Munjie's were from Lakes Entrance Tuleba's from same place Tuleba's 2nd wife from Bairnsdale. Dookalanern and Yallung were true sisters.
[written on the right hand side of the diagram] The relationship between Kangaroo ack and Tuleba arose from the fact that Tuleba's first wife Yallung was companion wife to a man called Birrarark who also had Mary who was K Jacks Mother. Mary wasafterwards married to OldLamby
Last edit 2 months ago by
ALourie