hw0417 Notes from Bonwick's Book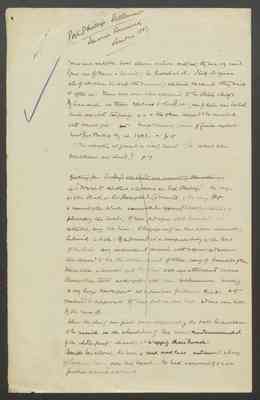 Port Phillip SettlementJames BonwickLondon 1883
"as we went out of the boat eleven natives met us; they were very civil I gave one of them a biscuit: he looked at it. I did it again ate of it, when he didthe same; whatever he said they said it after us. There was one who appeared to be their chief.
They handed us their spears to look at; one of them was barbed and one with two prongs. x x x two of them appeared to be marked with small [pix?]. p 5. James Flemming journal of Grimes exploits round Port Phillip Bay in 1803. - p 15
"The country in general is newly burnt" (ie, about where Melbourne now stands) p 17
Quoting from Tuckey's who wrote an account of the [attempted?] voyage to establish a colony at Port Phillip" he says as other blacks at Port Phillip Heads (Sorrento). He says that a number of the blacks assembled apparently with the intention of plundering the boat; they were [?] upon with [?] and [retreated?] away [the?] [trees?]. A large party was then seen assembling behind a hill: they advanced in a compact body to the [?] of the [tribe?] every individual armed with a spear and some who appeared to be the attendants of others carrying bundles of them. When within a hundred yards the - chief with one attendant came down to the trees and spoke with great vehemence holding a very large war spear in a position for throwing. [?] [/?] [?] approach they now put on with [ball?] and one man [?].
They then ran off.
when the chief was first seen approaching the boat he was seen to be carried on th shoulders of two men and surrounded by the whole pack. Shouting and clapping their hands. Beside his cloak he wore a reed necklace and several strings of human hair over his breast. He had a coronet of 2 [swan?] feathers round his head.
Last edit 12 months ago by
Christine
hw0416 Notes from Shillinglaw's book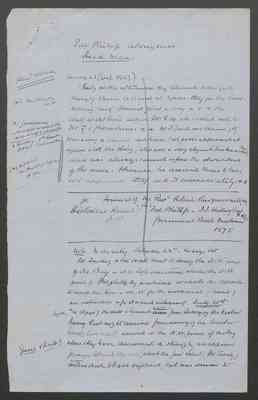 Port Phillip AboriginesHead Man
Head manSunday 23rd Oct 1803"Early in the afternoon they returned with a greatmany of them (x): and at 2 pm they in the boatcoming back observed 70 in a body x x x thechief at this time seized Mr G (x) who called out toMr T x to fire on them x x Mr T fired over them, theyran away a small distance, but soon approachedagain with the King (who wore a very elegant truban - crown)and was always carried upon the shouldersof the men. Whenever he desired them to haltor to apporach they did it immediately x x
Journal of the Revd Robert Knopswoom A MinHistorical Records of Port Phillip J J Shillinglaw FRSSp. 92 Government Printer Melbourne1870
Note In the entry Saturday 22nd he says thatMr Tuckey + two boats went to survey the N.W. pointof the Bay - it is left uncertain whether the N.W.point of Port Phillip Bay is intended or whether the oppositeshores of the Bay - N.w. from the settlement (Sorrento) are intended - for it is said subsequently Friday 21st"at 50 past 7 the cutter + launch returned from Surveying the harborhaving last night arrived from surveying the Harborhaving last night arrived in the N.W. point of the baywhere they have discovered a straight an apparentpassage towards the sea, which the first Lieut Mr Tuckeyintended to have explored but was driven to
[written in left side margin](x) the blacks AWH
(x) Gammon a masters mate of theH. M. Ship Calcutta
x Tuckey 1st LieutH.M.S Calcutta
(2) footnotesee Buckley's life +cp. 72
[??] strait?
Last edit 8 days ago by
ALourie
hw0429 Questions for William Berak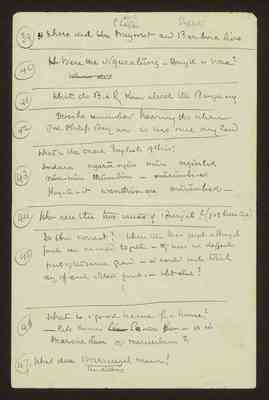 39 Where did [the - crossed out] Meymet and Berbira live
40 Were the Nguralŭng - Bunjil or Waa?[Where did - crossed out]
41 What do B + R know about the Banjerang.
42 Does he remember hearing that wherePort Phillip Bay now is was once dry land
43 What is the exact English of this:-Indara ngarū ngŭn mŭn ngŭrliknŭn-nŭn thŭm-bŭn - mŭrŭmbi-ekKoy-ū-it wanthŭn-ara mŭrŭmbiek.
44 Who were the two wives of Bunjil? ([?Y + E Pisces Aust?])
45 Is this correct? When the Waa people + Bunjilpeople were camped together - they were in differentparts of the same ground - and could not touchany of each others food - what else?
46 What is a good name for a house?- like Kurnai [Lean - crossed out] Lu-an hun - is itMarine ilum or mariuilum?
47 What does Warriugal mean?Heidelberg
Last edit 27 days ago by
ALourie