hw0436 Notes by Howitt on Omeo 'tribe' and letter from Bulmer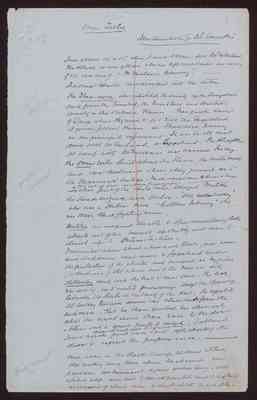 1Omeo TribeJohn Buntine Esq J P Tongatha
TribesI was about 14 to 15 when I went to Omeo with Mr McFarlane.Tha Blacks or any of them who are left will know me wellby the name of "McFarlane's Johnny!"The Omeo Blacks were divided into two tribes.The Thed-dora who inhabited the country up the LivingstoneCreek from the Township, the Jim + Jack and Butcher'sCountry = the Victoria Plains. These people knewof Dargo where they used to go to kill the Dargo Blacks.A young fellow known as Theddora Johnny was my principal informant. It was he that wentdown with McFarlane to Gippsland. The Blackfellowthat went with McMillan was named Friday.The Omeo tribe lived about the Plains, the Mitta Mittaand over eastward where they joined on tothe Maneroo tribes. They also extended down Bindi to Tungeobut not as far as Numlamungie.
Medicine MenTo this part of the whole tribe belonged Metokothe Head wizard and Doctor. "Old cockey"who was a Doctor and "Cobbon Johnny" whowas then Head fighting man.Metoko was supposed to be able to blow something likecobwebs out of his mouth up to the sky and then toclimb up to Drŭm-ŭ-lŭn.I remember when about a hundred blacks, men, womenand children went down to Gippsland underthe protection of the whites and camped at Heyfield(McFarlane's) that when one of the men was sickOld Cockey went into the hut to cure him. The cookwas sent by us to watch proceedings through the openingsbetween the slats at the back of the Hut. He reportedthat Cockey turned down the blankets from the sick man. That he then sucked his stomachabout the navel and then ran to the door- blew out a great puff of wind, jabberedsome words clapping his hands together at the same time and ran back after shutting the door to repeat the performance.
Bull roarerOnce when in the blacks' camp at Omeo stationOld Cockey being there alone he shewed mea wooden instrument a few inches long - withnotched edge, and tied by its pointed end to a stringat the end of which was a short stick handle.
Last edit 6 days ago by
ALourie