hw0404 Notes on Kurnai 150 pages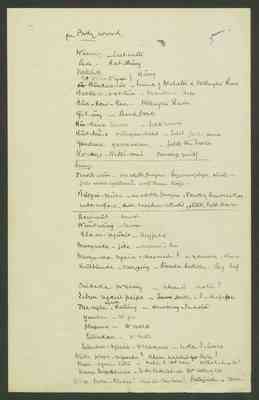 5per Billy WoodWāreng- Salt WaterLake- Kat-thŭngWaterhole eg Wisharts lagoon KāngBŭndau-rŭk - Junction of Mcalister + Wellington RiversBatkea-wat-tŭn- Crinoline HillBŭk-Kew-Ren- Wellington RiverGil-ŭng- Bark bowlKīn-dáua taura- fetch woodKŭt-baí-e mŭngan-bittel- fetch father mineYandaua yarraman- fetch the horseKranye - Willi-mai- come up quickly
FungusTankle-wŭn- an edible fungus- [?hysmuphylls?] white-gills rather yellowish with brown tinge.Bŭl-gin-mŭra- an edible fungus- smoky brown color,under surface, dull surphur colored, stalk ligh brown
Keir-wŭt- creekWŭnt-wŭng-riverKle-en-ngŭrŭt- HeyfieldManganda-jilla- dreamed heManganda-ngaiu- dreamed I -yendu-thereKŭtbŭnda-carrying - birnda-bulloka - leg beef
Dindaka waring- where is water?Jibun ngaui paipa - [I am - crossed out] smoke- I - the pipeTar-ngla ngaiu Katūng- drinking- I - waterYendu- to goplapana- to walktŭrndan- to rideturndan-ngaiu-yaraman- ride I - horseWūda plapa-ngendu? Where walk at [yo - crossed out] there? Plapa-ngaiu-tūlū- walk I that way Wūla? where to?Kango Nigothūrūka- to the lakelet at Mt WellingtonWūda-brebba-tāndan? Where the other horse? Wūnjindu = there!
Last edit about 1 year ago by
ALourie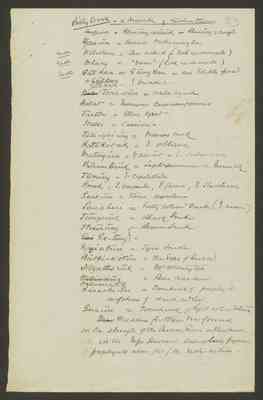 83Billy Wood - a Braiaka of Kŭtbuntaura
Heyfield = Kluiŭng-wŭrŭk - Kluiŭng=coughYau-ŭn = Acacia MelanoxylonEdible Wit-chun = An orchid (-look up sample)Edible Mlang = "yam" (look up sample)Edible Gūl Kan or Gūng Kan = an Edible fernor [Gūl Kong - crossed out] Gūn Kan - ?Davallia[Water - crossed out] Tára-wŭn= water cycadBálat = Exocarpus capressiformisTartīn = Blue egretMelli = CassiniaTali-yai ŭng = morass [?curk?]Katakátak - E. obliquaMatingára = Yau-ŭt = E. SieberianaKŭrambrŭk = Leptospermum at Morass Ck.Tūmŭng = E. capitellataBinak = E. viminalis, E. gunii, E. stuartianaGew-ŭn = Pteris aquilinaLau a beri = Putty colored snake (?name)Tūnyarūk = Black snakeThūrūng = Brown snake[Gai- crossed out] Ge-lŭngNgiabŭn = Tiger snakeBŭtki-wótŭn = the Paps of DuraNigathorūk = Mt Wellington[Willandūk - crossed out] Welwendūk = Ben CruachanKára-Ke-ŭn = Tomahawk of porphyriteor [?ptrnie?] of dusk colorGweŭn = Tomahawk of light color stone[These - crossed out] The stone for these was foundin the shingle of the Avon River + Ben CruachanCk in the Up Devonian area being fragmentsof prophyrite worn flat by the river action.
Last edit 25 days ago by
ALourie
hw0436 Notes by Howitt on Omeo 'tribe' and letter from Bulmer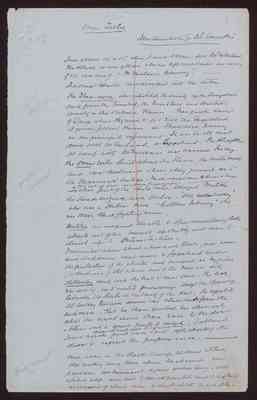 1Omeo TribeJohn Buntine Esq J P Tongatha
TribesI was about 14 to 15 when I went to Omeo with Mr McFarlane.Tha Blacks or any of them who are left will know me wellby the name of "McFarlane's Johnny!"The Omeo Blacks were divided into two tribes.The Thed-dora who inhabited the country up the LivingstoneCreek from the Township, the Jim + Jack and Butcher'sCountry = the Victoria Plains. These people knewof Dargo where they used to go to kill the Dargo Blacks.A young fellow known as Theddora Johnny was my principal informant. It was he that wentdown with McFarlane to Gippsland. The Blackfellowthat went with McMillan was named Friday.The Omeo tribe lived about the Plains, the Mitta Mittaand over eastward where they joined on tothe Maneroo tribes. They also extended down Bindi to Tungeobut not as far as Numlamungie.
Medicine MenTo this part of the whole tribe belonged Metokothe Head wizard and Doctor. "Old cockey"who was a Doctor and "Cobbon Johnny" whowas then Head fighting man.Metoko was supposed to be able to blow something likecobwebs out of his mouth up to the sky and then toclimb up to Drŭm-ŭ-lŭn.I remember when about a hundred blacks, men, womenand children went down to Gippsland underthe protection of the whites and camped at Heyfield(McFarlane's) that when one of the men was sickOld Cockey went into the hut to cure him. The cookwas sent by us to watch proceedings through the openingsbetween the slats at the back of the Hut. He reportedthat Cockey turned down the blankets from the sick man. That he then sucked his stomachabout the navel and then ran to the door- blew out a great puff of wind, jabberedsome words clapping his hands together at the same time and ran back after shutting the door to repeat the performance.
Bull roarerOnce when in the blacks' camp at Omeo stationOld Cockey being there alone he shewed mea wooden instrument a few inches long - withnotched edge, and tied by its pointed end to a stringat the end of which was a short stick handle.
Last edit 2 months ago by
ALourie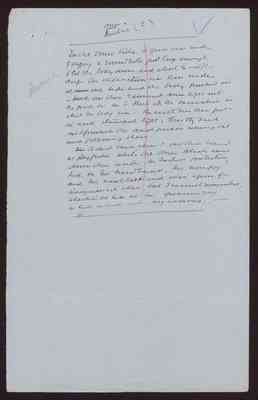 BurialIn the Omeo tribe a grave was made by digging a round hole just large enough to let the body down and about 8-10 ft deep. An excavation was then made at one side and the body pushed in – wood was then rammed down tight intothe grave so as to block up the excavation in which the body was. The earth was then put in and stamped tight. This they said was to prevent the dead person coming out and following them.
[The - crossed out] A dead man whom I saw thus buried at Heyfield while the Omeo Blacks were down then under McFarlane's protection,had on his head band, his nosepeg and his waistbelt and skin apron of Kangaroo rat skin but I cannot remember whether he was in his opossum rug or had or had not any weapons.
Last edit about 1 year ago by
ALourie
4Omeo Tribe
Mr John Buntine J P Tongatha
In the year 1844 about a hundred of this tribe from the country about Omeo plains to Tongeo came down to Gippsland and camped at Heyfield Stationat that time Metoko was the Head Wizard of the tribe and Cockey was the head Doctor.
While at Heyfield [the do - crossed out] one of the station hands was taken very ill with some internal disorder. Cockey went to cure him in the hut all other persons being excluded. The Hut keeper was however sent by the whites to peep through between the slabs at the back of the hut. His report was that Cockey turned down the blankets from the sick man and then applied his mouth to his navel. After sucking for some time he ran to the door, opened it and puffed out a large mouth full of wind – clapped his hands together and said something. Then returned and repeated the process.
Mr Buntine remembers that one of the blacks told him that there were good spirit and a bad spirit who fought in the cloud. The bad spirit was called Darumlun and that Metoko could blow something out of his mouth like cobwebs up into the clouds and so climb up to Darumlun.
Last edit 2 months ago by
ALourie