hw0164 Notes on the Maneroo and Ngarigo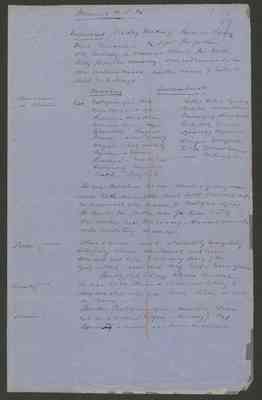 Maneroo NSW17 Informant Charley Nuking. Born at Reedy Flat Maneroo NSW. His father Old Nuking a Maneroo Black his mother Kitty from the Murray. Does not remember his own native name nor the name of the tribe to which he belongs.
Class names and totemsMeroong YuckemberokHe is Nabdjanadjan - bat Bellit Bellit LyrebirdWonga Wonga = Pigeon Nadjan common possumKowunga Black possum Tchudugung black snakeGooroombuging Magpie Budalook – IguanaDjewilba Kangaroo Djinoong – Kangaroo ratMandja – scrub wallaby Brinyoo – Paddy melonWayal – rock wallaby Toonee Tooneet Morepork Ngooim Emu – native catTundeya - monkey bearBungadey - WambatButbi – Ringtail
He says that when he was 'made a young man' and had one of his front teeth knocked out he received the name of "Naldjana djan"He thinks his father was YukimbūrkHis mother was Miroong. Cannot remember rules regulating marriage.
Property –When a man died absolutely everything belonging to him was buried with him. They did not like to see any thing of his lying about nor did they talk of him again.
Country – Reedy flat belongs to him because he was born there – it would belong to anyone else who was born there as well as to him.
Cousins – Another Natdjanadjan would be to him not as a brother (Tidjang or Kookung) butGornan = cousin ie mothers brothers son
Last edit 6 months ago by
ALourie