hw0421 Notes by Howitt on the Wotjobaluk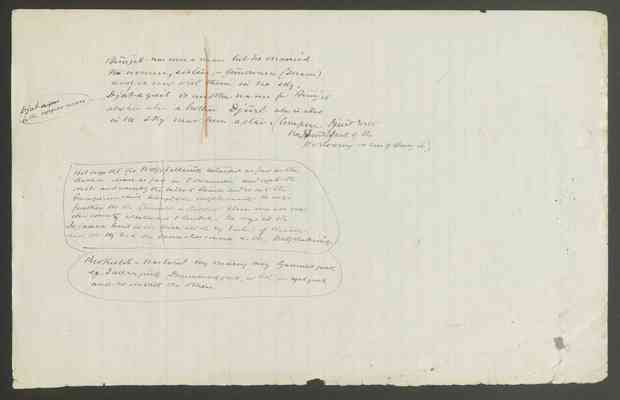 Bunjil was once a man but he married two women, sisters- gūnowara (swan) and is now with them in the sky. Djataguil is another name for Bunjil who has also a brother Djūrt who is also in the sky near him a star. (Compare Djūrt withthe DjūrtDjurt of theWoiwurong - a son of Bunjil)
Bob says that the Wotjoballaiŭk extended as far as theAvoca down as far as Towaninny and up to theHills and round by the hills to Stawell and so on to theGrampians which belonged to the Wotjoballaiŭk. He says further that the Gamutch + Krokitch classes were well overthis country and extended to Condah. He says that theJajaura lived in the Hills all the way Eastward of Stawelland that they had the same class names as the Wotjoballaiŭk.
Krokutch = wart wut may marry any Gamutch gulkeg Jallan gūlk, [?Durunuruk?] gulk, or Batjan ngul gulkand so on with the others
[written in left side margin]Djat [agui - crossed out]is the upper arm
Last edit about 16 hours ago by
ALourie
hw0414 Notes on Mukjarawaint with a map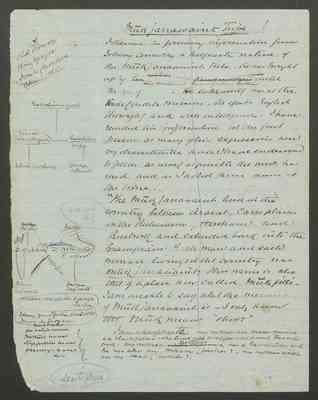 Mūkjarawaint Tribe
Old TurnerKing Major Donald CameronCharlotte
[Genealogy]
Gart-chŭka-gurkYirani Gartchukagurk - Gartchŭka WifeJohnny Gartchŭka George Wūrant
I obtained the following information from Johnny Connolly, a half-caste native of the Mukjarawaint tribe. He was brought up by his maternal grandfather's brother until the age of [blank]. He subsequently was at the Lake Condah Mission. He speaks English thoroughly and with intelligence. I have recorded his information in the firstperson as many of his experioences werevery characteristic and I have endeavoured to follow as near as possible the words heused and as I noted them down atthe time.
"The Mūkjarawaint lived in the country between Ararat, Carrs Plainson the Buchaussan [?], Horsham andBrrehork [?] and extedned back into the Grampains. Each man and each woman living in that country wasMukjarawaint. The name is alsothat of a place now called Mūkpilli.I am unable to say what the meaning ofMūkjarawaint is - I only knowthat Mūk means "short".
I am a half caste my mother was never married to a blackfellow. She lived with a digger who found Pleasant Creek. My mothers [sisters husband - crossed out] brother was a Gartchuka andhe was also my maam (father) - my mothers sisterwas my baap (mother)
Last edit about 16 hours ago by
ALourie
hw0412 Mukjarawaint vocabulary from John Connolly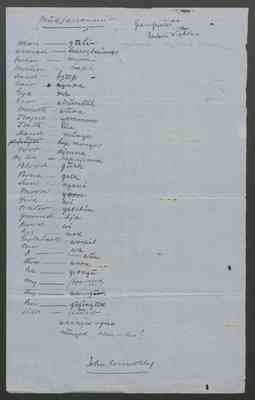 MukjarrawaintGrampiansWestern Victoria
man - gūli - gūrmil - any kind of snakewoman - baiang baiangoFather - mamiMother - bapiHead - brūpHair - ngaraEye - mrEar - wirŭmbŭlmouth - wūraTongue - yammanTeeth - liaHand - mŭnya[1st Finger - crossed out] Thumb - bap munyaFoot - djinnaBig toe - bap djinnaBlood - gūrkBone - galkSun - ngauimoon - yernFire - wiWater - gatchinground - djawood - wiEgg - mrkEaglehawk - werpilcrow - waI [wan - crossed out] wŭnthere - warahe - gitngūmy - wa-ngekthey - wa-ngūkhis - giginyūkstar - dūrtwanngin-gnanūnyek where is this?
Last edit about 16 hours ago by
ALourie
hw0390 Notes by Howitt on the Kulin Nation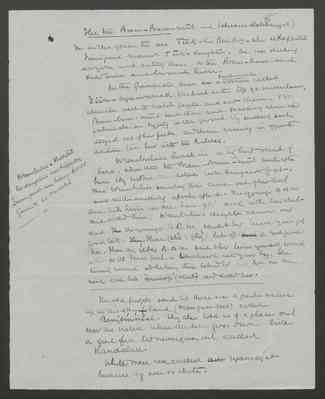 8The two Bram-Bram-mūl – (Pelicans – Batchangal)The mother of these two was Tūk-the Bull frog – who is Kappatch[?Jūrripinuk?] married Tūk's daughter. He was killing everyone and eating them so the Bram-bram-mul killed him and burned him.
In the Grampians there was a woman female creature called Jiin-nga-warrak. She lived on the top of a mountain, where she used to catch people and eat them. The Bram-bram-mūl went there and sneaking close up to where she was lying on the ground they suddenly each seized one of her feet and then running in opposite directions tore her into two halves.
Wrembulin lived in a big hut made of bark. When the two Bram-Bram-mūl went after him they rubbed themselves with kangaroo fat. Then Wrembulin smelling this came out of his hut and went smelling about after it. The younger B.B.M then hit him on the back of his neck with his club and killed him. Wrembulin's daughter came out and [The - crossed out] the younger B.B.M said to her have you got good teeth. [They - crossed out] Then (she?) (they?) bit off [some -crossed out] a red gum tree. Then one older B.B.M said to her turn yourself round a bit so that I can put a tomahawk into your bag. She turned round and he being thus behind her hit on the neck with his "monop" (club) and killed her._____________________________________________
The old people said that there was a great man up in the sky land (mangundeik) called Banībúrmial. They also told us of a place out near the narin where the sun goes down like a great fire that never goes out called Kandalau.White men were called [am - crossed out] nyamajet because they were so white.
[written in the left side margin] Wrembulin = Krokitchhis daughters were Kapputch[?Jermigeneth?] was Jallop-KrokitchGarlūk was Krokitch
Last edit 12 months ago by
ALourie