hw0321 Gason to Howitt 12/2/1881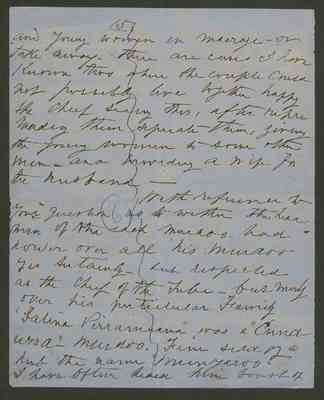 15and young women in marriage - ortake away. There are cases I haveknown thou where the couple couldnot possibly live together happyThe chief seeing this, after repri-manding, seperate [sic] them, givingthe young women to some othermen, and providing a wife for the husband.
With reference to your question as to wether [sic] the headman of the each murdoo hadpower over all his murdooYes, sertainly [sic], but respectedas the chief of the tribe, but mainly over his particular family."Jalina Pirrarnuana" was a "Anna-urra" murdoo. Fine seed of a hub the name "Munyaroo"I have often heard him boast of
Last edit 3 months ago by
ALourie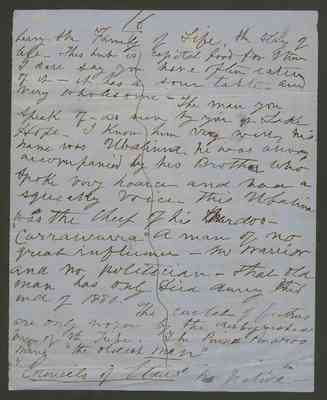 16bearing the family of life, the stay oflife. This herb is capital food for themI dare say you have often eatenof it. It has a sour taste and very wholesome.
The man youspeak of, as seen by you at LakeHope. I know him very well. Hisname was Ubalinna, he was alwaysaccompanied by his brother whospoke very hoarse and had asqueaky voice. This Ubalinawas the chief of his murdoo."Carrawurra" A man of nogreat influence, no warriorand no politician. That oldman has only died during theend of 1880.
The circlet of feathersare only worn by the distinguishedmen of the tribe. The Pinna Pinaroomeans "the oldest men""Councils of Elders" no native
Last edit 8 months ago by
ALourie
hw0325 Gason to Howitt 29/08/1862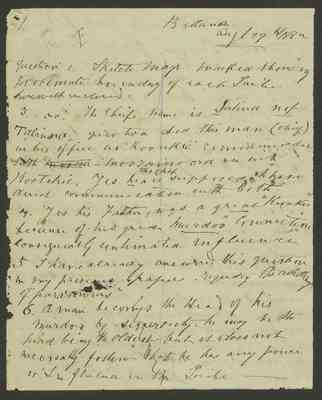 Question 1. Sketch map marked showing proximate boundary of each Tribe. herewith inclosed [sic].
3. no. The Chiefs name is Jalina not [underlined] Talinna. Question did this man (chief) in his office as "Koonkie" communicate with [Moora - crossed out] Mooramoora or with Kootchie, Yes he, the chief is supposed to have direct communication with both.
4. Yes his Father was a great "Koonkie" because of his great ''Murdoo" connection consequently unlimited influence
5. I have already answered this question in my previous papers. Regarding the authority of "paramours".
6. A man becomes the Head of his murdoo by seniority, he may be the head being the oldest - but it does not necessarily follow that he has any power or influence in the Tribe.
Last edit 3 months ago by
ALourie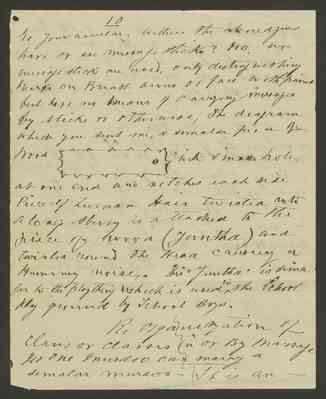 10.
Re your circular. Wether [sic] the aboridjenes [sic]have or use message sticks? No, no message stick are used, only distingwishing [sic] marks on Breast arms or face with paint but have no means of carrying messages by sticks or otherwise. The diagram which you sent me, a simalar [sic] piece of wood [diagram] with small hole at one end and notches each side. Piece of human hair twisted into a long string is attached to the piece of wood (Yuntha) and twirled round the head causing a Humming noise. This "Yuntha" is sima-lar [sic] to the play thing which is used in the School play ground by School Boys.
Re organization of clans or classes in or by marrage [sic] no one murdoo can marry [underlined] a simalar [sic] murdoo - It is an
Last edit 8 months ago by
ALourie
hw0329 Samuel Gason to Howitt 20 December 1882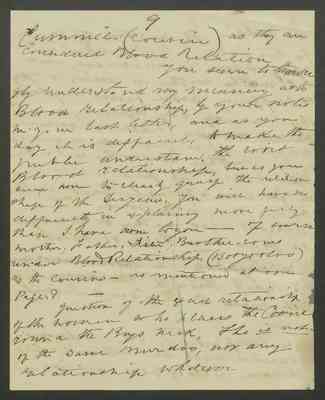 9.
Cummie. (cousin) as they are considered Blood Relation
You seem to thorou-ghly understand my meaning as to Blood Relationship, by your notes in your last letter, and as you say it is diffacult [sic], to make the public understand the word Blood Relationship, but as you seem now to clearly grasp the relation-ship of the Dieyerie, you will have no diffaculty [sic] in explaining more fully than I have done to you - of course Mother, Father, Sister, Brother come under Blood Relationship, (Booyooloo)as the cousins - as mentioned above Page 8. -
Question of the exact relationship of the women who places the Cooireround the Boys' neck, She is not [2 words underlined] of the same murdoo, nor any relationship whatever
Last edit 6 months ago by
ALourie