XM188_ICDMS_lowres Hagenauer to Howitt 1 May 1880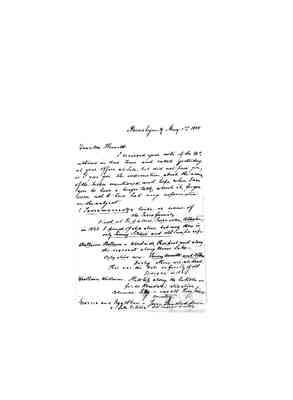 Dear Mr. HowittI received your note of the 26thultimo in due time and called yesterdayat your office at Sale, but didnot find you,so I give you the information about the nameof the tribes mentioned, andhope when I seeyou to have a longer talk about it, for youseem not to have had any informationon the subject.
I Tarrawarracka Tribe, or news ofthe Tarra family.lived at Port Albert, Tarraville, Alberton;in 1862 I found 17 still alive, but now there isonly Jimmy Fetched and old Lamfrie's wife
Bellum Bellum - Woodside, Prospect and alongthe seacoast along Reeves Lake.Only alive now: Tommy Arnott and AlbertDarby others are all dead.This was the tribe or family of oldMorgan in 1862.
Woollum Wullum, Hilltop along the Latrobe asfar as Rosedale; still aliveColeman, Lily - was old King Jimmycountry.
Moona and Ngattbau - from Stratford downto Lake Victoria old Ngary's country.
Last edit 15 days ago by
ALourie