XM33 May Benson to Howitt 1 September 1906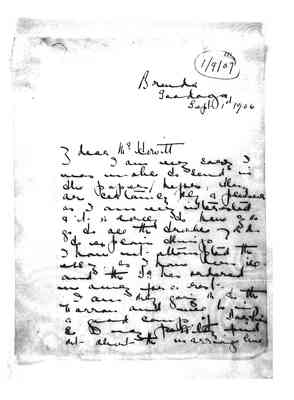 1/9/07BrendaGoodoga Sept 1st 1906
My dear Mr HowittI am very sorry I was unable to send inthe papers before. Theyare certainly truly a pleasureas I am very interested+ it is lovely to have you go to all the trouble you doto explain things.
I have not attepted theessay as I have been illand the Dr has ordered me away for a rest.
I am shortly going on to theNarran and will be joininga good camp of Darkies& I may possibly findout about the marriage line
Last edit 16 days ago by
ALourie
XM41 Howitt to Benson 12 July 1906
[Hand-drawn image of a map of the river system at the Queensland -NSW border.]
[Left column]
Paroo }Warrego } Darling tributariesWidgee }Nebine } TributariesNungalala } of Narran into narran lake + overflows perWallan } Culgoa Hospital creek into BokahraBirie runs out of Bokahara into CulgoaBokahara runs into Cabo Creek + billabong of Barwon
Last edit about 14 hours ago by
ALourie
XM44 Benson n.d.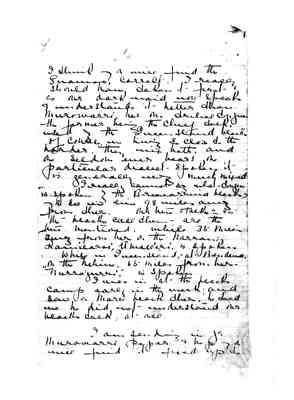 1
I think you will find the Quamayo correct. I really should have taken it firstas one dark maid now [underlined] speaks+ understands it better thanMurowarri, her one tribal tongue.The former being the chief talkused by the Queensland blacks of course us being close to theborder, they mix both, and one seldom ever hears oneparticular dialect spoken, it is generally very much mixed. I really cannot say what tongue is spoken by the Brewarrina blacksyou see we live 98 miles awayfrom there. One [??] "talk" sothe blacks call them are thetwo mentioned; while 35 milesaway from here on the Narran;Kamilaroi Ulualleri is spoken While in Queensland at Bendena on the Nebine 65 miles from here"Nurragurri" is spoken.I was in at the blackscamp early in the week; andsaw a Moree black there he told me he did not understand ourblacks talk at all.
I am sending in yourMurawarri paper + hope you will find it fixed up to
Last edit about 1 month ago by
ALourie
hw0158 Langloh Parker to Howitt

[printed article by A. W. Howitt - 'The Kamilaroi Marrage Law" from Science of Man, vol. 5, no. 3, April 26 1902, pp. 46-47]
[notes written in margin in two different hands]
[left side margin]Would you kindly answer these questionsand set the marriage Ritesand Relationships outas fully as possible
[at top of page]A man must not onlymarry in his right class-say a Murri to a Boothabut in his right blood too - [??] [??]he is not himselfShould Murri be a gwaigullech[he must - crossed out] his Bootha must be aGwaimudthaShould Murri be a Kangaroo by inheritance hisBootha must not be one too.A personal totem if arrived by chancedoes not count in marriage restrictionsonly in food Taboos.
[in right side margin]I think the blood distinctionwould prohibit it-The tribes are divided into(1) Two bloods - Gwai gullech - Light bloodedGwai mudtha - Dark blooded(2) ? The children of either sex take their blood divisional name from the motherand no two of the same named blood may marry - ergo a man could not marry the daughter of his mother's brothersfor that brother would be sameblood as his sister the man's mother.K. Langloh ParkerLate of Bangate, Narren River, N.S.W.
Last edit 4 months ago by
ALourie