XM31_ICDMS_lowres Handwritten draft notes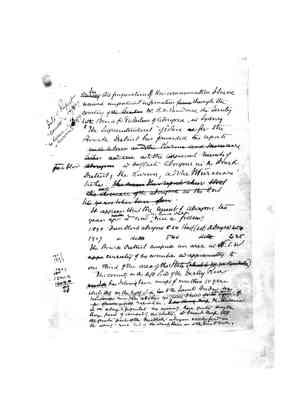 [During- crossed out] In the preparation of the communication I havereceived important information [from - crossed out] through thecourtesy of [the Secretar- crossed out] Mr R. H. Beardmore the Secretaryto the Board for Protection of Aborigines, in SydneyThe Superintendent of Police for theBourke District has forwarded two reports[made to him as to the Kurnu amd Murawari - crossed out][tribes and one - crossed out] as to the Approximate number of[Aborigines - crossed out] Full Blood and Half Caste Aborigines in the BourkeDistrict, the Kurnu, and the Mūrawari tribes. [The essen These reports show that- crossed out][the decrease of the aborigine in the last - crossed out][ten years to have been from - crossed out]It appears that the number of Aborigines tenyears ago [in the - crossed out] and since in the Bourke District were as follows:1898 Full Blood Aborigines 824 Half Caste Aborigines 4541907 [ditto] ditto 540 ditto 425The Bourke District comprise an area of N. S. W.[appr - crossed out] consisting of 24 counties and approximately toone third of the area of the State ([which is 310, 700 square miles])The county on the left Side of the Darling River[was I th- crossed out] has II think been occupied for more than 50 yearswhile that on the right Side, [has - crossed out] to the Queensland border wasnot occupied more than 45 years ago, when I travelled it [in search - crossed out] when searching forthe Burke + Wills expedition [I do think up - crossed out] The decreasein the Aboriginal population was normally here greater during thatlonger period of occupied by the whites, and I ccannot think thatthe greater part of the Full blood Aborigines will be found inthe country north west of the Darling River - and the Queensland border
[written in left side margin]Date of Report'commitee' 14/8/07re Kurnu + Murawari 14/9/07
1907184067
19071861-2[1907 - crossed out][54 - crossed out]45
Last edit 3 months ago by
ALourie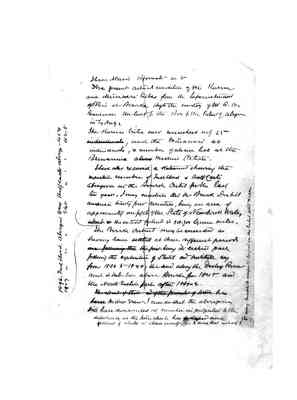 I have [??] informants as toThe present actual condition of the Kurnuand Mūrawari tribes from the Superintendantof Police at Bourke through the courtesy of Mr R. H.Beardsmore the Secretary for the Board for the Protection of Aboriginesin SydneyThe Kurnu tribe now numbers only 25[individuals- crossed out], and the Mūrawari 40individuals, a number of whom live at theBrewarrina [abori- crossed out] Mission StationI have also received a statement showing the respective numbers of Full blood + Half CasteAborigines in the Bourke District for the lastten years. I may mention that the Bourke Districtcomprises twenty four counties, being an area of approximately one fifth of the State of New South Wales[which - crossed out] the extent of which is 310.700 square miles.The Bourke District may be considered ashaving been settled at three different periods[one following the - crossed out] the first being its eastern partfollowing the exploration of Sturt and Mitchell sayfrom 1830 to 1840, the second along the Darling Riverand is [?particular?] above Bourke from 1845 andthe North Eastern part after 1861-2.[The effect of this and of the formation of towns has - crossed out][been - crossed out] On this view I consider that the aborigineswill have dominated in number in population to thedifference in the time which has elapsed sincesettlement by whites in their country. I think that one half ofthe surviving Fullbloods will probably be found in the latest settled area.
[written in left side margin]1898 Full blood Aborigines 824 Half caste Aborigines 4541907 [ditto] [ditto] [ditto] 540 [ditto] [ditto] [ditto] 425
Last edit 5 months ago by
ALourie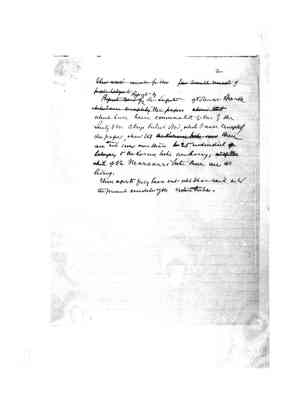 2[This would account for the few small numbers of - crossed out][people belong to - crossed out][Reports read from - crossed out] Reports by the Superintendant of Police at Bourke[which I am completing this paper show that - crossed out]which have been communicated to me by theSecretary of the Aborigines Protection Board, which I am compilingthis paper, show that [the Kurnu tribe now - crossed out] thereare not now more than 25 individual [of - crossed out]belonging to the Kurnu tribe now living, [and of the - crossed out]while of the Murawari tribe there are 40 living.These reports fully bear out what I have said as tothe present condition of the native tribes.
Last edit 7 months ago by
ALourie