XM23_ICDMS_lowres R F Beardsmore to Howitt 14 August 1907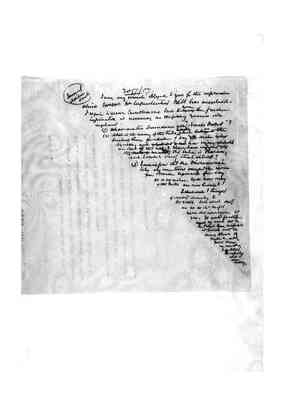 20/7/07, I am very much obliged to you for the informationwhich [Mr W - crossed out] Mr Superintendent Webb has supplied. I regret to seem troublesome but some further information is necessary as the following queries willexplain. (1) What are the boundaries of the "Bourke District"? (2) What is the name of the tribe which on the Darling River for a distance of say 80 miles belowBourke and how many individuals are there of this tribe? I have been informed the name of that tribe is Kuruaand I wish to verify that statement?(1) I am informed that the Moorawaritribe at one time occupied the riverfrom Bourke upwards for say50 or 60 miles. If so how manyof that tribe are now living?I thoughtof writing directly toMr Webb but did onlydo so as it mightseem discourteous toyou. It would facilitatemy work and asthe Police have [??]and [??] with theremaining blacks theymight be ablebetter thanany one else to obtain[??]which you[??]
Last edit 3 months ago by
ALourie
XM36_ICDMS_lowres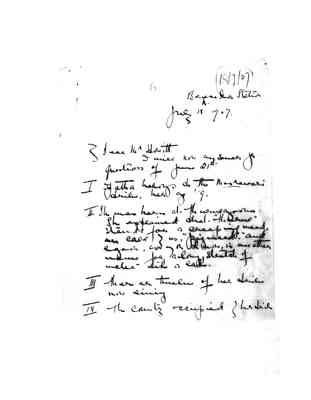 (18/7/07)Brenda StationJuly 18 1907
My dear Mr HowittI will now answer yourquestions of June 21st.I Ipatha belongs to the Moorawaritribe, her age 59.II She was born at ThurulgoonaShe explained that "Thurul"stands for a creeping weed,called by us "pigweed" andlagoon, as you know, is anothername for a long stretch ofwater like a lake.III There are twelve of her tribenow living.IV The country occupied by her tribe.
Last edit 22 days ago by
ALourie
XM37_ICDMS_lowres Benson to Howitt 25 August 1907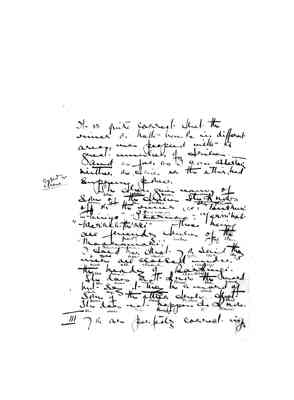 It is quite correct that the river on both banks, in differentareas, was peopled with ageneral number of tribesand [underlined] as far as I can ascertainneither one tribe or the other, hadsupreme [??]She then gives names ofsome of the tribes she knowsof on the river (i.e.) "Burrun-hinya", "Goarnoo", "Yermhah""Merrah-therri" these beingall friendly tribes of the"Moorawari"I told her that you said theywere all classed underthe heading of BarkingiShe does not know the wordbut says it may be a word ofsome of the other tribes thatshe does not happen to know.
III You are perfectly in your
Last edit 3 months ago by
ALourie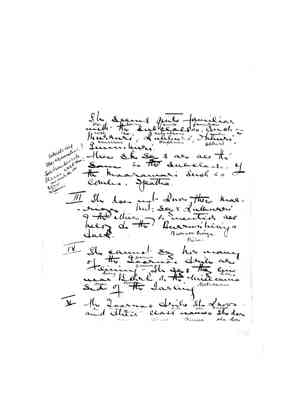 She seems quite familiarwith the subclasses such asMurruri, Kubburi, IbburiQummburi.These she says are all thesame as the subclasses of the Moorawari such asCombo, Ipatha.
[written in left side margin]Which are the equivalents? [get her to write - crossed out]Please write them:one under the otherIpaiMurrwuri
III She does not know these mar--riages but says Kulburri + the others you mention allbelong to the Burrumbinyatalk.
IV She cannot say how manyof the Goornoo tribe areliving. She says they livenear Bourke on the Wilcanniaside of the Darling
V The Goornoo tribe she knowsand their class names she does
Last edit 7 months ago by
ALourie
XM38_ICDMS_lowres Benson to Howitt 20 October 1907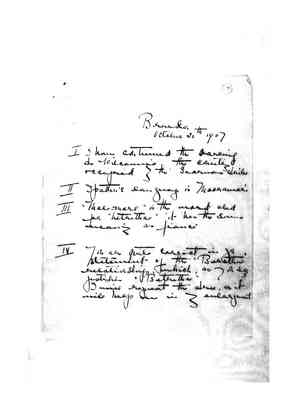 (2)
I I have continued the Darlingto Wilcannia the country occupied by the Goormoo tribeII Ipatha's language is MoorawariIII "[?Malo-marl or Male-mare?] is the word used for ["betrothal" it has the samemeaning as fiancé. IV You are quite correct in yourstatement of the "Berothal" [sic]relationship, which, as you sayjustifies "Betrothal"I will repeat the tree, as itwill help me in my enlargement
Last edit 4 months ago by
ALourie