XM600 Wakelbura ceremonial gatherings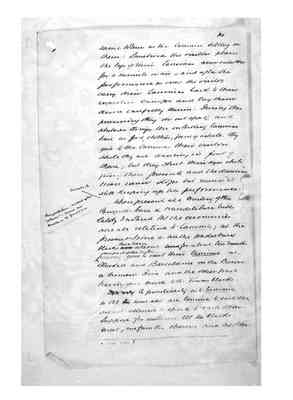 14same totem as the tarrimas sitting onthem. Sometimes the visitors placethe legs of their tarrimas across each otherfor a minute or two - and after theperformance is over the visitorscarry their tarrimas back to their respective camps and lay themdown carefully therein. During thisproceeding they do not speak andwhatever things the onlooking tarrimashave as food, clothes, fancy articles theygive to the tarrimas their visitorswhile they are dancing in front of them; but they shut their eyes whilegiving these presents and the dancing man never stops but receives itstill keeping up his performance.
When present at a meeting of theBurgullabura + Wandilibura tribeslately I noticed that the ceremonieswere all relative to tarrima; at thepresent time x all the Wakelburablacks have been [are - crossed out] absent [and - crossed out] for about ten monthsone part of the tribe having gone to visit their tarrimas atBlackall and Barcaldine on the Barcooor Thomson River and the other parthaving gone north to the Towers blacks.
A peculiarity as to tarrimais that two men who are tarrima to each otherare bot allowed to speak to each other.Suppose for instance that two blacksmeet, one from the Barcoo and the other
x- [?1851?]
[written in left side margin]see contra A
Burgullabura - called after"plains" - classes areMallera + Yungera
Last edit 18 days ago by
ALourie