XM77_ICDMS_lowres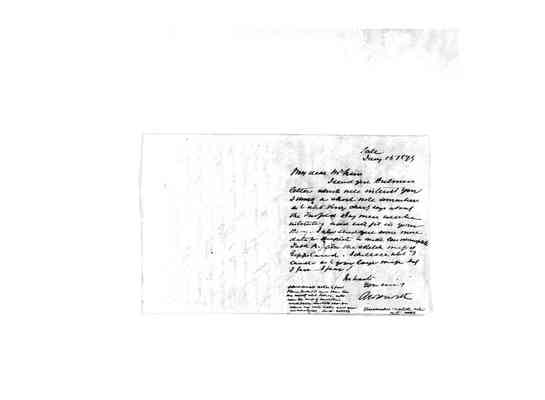 My dear Mr Fison
I send you Bulmer's letter which will interest youI think a short note somewhereas to what King Charley says about the Twofold Bay men will beinteresting and will fit in yourtheory. I also send you some moredata to complete or make less incompleteTable A. Also the sketch maps ofGippsland. I shall see what Ican do as to your large map butI fear - I fear !
In hasteYour sinyAW Howitt
I have marked Charlotte Waters on it.
[written in small print on bottom left side of page]I send small [??] by postPlease look at it and then tellme exactly what I shall noteupon the map of Australiawhich I will illustrate when youreturn me the [??] and your instructions AWH 20/1/79
Last edit about 2 months ago by
ALourie
XM620_ICDMS_lowres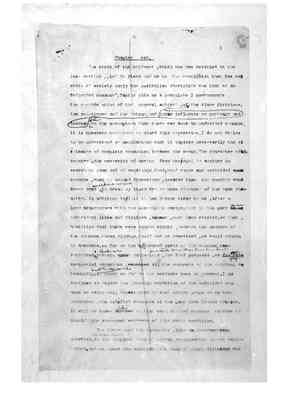 1
Chapter sec.
The study of the evidence, which has been detailed in thelast section, led Dr Fison and me to the conclusion that the [early?]state of society among the Australian aborigines was that of an"undivided commune". Taking this as a postulate I now commencethe consideration of the general subject, of the influence on marriage and descent and the class divisions on the assumption that there was once an undivided commune.It is however necessary to guard this expression. I do not desireto be understood as maintaining that it implies necessarily the[....ance] of complete communism between the sexes. The character of thecountry, the necessity of moving from one spot to another insearch of game and of vegetable food, would cause any undividedcommune, when it assumed dimensions, greater than the country wan-dered over could [..... ........] to break up into two or more communes of the same character. In addition to this it has become clear to me, after along acquaintance with the Australian savage, that in the past as now,individual likes and dislikes, must have existed so thatadmitting that there were common rights, between the members ofthe commune, these rights would not be exercised, or would remainin abeyance, so far as the separated parts of the commune was concerned but at certain gatherings such as the
Last edit 5 months ago by
ALourie
XM159_ICDMS_lowres Fison to Howitt 10 June 1884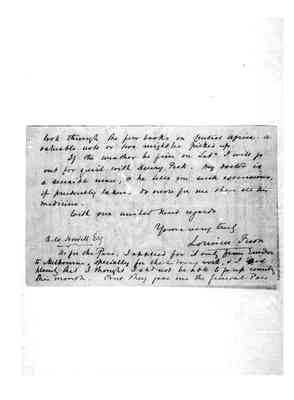 look through the few books on Central Africa. Awork or two might be picked up .If the weather be fine on Sat I will goout for quiet with Henry Pick. My Doctor isa sensible man and he tells me such excursions,if prudently taken, do more for me than all hismedicine.With our united kind regardsYours very trulyLorimer Fison
A.W. Howitt Esq.As for the Pass, I applied for it only from Essendonto Melbourne, specially for the library work and it saidplainly that I thought I asked not be able to go up countrythis month. But they gave me the general Pass.
Last edit 5 months ago by
ALourie
XM226_ICDMS_lowres Howitt to Andrew Lang 1 September 1902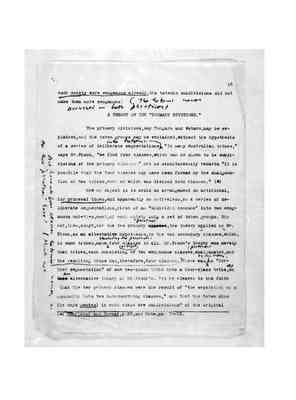 16
each moiety were exogamous already, the totemic subdivision did notmake them more exogamous: (The totems never occured in both phratries)
A THEORY OF THE "PRIMARY DIVISIONS."
The primary divisions, say Yungaru and Wutaru, may be ex-plained, and the totem groups may be explained, without the hypothesisof a series of deliberate segmentations into totems, "In many Australian tribes,"says Mr. Fison, "we find four classes, which can be shown to be subdi-visions of two primary classes." But he simultaneously remarks "it ispossible that the four classes may have been formed by the amalgama-tion of two tribes, each of which was divided into classes." (*)
Now my object is to avoid an arrangement so artificial,for primeval times, and apparently so motiveless, as a series of de-liberate segmentations, first of an "undivided commune" into two exog-amous moieties, next, of each moiety into a set of totem groups. Whynot, then, adopt, for the two primary phyatries [classes - crossed out], the theory applied by Mr.Fison, as an alternative hypothesis to the two secondary classes, which,in some tribes, make excluding the phyatries four classes or eight in all. Mr. Fison's theory was merelythat tribes, each consisting of two exogamous classes, (Phyatries) amalgamated, andthe resulting tribe had, therefore, four classes. There was, by this theory, no "fur-ther segmentation" of one two-class tribe into a four-class tribe, as on [this - crossed out] an alternative theory of Mr. Fison's. yet he cleaves to the faiththat the two primary classes were the result of "the separation of acommunity into two intermarrying classes," and that the totem kins(he says gentes) in each class are subdivisions" of the original
(*) Kamilaroi and Kurnai, p.35, and Note, pp. 70 - 72.
[written in left side margin]But have all four classes totemic names asthe two "phratries" have? I think not
Last edit 5 months ago by
ALourie
18
not exchange brides,) and might well shed kindred blood in the adven-ture. Therefore, just as two tribes, each of two "phratries", may have amal-gamated, on Mr. Fison's alternative theory, producing one tribe with four"classes," (*) so two strong local totem groups, say Emu and Kangaroo,may have amalgamated into one tribe, of two exogamous intermarryingdivisions, named Emu amd Kangaroo. These two old local totem groupswould now become the two "classes" or phratries. There would be a-malgamation, in the interests of peace; not segmentation, for the pur-pose of exogamy. [All that was needed was to --- out the various to- crossed out][tem group already existing within the local totem groups, between Emu and - crossed out]Kangaroo.-crossed out] By this theory, feasible if Mr. Fison's alternative theory ofthe two amalgamating tribes be feasible, we attain the actual results,and avoid all appearance of suggesting that exogamy was introduced,nobody knows why, by a deliberate and concerted "segmentation" of a "commune". We also avoid the very appearance of suggesting that groupswere formed by deliberate subdivision from larger associations, andwere then dubbed totem names. this theory is merely the myth ofthe Dieri and Woeworung: by divine advice to avoid [??] [??] sort, the community was segementedinto exogamous sets, distinguished by the names of animals and plants.It is improbable that Messrs. Fison and Howitt seriously think thattotem groups were made by subdividing the classes into sets distin-guished by plant and animal names, but the language used by them doesnot appear easily susceptible of any other interprretation. Mr. Howitt,as we have already cited him, thinks that the names of the "classes" phratries
(*) The "classes" probably intended, are really, as we shall try to show of another character and origin than the "phratries."
Last edit 2 months ago by
ALourie