XM524_ICDMS_lowres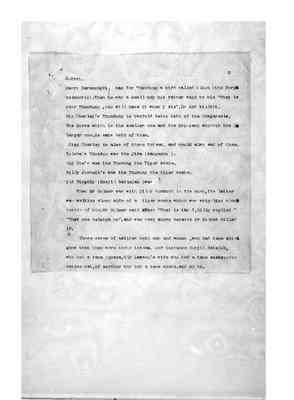 2
Harry Daramung han [sic] for Thundung a bird called Gliun (the Porp melanotis). When he was a small boy his father said to him "That is your Thundung, you will have it when I die". Do not killbit [sic]Big Charley's Thundung is twofold being both of the Congereels.The Burra which is the smaller one and the Noy-yang which is the larger one. He eats both of them.King Charley is also of these totems and could also eat of them.Tulaba's Thundug [sic] was the Jira (kangaruu) [sic].Big Joe's was the Thurung the Tiger snake.Billy Jumbuck's was the Thurung the tiger snake.Old Timothy (Bunjil barlajan) was ?
When Mr Bulmer was with Billy Jumbuck in the bush, the latter was walking along side of a tiger snake which was wriggling alongbeside of him. Mr Bulmer said "What is that?, Billy replied "That one belonga me", and was very angry because Mr Bulmer killedit.
Those cases of natives both men and women, who had tame anija [sic]show that they were their totema for instance Bunjil Bataluk,who had a tame Iguana, Old Lawson''s wife who had a tame native cat, of another who had a tame snake and so on.
Last edit 2 months ago by
ALourie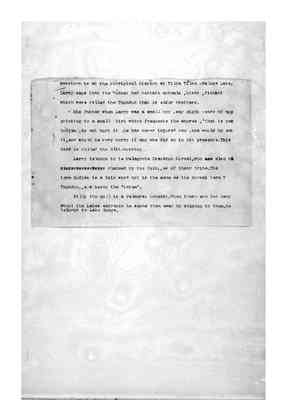 Merriman is at the Aboriginal Station at Tilba Tilba - Waloga Lake.Larry says that the Kurnai had certain animals, birds, fish&ctwhich were called the Thundun that is elder brothers.
His father when Larry was a small boy, say eight years of agepointing to a small birk [sic] which frequents the shores, "that is yourbudjan, do not hurt it. He has never injured one, nor would he eatit, and would be very sorry if any one did so in his presence. Thisbird is called the Blit-burring.
Larry belongs to the Malagoota Krauatun Kurnai, who are alsoclaimed by the Yuin, as of their tribe. The term Budjan is a Yuin word but is the same as the Kurnai term Thundun, as being the "totem".
Billy the Bull is a yalmerai (shark). When there are too manyabout the Lakes entrance he sends them away by singing to them. Hebelongs to Lake Bunga.
Last edit 2 months ago by
ALourie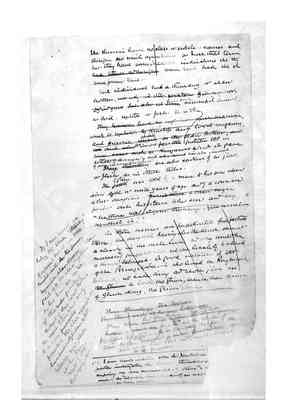 The Kurnai have no class or subclass names andtherefore no social organisation as I use that termbut they have unmistakable indications that they[had totems and therefore - crossed out] must have had all atsome former time.
Each individual had a thūndung or elderbrother, [not only in their sex totem Yürung or, - crossed out][Djütgun but also in some - crossed out] being some marsupial animal, or bird, reptile or fish. It is the [They however have no influence upon marriage - crossed out][which is regulated by kinship and local exogamy- crossed out][and survive as the merely as the elder brother and - crossed out][and also as in so far the -crossed out] protector that in[some cases such as Kangaroos + birds- crossed out] it gave[notice of - crossed out] danger, and [also -crossed out] has also invokedsongs in cases of [??]
They [thundung - crossed out] are also spoken of as jiakor flesh as in other tribes.
The [jiak - crossed out] totem was told by a man to his son whenabout eight or nine years of age and by a womanto her daughters. [For instance a man might - crossed out]point out his totem to his son and say["see there that is your thundung; yu must - crossed out][not kill it!" - crossed out]
As these names are perpetuated from fathersto sons, the daughter having also the same, descentis clearly in the male line, and they would benecessarily prepetuated in the locality to whicha man belonged. A good instance is thatof the Bunjil-baul who lived in RaymondIsland in Lake King and whose jiak was [the Gluin - crossed out] a bird the Gluin, whence their nameof Gluin-Kong, the Glui's beak.
[The Australia - crossed out][These Thundung- crossed out][The totem and its human brother are - crossed out][These toems and their human "younger brother"- crossed out][which are younger - crossed out][brother - which are sill in the relative of- crossed out][protected + protector - they the form here the - crossed out][two classes with which we now I feel certain they- crossed out][have at one time I feel [??] [??] at where- crossed out][they preceeded - crossed out]
(1) I am much indebted to the Revd John Bulmerfurther investigating the Kurnai Thundungconfirming my own endeavours, by obtaining a[which - crossed out] of [the - crossed out] old people which abundantly exhibitedof male descent.
[written in left side margin]If I am correct in believing that these "thundung"were at one time[consistent with the two primary - crossed out][?? class divisions - crossed out]part of a two class system thenwe have here an instanceof the peculiar[??] of these coast tribes.The totem which [??]to my view preceeded the class agnate[??]exist, whileit has beenreplaced by rhelocal [?agnate?]
Last edit 2 months ago by
ALourie
XM526_ICDMS_lowres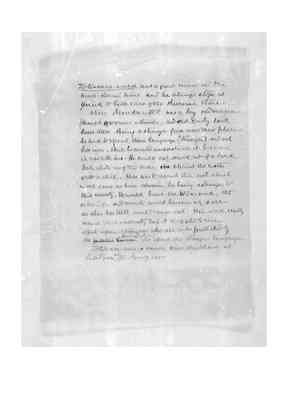 Toto-wara-wara was a great man in the muk-kurnai time and he always stops atYerick to take care of the Kurnai there. When Bundawāl was a boy old Morgan(Bunjil gwaran = thunder) and old Darby tookhim [??]. Being a stranger from another placehe had to speak their language (Nangai) and nothis own. But he could understand it because it was like his. He could only drink out of a bark bowl while one of the men stirred the waterwith a stick. This was to avoid the evil which would come in him otherwise he being a stranger to this country. He would have the Wia-wuk reallyis his lips and mouth would become [??] as also his teeth would come out. Wia-wuk really means "Bad-country" but it is applied to theeffects upon strangers who are not all protected by the [people Kurnai -crossed out] Brataualung who speak the Nangai languageTotawara-wara is known to all the blacks at Lake Tyers and the Snowy River.
Last edit 2 months ago by
ALourie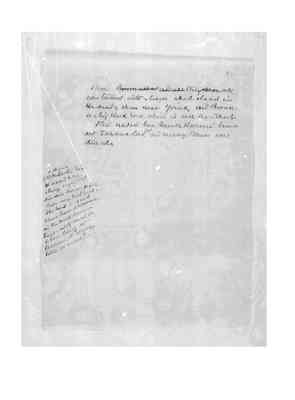 2
Then [Borun all a and all - crossed out] they [others - crossed out] all were turned into stones which stand in the sandy shore near Yiruk and Borunis a big black rock which is with the others.This was in Muk Kurnai timesand Tal-aua-lūk (1) and many other were there also.
(1) A BirdThe Leather headIt is said to bealways crying outDin-din barah prōck.That is very bald head.This bird is said to have been a womanin the Muk Kurnaitimes - and they know itbecause it "alwaystalks so much".
Last edit 2 months ago by
ALourie