1922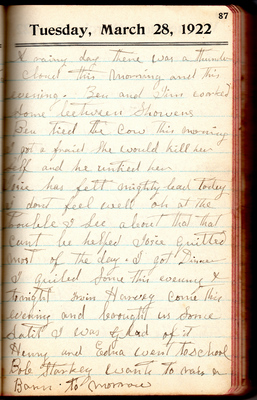 A rainy day. There was a thunder cloud this morning and this evening. Ben and Jim worked some between showers. Ben tied the cow this morning. I got a fraid she would kill her self and he untied her.
Josie has felt mighty bad today. I don't feel well. Oh at the trouble I see about that that cant be helped. Josie quilted most of the day. I got dinner. I quilted some this evening & tonight. Irvin Harvey come this evening and brought us some salit. I was glad of it. Henry and Edna went to school. Bob Starkey wants to rais a barn to morrow.
Last edit about 6 years ago by
mkstewart
1923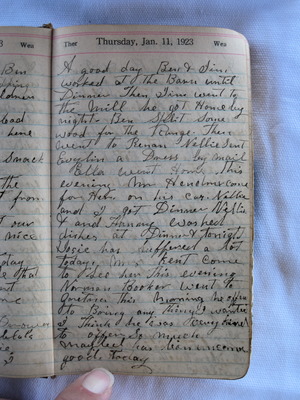 A good day. Ben and Jim worked at the barn until dinner. Then Jim went to the mill. He got home by night. Ben split some wood for the range. Then went to Renan. Nellie sent Evylin a dress by mail. Ella went home this evening. Mr Henelme ??? come for her on his car. Nellie and I got dinner. Nellie & Fanny washed dishes at dinner tonight. Josie has suffered a lot today. Mrs. Kent come to see her this evening. Norman Booker went to Gretna this morning. He offered to bring any thing I wanted. I think he was was very kind to offer so much. Maybel (?) has bein une? good today.
Last edit about 6 years ago by
mkstewart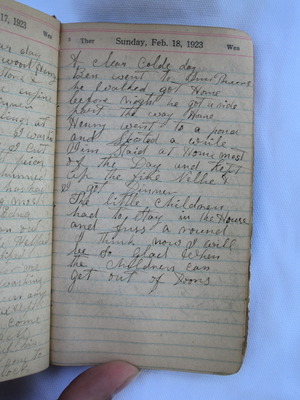 A clear cold day. Ben went to Jim Powers. He walked. Got Home before night. He got a ride part the way home. Henry went to a pond and skated a while. Jim stayed at home most of the day and kept up the fire. Nellie and I got dinner. The little children had to stay in the house and fuss around. I think now I will be so glad when the children can get out of doors.
Last edit over 7 years ago by
Nathani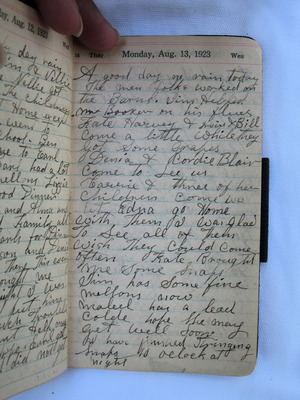 A good day. No rain today. The men folks worked on the barns. Jim helped Mr. Booker on his flues. Kate Harvey and Irvin and Bill come a little while. They got some grapes. Denia and Cordie Blair come to see us. Carrie and three of her children come. We let Edna go home with them. I was glad to see all of them. Wish they could come often. Kate brought me some snaps. Jim has some fine mellons now. Mabel has a bad colde. Hope she may get well soon. I have finished stringing snaps. 10 oclock at night.
Last edit over 6 years ago by
Ben Brumfield