1918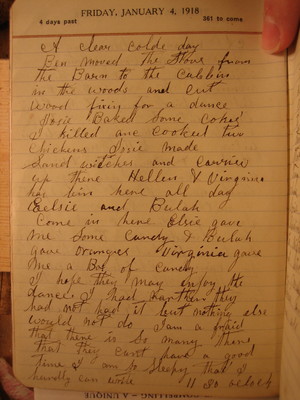 A clear colde day. Ben moved the stove from the barn to the cabbin in the woods and cut wood fixin for a dance. Josie baked some cakes. I killed and cooked two chickens. Josie made sand witches and carried up there. Hellen and Virginia has bin here all day. Elsie and Bulah come in here. Elsie gave me some candy and Bulah gave oranges. Virginia gave me a box of candy.
I hope they may enjoy the dance. I had rather they had not had it but nothing else would not do. I am a fraid that there is so many there that they cant have a good time. I am so sleepy that I hardly can write.
11 30 oclock
Last edit over 11 years ago by
Ben W. Brumfield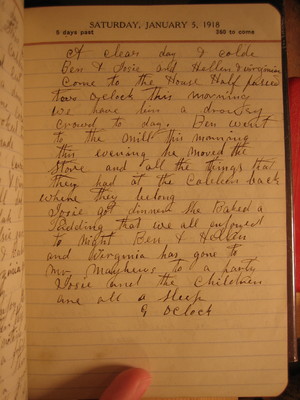 A clear day and colde. Ben and Josie and Hellen and Virginia come to the house half past two oclock this morning. We have bin a drowsy crowd to day. Ben went to the mill this morning. This evening he moved the stove and all the things that they had at the cabbin back where they belong.
Josie got dinner. She baked a pudding that we all enjoyed. To night Ben and Hellen and Virginia has gone to Mr Mayhews to a party. Josie and the children are all a sleep.
9 oclock
Last edit over 11 years ago by
Ben W. Brumfield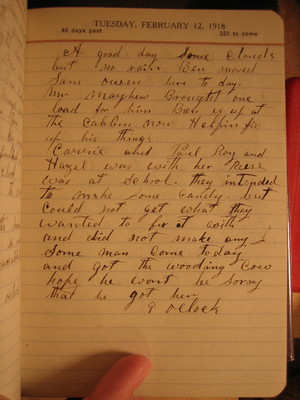 A good day. Some clouds but no rain. Ben moved Sam Owen here today. Mr Mayhew brought one load for him. Ben is up at the cabbin now helpin fix up his things.
Carrie and Paul, Roy and Hazel was with her. Reese was at school. They intended to make some candy but could not get what they wanted to fix it with and did not make any. Some man come today and got the Wooding cow. Hope he wont be sorry that he got her.
9 oclock
Last edit over 10 years ago by
Ben W. Brumfield
1919