1921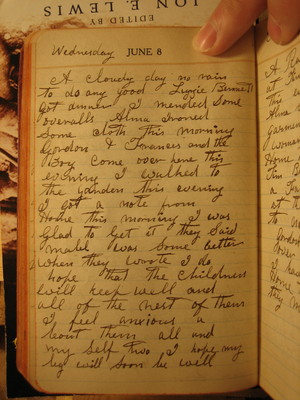 A cloudy day. No rain to do any good. Lizzie Bennett got dinner. I mended some overalls. Alma ironed some cloth this morning. Gordon & Frances and the boy come over here this evening. I walked to the garden this evening.
I got a note from home this morning. I was glad to get it. They said Mabel was some better when they wrote. I do hope that the children will keep well and all of the rest of them. I feel anxious a bout them all and my self two. I hope my leg will soon be well.
Last edit over 8 years ago by
Ben Brumfield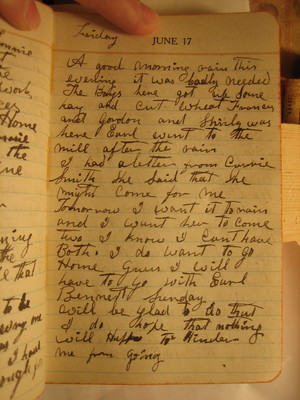 A good morning. Rain this evening. It was badly needed. The boys here got up some hay and cut wheat. Frances and Gordon and Shirly was here. Earl went to the mill after the rain.
I had a letter from Carrie Smith. She said that she might come for me tomorrow. I want it to rain and I want her to come two. I know I cant have both. I do want to go home. Guess I will have to go with Earl Bennett Sunday. Will be glad to do that.
I do hope that nothing will happen to hinder me from going.
Last edit over 8 years ago by
Ben Brumfield