1923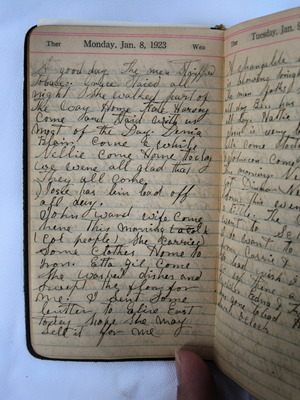 A good day. The men stripped tobacco. Grace staied all night. She walked part of the way home. Kate Harvey come and staid with us most of the day. Demia? Blair come a while. Nellie come home today. We were all glad that they all come.
Jose has been bad off all day.
John Ward wife come here this morning (colored people). She carried some clothes home to iron. Etta Gilbert come. She washed dishes and swept the floor for me. I sent some butter to Elise East today. Hope she may sell it for me.
Last edit over 8 years ago by
Nathani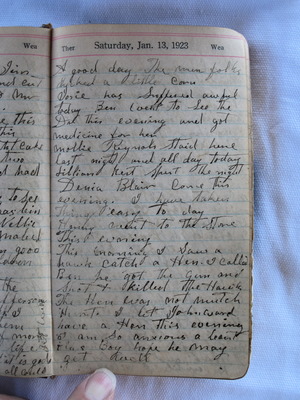 A good day. The men folks shucked a little corn. Josie has suffered awful today. Ben went to see the dr. this evening and got medicine for her. Mollie Reynolds staid here last night and all day today. Lillian Kent spent the night. Denia Blair came this evening. I have taken things easy to day. Henry went to the store this evening. This morning I saw a hawk catch a hen. I called Ben. He got the gun and shot and killed the hawk. The hen was not much hurt. I let John Ward have a hen this evening. I am so anxious a bout ??? boy. Hope he may get well.
Last edit over 8 years ago by
Nathani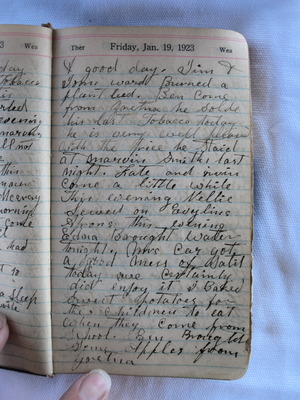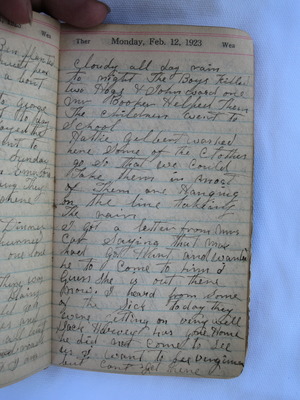 Cloudy all day. Rain tonight. The boys killed two hogs and John Ward one. Mr. Booker helped them. The children went to school.
Hattie Gilbert washed here some of the the clothes ?? so that we could take them in. Most of the are hanging on the line taking the rain. I got a letter from Mrs. Carr saying that Max had got hurt and wanted he to come to him. I guess she is out there now. I heard from some of the sick today. They were getting on very well. Jack Harvey has gone home. He did not come to see us. I want to see Virginia but can't get there.
Last edit over 6 years ago by
mkstewart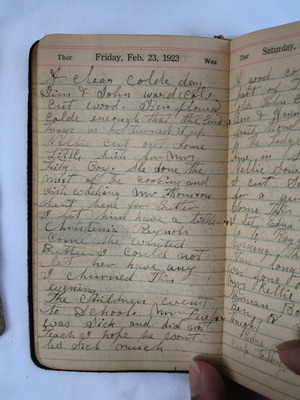 A clear colde day. Jim and John Ward (col) cut wood. Ben plowed. Colde enough that the land froze as he turned it up. Nellie cut out some little suits for Mrs. Fitz boy. She done the most of the cooking and dishwashing. Mr. Thomson sent here for butter. I let him have a little. Christine Reynolds come. She wanted butter. I could not let her have any. I churned this evening. The children went to school. Mr. [Duepe?] was sick and did not teach. I hope he won't be sick much.
Last edit almost 8 years ago by
starrsum