Allsop Diary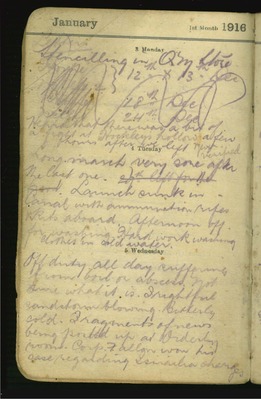 January 1916
3 Monday
Stencilling in Q'M [Close?] [list crossed out] Heard that there was a bit of a fight at [Hockley's hollow] a few hours after we left never verified
4 Tuesday
Long march very sore after the last one. [crossed out] 29th left for the [crossed out] [front]. Launch sunk in Canal with ammunition, Rifles & kits aboard. Afternoon off for washing. Hard work washing clothes in cold water.
5 Wednesday
Off duty all day suffering from boil or abscess. Not sure what it is. Frightful sandstorm blowing. Bitterly cold. Fragments of news being posted up at Orderly room. Corp. Fallon won his case regarding Ismailia charges
Last edit over 3 years ago by
Lenore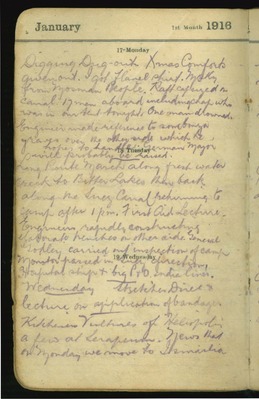 January 1916
17 Monday
Digging Dug-out. Xmas Comforts given out. I got flanel shirt. Mostly from Mosman people. Raft capsized in canal. 17 men aboard including chap who was in our tent tonight. One man drowned. Engineer made reference to some bonza graves over the other side which he hopes to handle. German Major will probably be [?]
18 Tuesday
Long Route March along fresh water creek to Bitter lakes then back along the Suez Canal retiring to camp after 1 pm. First Aid lecture Engineers rapidly constructing elaborate trenches on other side. General [Godley] carried out inspection of camp Monitor passed in Suez direction. Hospital ship & big P&O. India liner.
19 Wednesday
Stretcher drill & lecture on application of bandages. Kitchener's Vultures of Heliopolis a few at Serapeum. News that on Monday we move to Ismailia
Last edit over 3 years ago by
Lenore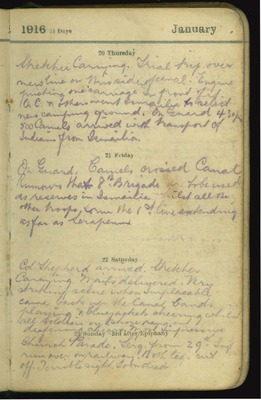 January 1916
20 Thursday
Stretcher Carrying. Trial trip over new line on this side of canal. Engine pushing one carriage in front of it. O.C. & others went Ismailia to select new camping ground. On Guard 4.30 pm. 500 Camels arrived with transport of Indians from Ismailia.
21 Friday
On Guard. Camels crossed Canal Rumours that 8th Brigade are to be used as reserves in Ismailia whilst all the other troops form the 1st line extending as far as Serapeum
22 Saturday
Col. Shepherd arrived. Stretcher Carrying. Mails delivered. Very striking scene when Implacable came back up the canal bands playing & bluejackets cheering whilst all soldiers on shore rang out deafening cheers. Most impressive
23 Sunday
Church Parade. Serg. from 29th Inf run over on railway. Both legs cut off. Terrible sight. Soon died.
Last edit over 7 years ago by
twofruits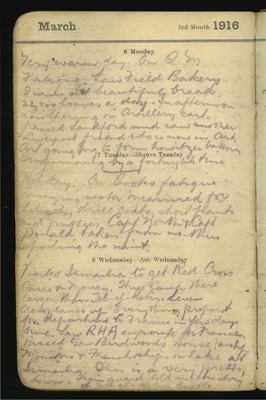 March 1916
6 Monday
Very warm day. On Q.M Fatigue. Saw Field Bakery. [?s] out beautiful breads 22,000 loaves a day. In afternoon saw Sherring on Artillery cart. Passed Sandford and saw another Liverpool friend who is now in Art. Art going to form howitzer battery Troops moving by a fortnights time
7 Tuesday
Hot day. On Cooks fatigue carrying water Measured for helmets, drill coats, short pants and puttees Capt North & Capt Donald taken from us thus spoiling the unit.
8 Wednesday
Visited Ismailia to get Red Cross Cases & money. Huge Camp there larger than Tel-el-Kebir. Seven Aeroplanes up Everything prepared for departure to France in few days time. Saw RHA enroute for France Passed Gen Birdwood's House. Warships Monitors & French ships on lake at Ismailia. This is a very pretty town. Train guard told me history of Tel-el-Kebir battle.
Last edit over 3 years ago by
Lenore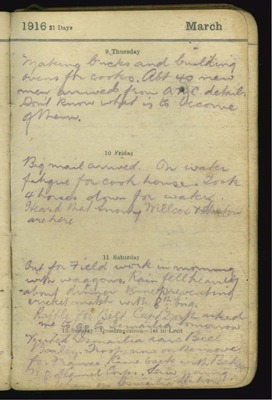 March 1916
9 Thursday
Making bricks and building ovens for cooks. Abt 40 new men arrived from AMC details Don't know what is to become of them.
10 Friday
Big mail arrived. On water fatigue for cook house. Took 4 horses down for water. Heard that Snowy Wilcox & Stanton are here
11 Saturday
Out for field work in morning with waggons. Rain fell heavily about dinner time preventing cricket match with 8th Eng. Raffle for Bill Capt North asked me to go to Ismailia tomorrow
12 Sunday
Visited Ismailia saw Bill Bailey. Troops now on the move for France. Came back with Baker W. O. of Camel Corps. Saw young Lenehan on Ismailia station
Last edit over 3 years ago by
Lenore