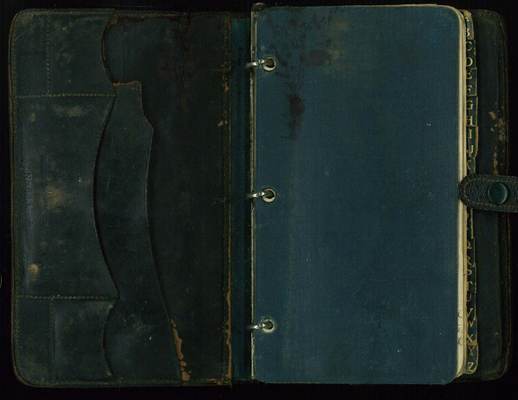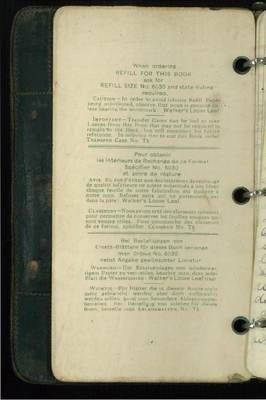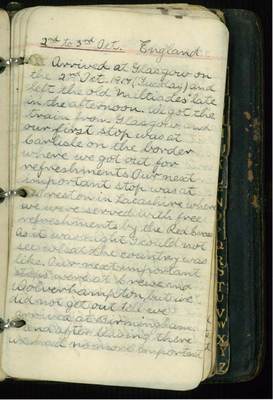 2nd to 3rd Oct. England.
Arrived at Glasgow on the 2nd Oct, 1917 (Tuesday) and left the old "Miltiades" late in the afternoon. We got the train from Glasgow and our first stop was at Carlisle on the border where we got out for refreshments. Our next important stop was at Preston in Lacashire where we were served with free refreshments by the Red Cross. As it was night I could not see what the country was like. Our next important stops were at Crewe and Wolverhampton, but we did not get out till we arrived at Birmingham and after leaving there we had no more important
Last edit about 8 years ago by
twofruits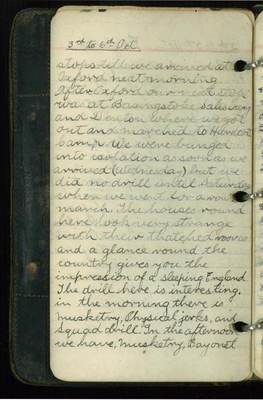 3rd to 6th Oct.
stops till we arrived at Oxford next morning. After Oxford our next stop was at Basingstoke Salisbury and Dinton where we got out and marched to [Hardcott?] Camp. We were [bunged?] into isolation as soon as we arrived (Wednesday) but we did no drill until Saturday when we went for a [routine?] march. The houses round here look very strange with their thatched rooves and a glance round the country gives you the impression of a sleeping England. The drill here is interesting, in the morning there is musketry, physical jerks, and squad drill. In the afternoon we have musketry, Bayonet
Last edit about 8 years ago by
twofruits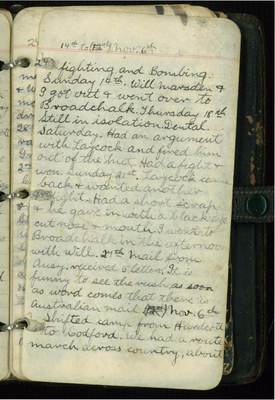 14th to Nov 6th
24 fighting and Bombing. Sunday 14th. Will Marsden & I got out & went over to Broadchalk. Thursday 18th Still in isolation. Dental. Saturday. Had an argument with Laycock and fired him out of the hut. Had a fight & won. Sunday 21st. Laycock came back & wanted another fight. Had a short scrap & he gave in with a black eye cut nose & mouth. I went to Broadchalk int he afternoon with Will. 27th. Mail from [Ausy?] received 5 letters. It is funny to see the rush as soon as word comes that there is Australian mail. Nov 6th. Shifted camp from [Hardcott?] to Godford. We had a route march across country, about
Last edit about 8 years ago by
twofruits
Displaying Page 1 - 5 of 58 in total