Search for Gamble*
1875 Gambel letters YB Vol. 389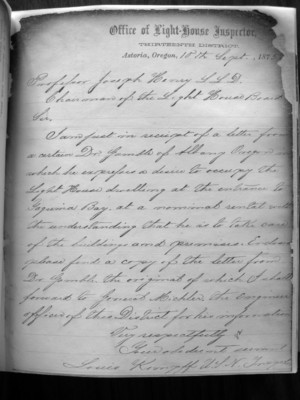 Office of Light-House Inspector Thirteenth District Astoria, Oregon, 10th Sept., 1875
Profefsor Joseph Henry L.L.D. Chairman of the Light House Board
Sir,
I am just in receipt of a letter from a certain Dr. Gamble of Albany Oregon in which he expresses a desire to occupy the Light House dwelling at the entrance to Yaquina Bay at a nominal rental with the understanding that he is to take care of the buildings and premises. Enclosed please find a copy of the letter from Dr. Gamble, the original of which I shall forward to General Michler, the engineer officer of this District for his information.
Very respectfully Your obedient servant
Louis Kernopff U.S.N. Inspector
Last edit over 2 years ago by
Wjhoward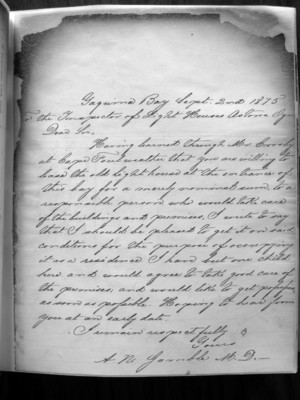 Yaquina Bay Sept. 2nd 1875 To the Inspector of Light Houses Astoria Ogn.
Dear Sir,
Having learned through Mr. Crosby at Cape Foulweather that you are willing to lease the old lighthouse at the entrance of this bay for a merely nominal sum to a responsible person who would take care of the buildings and premises, I write to say that I should be pleased to get it on said conditions for the purpose of occupying it as a residence. I have but one child here and I would agree to take good care of the premises, and would like to get possession ? as soon as possible. Hoping to hear from you at an early date.
I remain respectfully Yours
A. W. Gamble M.D.
Last edit over 2 years ago by
Wjhoward