Search for "Senator Mitchell"
Box 252 List of supplies 1885, YB, YH Emery Pay 1887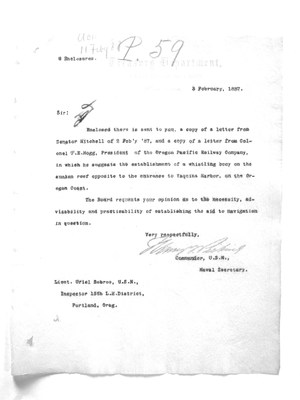 2 Enclosures.
3 February, 1887.
Sir: Enclosed there is sent to you, a copy of the letter from Senator Mitchell of 2 Feb'y '87, and a copy of a letter from Colonel F.E.Hogg, President of the Oregon Pacific Railway Company, in which he suggests the establishment of a whistling buoy on the sunken reef opposite to the entrance to Yaquina Harbor, on the Oregon Coast. The Board requests your opinion as to the necessity, aivisability and practicability of establishing the aid to navigation in question. Very respectfully, ??? Commander, U. S. N., Naval Secretary.
Lieut. Uriel Sebree, U.S.N., Inspector 13th L.H.District, Portland, Oreg.
Last edit over 1 year ago by
jwallace