Search for "Cape Arago" "CAPE ARAGO"
Vol 575 1882 and 1883 repairs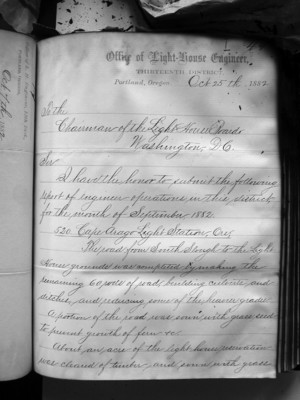 Office of Light-House Engineer THIRTEENTH DISTRICT, Portland, Oregon, Oct. 25th, 1882
To the Chairman of the Light-House Boards, Washington D.C., Sir: I have the honor to submit the following report of engineer operations in this district, for the month of September, 1882. 520: Cape Arago Light Station, Ore; The road from South Slough to the Light House grounds was completed by making the remaining 60 rods of road, building culverts and ditches, and reducing some of the heavier grades. A portion of the road was sown with grass seed to prevent growth of fern &c. About an acre of the light-house reservation was cleared of timber, and sown with grass
Last edit about 3 years ago by
Friends of Yaquina Lighthouses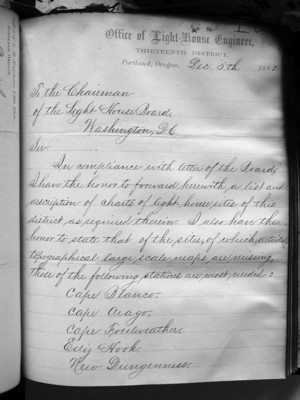 Office of Light-House Engineer, THIRTEENTH DISTRICT, Portland, Oregon, Dec. 5th, 1882
To the Chairman of the Light-House Board, Washington D.C.
Sir: In compliance with letter of the Board, I have the honor to forward herewith a list and description of charts of light-house sites of this district as required therein. I also have the honor to state that of the sites, of which detailed, topographical large scale maps are missing, those of the following stations are more needed: Cape Blanco. Cape Arago. Cape Foulweather. Ediz Hook. New Dungenness.
Last edit about 3 years ago by
Friends of Yaquina Lighthouses
YH LH location and building Vol. 311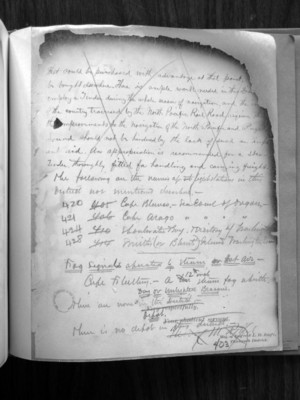 that could be purchased with advantage as that point. (text obliterated) be bought elsewhere. There is ample work needed in This District (missing text) employ a Tender during the whole season of navigation, and The ??? of the country Traversed by the North Pacific Rail Road require that the improvements to the navigation of the North Pacific and Puget Sound should not be hindered by the lack of such an important aid. An appropriation is recommended for a Steam Tender, thoroughly fitted for handling and carrying freight.(entire section above crossed out)
The following are the names of light stations in this district not mentioned ???. -
420 (405 - crossed out) Cape Blanco. - Sea Coast of Oregon. -421 (406 - crossed out) Cape Arago '' '' '' ''424 (410 - crossed out) Shoulwater Bay. Territory of Washington428 (414 - crossed out) Smith's (or Blunt's) Island Washington Sound
Fog Signals operated by steam or hot air -Cape Flattery. - a (ten - crossed out) 12 inch steam fog whistle.
Day or unlighted BeaconsThere are none in the District
DepotThere is no depot in this district
(Very respectfullyYour obedient servantHenry M. RobertMaj. of Eng'rs and L.H. Eng'rThirteenth District - all crossed out)
403
Last edit 7 months ago by
Christine
1871-1872 keeper selection and LH building Vol. 336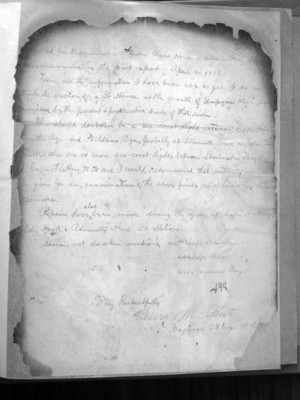 -asked for, to construct a 3rd Order Light House & Steam Fog Light House recommended in the joint report of April 30 1873. From all the information I have been able to get I do not think the erection of a Lt House at the mouth of Umpqua River, Ogn required by the present & prospective trade of that river - There should doubtless be a sea-coast light between Cape Foulweather, Ogn and Pt Adams, Ogn, probably at Tillamook Head or False Tillamook: also one or more sea-coast lights, between Shoalwater Bay WT & Cape Flattery, WT: and I would recommend that authority & ??? be given for an examination of the above points as a basis for future estimates. Repairs have also been made during they year at Cape Flattery, Ediz Hook & Admiralty Head Lt Stations. Stations not else- where mentioned are 443 Cape Blanco. 444 Cape Arago. 445 Yaquina Bay.
Very Respectfully Henry M Robert Maj Engrs LH Engr 13" Dist.
Last edit over 1 year ago by
Jayk
Box 252 List of supplies 1885, YB, YH Emery Pay 1887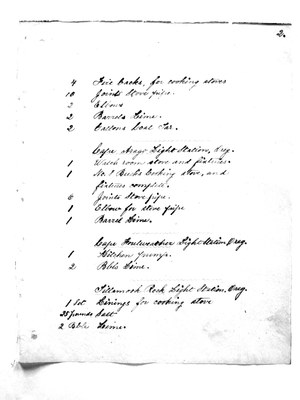 2.4 Fire backs, for cooking stoves10 Joints stove pipe.2 Elbows2 Barrels Lime.2 Gallons coal tar.
Cape Arago Light Station, Oreg.1 Watch room stove and fixtures.1 No. 8 bucks cooking stove, and fixtures complete.6 Joints stove pipe.1 Elbow for stove pipe.1 Barrel Lime.
Cape Foulweather Light Station, Oreg.1 Kitchen pump.2 Blls Lime.
Tillamook Rock Light Station. Oreg.1sct Linings for cooking stove25pounds Salt-2 Blls Lime.
Last edit over 1 year ago by
caroleholmson