Search for "J. H. Spotts"
1871-1872 keeper selection and LH building Vol. 336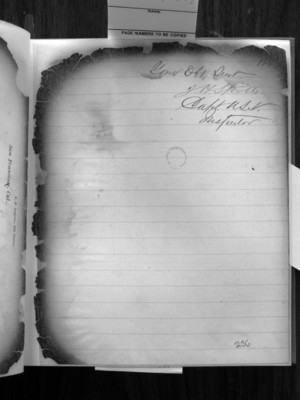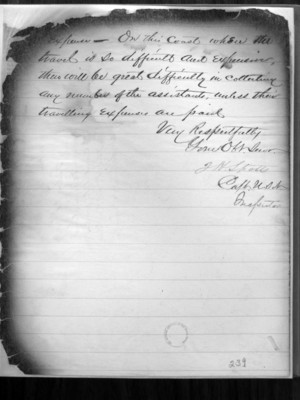 expense -- On this coast where the travel is so difficult and expensive, there??? will be great difficulty in collecting any number of the assistants, unless their travelling expenses are paid. Very Respectfully Your Obt. Serv. J.H. Spotts Capt. U.S.N. Inspector
Last edit over 1 year ago by
lkarnatz
1873-75 Lighthouse Keepers Logs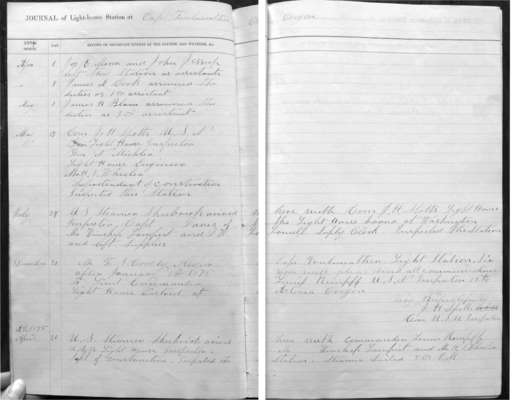 1874 April 1 Joe C Mann and John Jessup left the Station as assistants
1874 April 8 James A Cook assumed the duties as 1st assistant
1874 May 1 James H Blain assumed the duties as 2nd assistant
1874 May 17 Com J. H Spotts U.S.N Gen Light House Inspection, Gen N. Michler Light House Engineer, Mr H. S. Wheeler Superintendant of construction, Inspected this Station
1874 July 24 US Steamer Shubrick arrived here with Com J. H. Spotts Light House Inspector, Capt Davis of the Light House board at Washington, Mr. Winship Lampist and D W Lowell Suply Clerk, inspected the Station and left supplies
1874 December 21 Mr. F. S. Crosby, Keeper Cape Foulweather Light Station. Sir after January 1 1875 you will please send all communications to Lieut-Commander Lewis Kempff U.S.N Inspector 13th Light House District at Astoria Oregon Very Respectfully J H Spotts U.S.N Com U.S.N Inspector A.D. 1875
1875 April 20 U.S. Steamer Shubrick arrived here with Commander Lewis Kempff U.S.N. Light House Inspector, Mr Winship Lampist and Mr H. S. Wheeler Supt of construction, Inspected the Station. Steamer sailed 5 O'c P.M.
Last edit over 2 years ago by
Friends of Yaquina Lighthouses