Search for "Port Townsend"
Vol 313 LH at CF letter 1873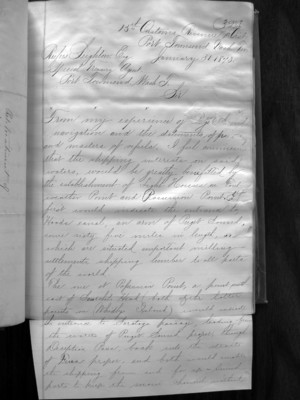 13th Customs Revenue L. Dist. Port Townsend Wash. Ter. Rufus ??? Eng. January 31. 1873. Special Treasury Agent. Port Townsend, Wash. T. Sir x x x x x From my experience of Puget Sound navigation and the statements of ??? and masters of vessels I feel convinced that the shipping interests on said waters, would be greatly benefited by the establishment of Light Houses on Foulweather Point and Possession Point. It first would indicate that entrance to Hood Canal, an arm of Puget Sound, some sixty five miles in length, on which are situated important milling settlements, shipping lumber to all parts of the world.
The one at Possession Point, a point southeast of Seatchets Head (both of the latter point on (Whidbey Island) would indicate the entrance to Saratoga Passage, leading from the waters of Puget Sound proper, through Deception Pass, back into the Straights of Fuca proper, and both would enable the shipping from and for up-sound ports to keep the ??? channel without
Last edit over 2 years ago by
Wjhoward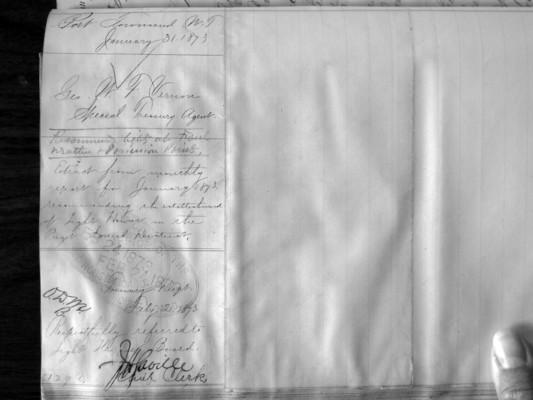 Port Townsend W. T. January 31, 1893 G(?) W. T. Vernon. Special Treasury Agent Recommends lights at Foul Weather + Posession Point. Extract from monthly report for January 1893 reccomending the establishment of Light Houses in the Puget Sound District.
Treasury ??? Feby 21, 1893. Respectfully referred to Light House Board J ??? Chief Clerk
Stamp Reads: OFFICE OF THE FEB 24 1873 LIGHT HOUSE BOARD.
Last edit 10 months ago by
Whisp
YH LH location and building Vol. 311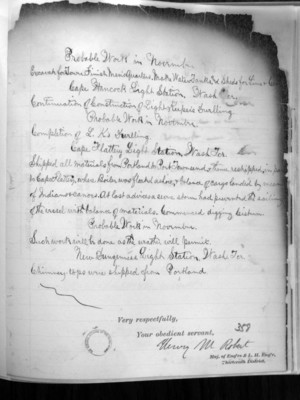 Probable Work in November Excavate for Tower. Finish Men's Quarters, Make Water Tanks and Sheds for Lime & Co. Cape Hancock Light Station, Wash. Ter. Continuation of Construction of Light Keeper's Dwelling
Probable Work in November Completion of L.K. Dwelling
Cape Flattery Light Station, Wash. Ter. Shipped all materials from Portland Port Townsend,& thence reshipped in part to Cape Flattery, where boiler was floated ashore, & balance of cargo landed by means of Indians & canoes. At last advices a severe storm had prevented the sailing of the vessel with balance of material. Commenced digging cisturn.
Probable Work in November Such work will be done as the weather will permit.
New Dungenness Light Station, Wash. Ter. Chimney-tops were shipped from Portland
Very respectfully, Your obedient servant, Henry M Robert Maj. of Eng'rs & L.H. Eng'r Thirteenth District
358
Last edit 7 months ago by
DReade
Coast Guard District narrative histories 1945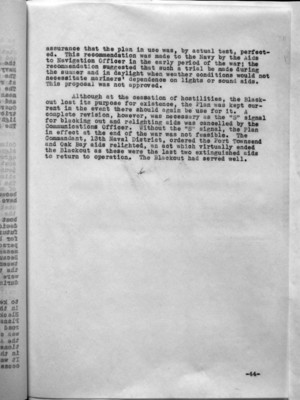 assurance that the plan in use was, by actual test, perfected. This recommendation was made to the Navy by the Aids to Navigation Officer in the early period of the war; the recommendation suggested that such a trial be made during the summer and in daylight when weather conditions would not necessitate mariners' dependence on lights or sound aids. This proposal was not approved.
Although at the cessation of hostilities, the Blackout lost its purpose for existence, the Plan was kept current in the even there should again be use for it. A complete revision, however, was necessary as the "S" signal for blacking out and relighting aids was cancelled by the Communications Officer. Without the "S" signal, the Plan in effect at the end of the war was not feasible. The Commandant, 13th Naval District, ordered the Port Townsend and Oak Bay aids relighted, an act which virtually ended the Blackout as these were the last two extinguished aids to return to operation. The Blackout had served well.
-44-
Last edit over 2 years ago by
Wjhoward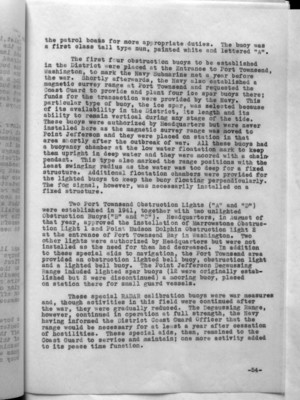 the patrol boats for more appropriate duties. The buoy was a first class tall type nun, painted white and lettered "A".
The first four obstruction buoys to be established in the District were placed at the Entrance to Port Townsend, Washington, to mark the Navy Submarine net a year before the war. Shortly afterwards, the Navy also established a magnetic survey range at Port Townsend and requested the Coast Guard to provide and plant four ice spar buoys there; funds for the transaction were provided by the Navy. This particular type of buoy, the ice spar, was selected because of its availability in the District, its length and its ability to remain vertical during any stage of the tide. These buoys were authorized by Headquarters but were never installed here as the magnetic survey range was moved to Point Jefferson and they were placed on station in that area shortly after the outbreak of the war. All these buoys had a buoyancy chamber at the low water flotation mark to keep them upright in deep water and they were moored with a chain pendant. This type also marked the range positions with the least swinging radius as the water was too deep for a fixed structure. Additional flotation chambers were provided for the lighted buoys to keep the buoy floating perpendicularly. The fog signal, however, was necessarily installed on a fixed structure.
Two Port Townsend Obstruction Lights ("A" and "D") were established in 1941, together with two unlighted Obstruction Buoys ("B" and "C"). Headquarters, in August of that year, approved the installation of Marrowstone Obstruction Light 1 and Point Hudson Dolphin Obstruction Light 2 at the entrance of Port Townsend Bay in Washington. Two other lights were authorized by Headquarters but were not installed as the need for them had decreased. In addition to these special aids to navigation, the Port Townsend area provided an obstruction lighted bell buoy, obstruction light and a lighted bell buoy. The Point Jefferson Degaussing Range included lighted spar buoys (12 were originally established but 2 were discontinued) a mooring buoy, placed on station there for small guard vessels.
These special RADAR calibration buoys were war measures and, though activities in this field were continued after the war, they were gradually reduced. The Degaussing Range, however, continued in operation at full strength, the Navy having informed the District Coast Guard Officer that the range would be necessary for at least a year after cessation of hostilities. These special aids, then, remained to the Coast Guard to service and maintain; one more activity added to its peace time function.
-54-
Last edit over 2 years ago by
Wjhoward