Search for "Port Townsend"
Vol 313 LH at CF letter 1873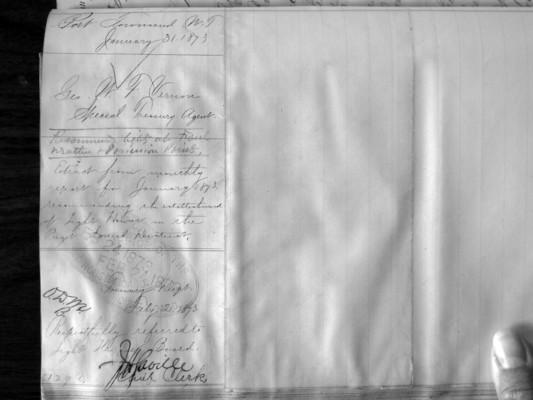 Port Townsend W. T.January 31, 1893G(?) W. T. Vernon.Special Treasury AgentRecommends lights at FoulWeather + Posession Point.Extract from monthlyreport for January 1893reccomending the establishmentof Light Houses in the Puget Sound District.
Treasury ???Feby 21, 1893.Respectfully referred to Light House BoardJ ???Chief Clerk
Stamp Reads:OFFICE OF THEFEB 24 1873LIGHT HOUSE BOARD.
Last edit 10 months ago by
Whisp
YH LH location and building Vol. 311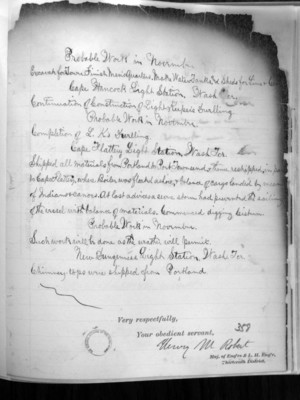 Probable Work in NovemberExcavate for Tower. Finish Men's Quarters, Make Water Tanks and Sheds for Lime & Co.Cape Hancock Light Station, Wash. Ter.Continuation of Construction of Light Keeper's Dwelling
Probable Work in NovemberCompletion of L.K. Dwelling
Cape Flattery Light Station, Wash. Ter.Shipped all materials from Portland Port Townsend,& thence reshipped in part to Cape Flattery, where boiler was floated ashore, & balance of cargo landed by means of Indians & canoes. At last advices a severe storm had prevented the sailing of the vessel with balance of material. Commenced digging cisturn.
Probable Work in NovemberSuch work will be done as the weather will permit.
New Dungenness Light Station, Wash. Ter.Chimney-tops were shipped from Portland
Very respectfully,Your obedient servant,Henry M RobertMaj. of Eng'rs & L.H. Eng'rThirteenth District
358
Last edit 7 months ago by
DReade