Search for "Celilo Canal"
Coast Guard District narrative histories 1945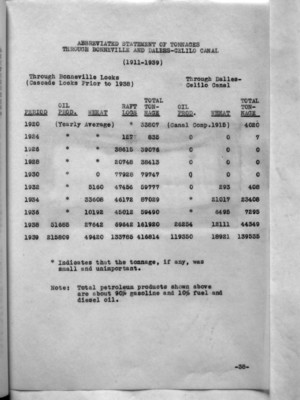 Abbreviated Statement of TonnagesThrough Bonneville and Dalles-Celilo Canal(1911-1939)Through Bonneville Locks Through Dalles-( Cascade Locks Prior to 1938) Celilo Canal
Period Oil Prod. Wheat Raft Logs Total Tonnage Oil Prod. Wheat Total Tonnage1920 (Yearly Average) * 33807 (Canal Comp. 1915) 4020192419261928193019321934193619381939
*Indicates that the tonnage, if any, was small and unimportant.
Note: Total petroleum products shown above are about 90% gasoline and 10% fuel and diesel oil.
Last edit about 1 year ago by
EarthYake