Search for "Superintendent of Lights"
Yaquina Bay Built 1869 to 1871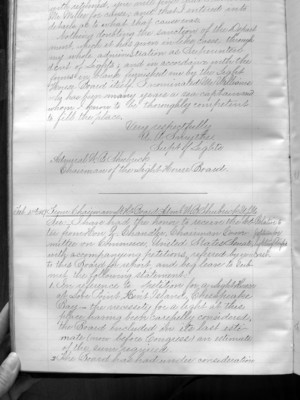 with returned you will find ??? Mr. Miller for cause; and that I entered into details as to what that cause was.
Nothing doubting the sanction of the Department, which it has given in like cases through my whole administration as Superintendent of Lights; and in accordance with the forms in blank furnished me by the Light House Board itself. I nominated Mr. Williams who has been many years a sea captain and whom I know to be thoroughly competent to fill the place.
Very respectfully A. A. Smythe. Supt of Lights
Admiral W.B. Shubrick Chairman of the Light House Board.
__________________________________________________
Feb 13th, 1869
From Chairman L.H. Board Adml. W.B. Shubrick U.S.N
Relative to Petitions for lighting Pacific coast.
Sir: I have had the honor to receive the letter from Hon Z. Chandler, Chairman Committee on Commerce, United States Senate, with accompanying petitions, referred by you to this Board for report, and beg leave to submit the following statement:
1. In reference to petition for a Light House at Love Point, Kent Island, Chesapeake Bay - the necessity for a light at this place having been carefully considered, the Board included in its last estimate (now before Congress) an estimate of the sum required.
2. The Board has had under consideration
Last edit over 2 years ago by
Wjhoward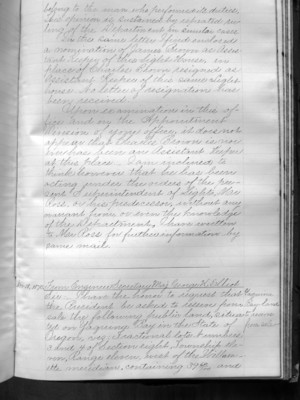 belong to the man who performed its duties, This opinion is sustained by repeated ruling of the Department in similar cases.
In the same letter I find enclosed a nomination of James Brown as Assistant Keeper of this Light House, in place of Charles Brown resigned as Assistant Keeper of this same Light House. No letter of resignation has been received.
Upon examination in this office and in the Appointment Division of your office, it does not appear that Charles Brown is nor ever has been an Assistant Keeper at this place. _ I am inclined to think however that he has been acting under the orders of the present Superintendent of Lights, Mr. Ross, or his predecessor, without any warrant from or even the knowledge of the Department. I have written to Mr. Ross for further information by same mail.
_________________________________________________________________
Nov 18, 1870 From Engineer Secretary Maj George H Elliot
Yaquina Bay - land to reserve from sale _
Sir: _ I have the honor to request that the President be asked to reserve from sale the following public land, situated on Yaquina Bay in the State of Oregon, viz: Fractional lots Numbers 3 and 4 of Section eight, Township eleven, Range eleven, west of the Williamette meridian, containing 39 60/100 and
Last edit over 2 years ago by
DonnaS