Search for "Double Bluff "
Coast Guard District narrative histories 1945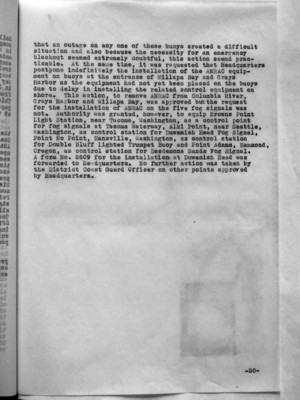 that an outage on any one of these buoys created a difficult situation and also because the necessity for an emergency blackout seemed extremely doubtful, this action seemed practicable. At the same time, it was requested that Headquarters postpone indefinitely the installation of the ANRAC equipment on buoys at the entrance of Willapa Bay and Grays Harbor as the equipment had not yet been placed on the buoys due to delay in installing the related control equipment on shore. This action, to remove ANRAC from Columbia River, Grays Harbor and Willapa Bay, was approved but the request for the installation of ANRAC on the five fog signals was not. Authority was granted, however, to equip Browns Point Light Station, newar Tacoma, Washington, as a control point for fog signals at Tacoma Waterway, Alki Point, near Seattle, Washington, as control station for Duwamish Head Fog Signal, Point No Point, Hansville, Washington, as control station for Double Bluff Lighted Trumpet Buoy and Point Adams, Hammond, Oregon, as control station for Desdemona Sands Fog Signal. A form No. 2609 for the installation at Duwamish Head was forwarded to Headquarters. No further action was taken by the District Coast Guard Officer on other points approved by Headquarters.
-50-
Last edit about 3 years ago by
Wjhoward