Search for "schooner Elnorah"
1871-1872 keeper selection and LH building Vol. 336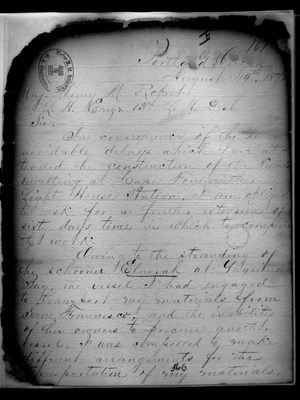 Portland, Oregon August 19th, 1872 (Stamped) H.M. ROBERT, US Engineers. AUG 19 1872 Maj. Henry M. Roberts L.H. Engr. 13th L.H. Dist. Sir: In consequence of the unavoidable delays which have attended the construction of the Keepers Dwelling at Cape Foulweather Light House Station, I am obliged to ask for a further extension of sixty days time in which to complete the work.
Illegible stamp here???
Owing to the stranding of the schooner Elnorah at Yaquina Bay, the vessel I had engaged to transport my materials from San Francisco, and the inability of her owners to procure another vessel, I was compelled to make different arrangements for the transportation of my materials,
Last edit over 2 years ago by
lkarnatz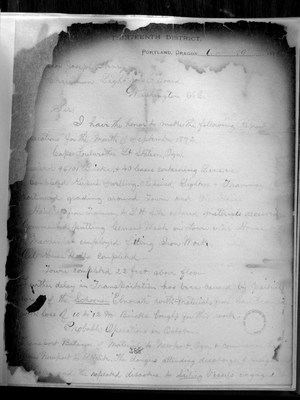 THIRTEENTH DISTRICT, PORTLAND, OREGON OCT 19 1872
???sor Joseph Henry Chairman Light-House Board, Washington D.C.
Sir: I have the honor to make the following Report operations for the month of September 1872.
Cape Foulweather, Lt Station, Ogn. Received 96101 Bricks, & 40 cases containing Lens, &c. Completed Keepers' Dwelling. Repaired Lighters & Tramway.Continued grading around Tower and Oil - house.Hauled from tramway to L.H. site assorted materials received. Commenced putting Cement Wash on Tower & Oil - House. Machinist employed fitting Iron Work. Oil house walls completed -
Tower completed 22 feet above floor - Further delay in Transportation has been caused by partial wreck of the Schooner "Elnorah" with materials from San Francisco, with loss of 10 to 12 M bricks bought for this work.
Probable Operations in October Transport balance of materials to Newport, Ogn. & commence hauling from Newport to L.H. site. The dangers attending discharge of freight at Cape and the repeated disasters to Sailing Vessels engaged in
Last edit over 2 years ago by
lkarnatz