Search for checks*
YH LH location and building Vol. 311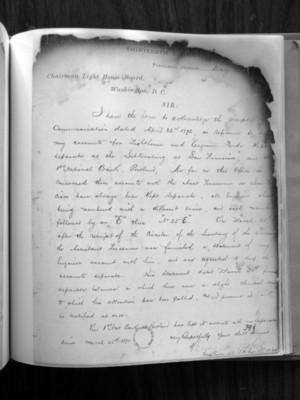 (Office of Light House Engineer)THIRTEENTH DISTRICT
PORTLAND, OREGON May 6 (1872)
Chairman Light House Board,Washington, D.C.
SIR:
I have the honor to acknowledge the receipt of communication dated April 22nd 1872, in reference to have my accounts for Lighthouse and Engineer Funds kept separate at the Subtreasury at San Francisco, and the 1st National Bank, Portland. As far as this office is concerned these accounts with the Asst Treasurer at San Francisco have always been kept separate, all Engineer checks being numbered with a different series and each number followed by an "E" thus "No 25 E". On March 25th after the receipt of the circular of the Secretary of the Treasury the Assistant Treasurer was furnished a statement of my Engineer account with him, and was requested to keep the accounts separate. His statement dated March 30th furnished separate balances in which there was a slight clerical error to which his attention has been called, and I presume it will be rectified at once.The 1st Nat Bank of Portland has kept its accounts with me separate since March 25th 1872.
Very respectfully your obedt servant[Henry M Robert][Maj Eng'rs and LH Eng'r 13th Dist.]
394
Last edit 10 months ago by
DReade
1893 Lighthouse Keeper Logs
January 1: Light N.W. and calm then 24 hours first part of 24 hours thick damp fog- Last part of 24 hours fair weather. Sea very smooth- General duties for the day Keeper and 2nd ast. went to Newport- to take mail. 1st asst. went fishing.
2: Light N.W. wind and calm there 24 hours with clear fine and cool weather during the 24 hours. Sea very smooth. General duties for the day Keeper and 2nd ast. went to Newport to get checks cashed.
3: Light S.E. and South wind there 24 hours with cloudy but dry weather. Sea very smooth-
Last edit almost 2 years ago by
Friends of Yaquina Lighthouses