Search for Wills*
XM123_ICDMS_lowres A L P Cameron to Howitt 26 December 1903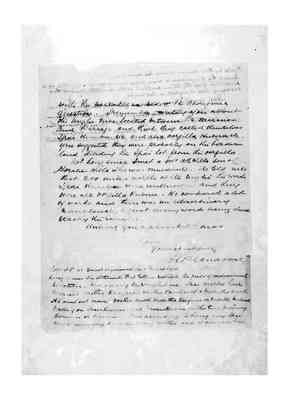 with the [.........] side of the Aborigines question I remember writing you about the Unghi tribe located between the Maranoaand Warrego and that they called themselves Ipai, Kumbo etc and and also Oorjilla, Kuberu etc.You suggested they were probably on the border land dividing Ipai lot from the Oorjilla.Not long since I met a Mr H.S. Wills son of Horatio Wills who was murdered. He told me that 200 miles north of the Unghi the words Ipai Kumbo were unknown and theywere all Oorjilla Kuberu. We compared a lot of words and there was an extraordinary resemblance, a great many words being almost exactly the same.
Wish you a pleasant Xmas
Yours faithfully
ALP Cameron
Page 45 [..] some argument [...... ... ....] "dismiss?" this statement that totems [........] this field of [.........] selection. [...] a [....]. the [........... ....] mallee here marries [.....] kangaroo with a bandicoot & [.........] kangaroo or [........ ......] on [.... .......] and [............] as the two primary divisions as [........]. Then according to "Lang?" any [....] could marry any [......] or any [......] and of course "be?"
Last edit 7 months ago by
ALourie
XM66_ICDMS_lowres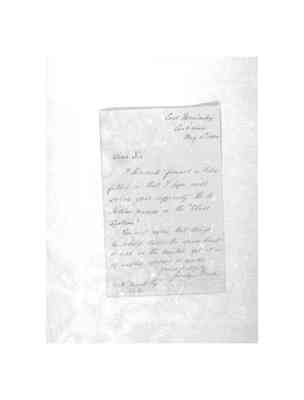 East NorambyCooktownMay 5th 1885
Dear sir,
I herewith forward a tablefilled in that I hope willsolve your difficulty re: thetotem names in the "classSystem"
You will notice that thoughthe child takes the same beastor bird as the mthers yet it isof another species or genderYour faithfullyJocelyn Brooke
A.W. Howitt EsqSale
Last edit 30 days ago by
ALourie
tip70-10-33-7 Howitt to Fison 29/12/1873
as well as much [??] surveyabout 54 sqr miles round Bairnsdale.Add to this all my evenings occupiedwith examination of the metal mineral+c of that district and I think you willsee that I am at any rate not oneof those who have spare time to devoteto ethnological imquiry and do not avail themselves of it.
The marks I have made uponMr Braziers document will not Ihope be in your way.
Believe me my dear Mr FisonYours faithfullyA. W. Howitt
Last edit 30 days ago by
ALourie
tip70-10-41-9 Scrivener to Howitt 5/2/1874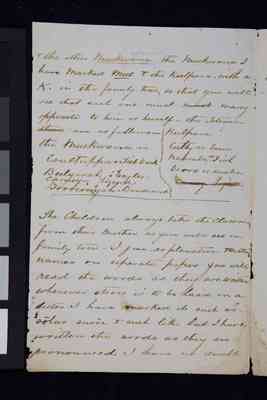 and the other Muckuarra (underlined). The Muckuarra I have marked Muc (underlined) & the Kalpara with aK in the family trees so that you willsee that each one must marryopposite to him or herself - the Totems-
| are as follows | Kulpara |
| --- | --- |
| the Muckurarra is | Cuthy or Emu |
| Coultuppa a Teal Duck | [Naormbra] or Fish |
| Beelyarah : Eagle | Dooro or snake |
Boorcineyah Bandicoot -------------------------------------------------------------------
-
The Children always take the Classnamefrom their Mother as you will see infamily trees - I give explanations to [??]names on separate paper you willread the words as they are writtenwherever stress is to be laid in a letter I have marked it out asoolar (macron over second o) snore (macron over r) & such like but I havewritte the words as they arepronounced I have no doubt
Last edit 11 months ago by
Helen Gardner
XM720_ICDMS_lowres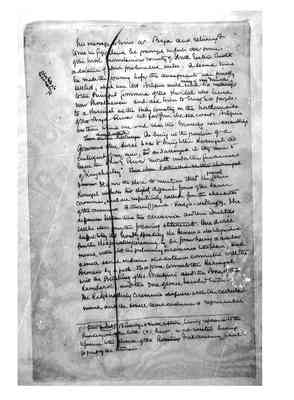 4his message to him at Bega and returing [sic]to me in Gippsland he journeyed on foot over some of the most mountainous country of South Eastern Australiaa distance of about four hundred miles. A second timehe made the journey before the arrangements were finallysettled, which were that Brūpin would send his messenger carrying my "Mudthi"to the Principal Gommera of the Kurial who livednear Shoalhaven and ask him to bring his peopleto a Kuringal in the Hilly country in the northernsideof the Bega River not far from the sea coast. Brūpinwas then to send me word when the Murringwere assembling.[crossed out - Then at the Kuringal when I attended] As being in the position of aGommera of the KurnaiI was to bring to the Kuringal acontingent of my men, and as I arranged it they were toleave the Snowy River mouth under the guidance of "King Charley". [crossed out - Thus when I attended at the KuringalI was in] It is now the place to mention that the general termKuringal includes two [crossed out - slightly] different forms of the same ceremonies, which are resepctively called from the characterof the ceremonie [sic] Būnan (1) and Kadja-walūng (2). Thedifferences between these two ceremonies and their identitieswill be seen from the following statements. Here it willsuffice to say that broadly speaking the Bunan is distinguishedfrom the Kadja-walūng ceremony by the former having a circularmound within with the preliminary ceremonies take place, anda small sacred enclosure at a distance connected with theBunan by a path. This form connects the Kuringalwith the Būrbŭng of the Wiradjuri [crossed out - and] the Bora of theKamilaroi and the Dora of [?some?] Queensland tribes.The Kadja-walūng ceremonies disperse with the circularmound and the small sacred enclosure is represented
[footnotes at the bottom of the page](1) from [?probably?] Bŭning = to knock or strike, having reference to theknocking out of the tooth. (2) Raw, or not roasted havingreference to the absence of the [crossed out - Roasting] Fire ceremony whichis part of the Būnan.
Last edit 9 days ago by
ALourie
hw0404 Notes on Kurnai 150 pages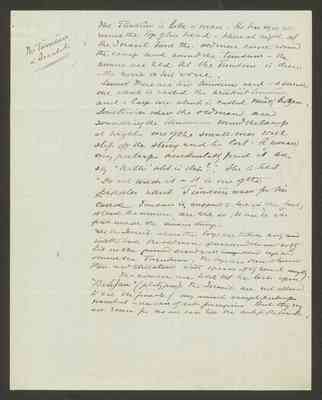 The Tŭrndūn + JeraeilThe Tŭndūn is like a man. He has eyes allround the top of his head. When at night atthe Jeraeil time the old men come roundthe camp and sound the tunduns - thewomen are told that the Tundun is there- the noise is his voice.There are two tunduns used - a smallone which is called the wrūkŭt tŭndūnand a large one which is called mŭk [?brojan?]Sometimes when the old men aresounding the tundun round the campat night one of the small ones willslip off the string and be lost. A woman may perhaps accidentally find it andsay "hallo what is this?" She is told"Do not touch it - it is one of thepaddles which Tŭndūn uses for hiscanoe. Tundun is supposed to live in the bush;at least the women are told us. It was he whofirst made the [?norden?] things.At the Jeraeil when the boys are taken away into the bush the old men surround them as theylie on the ground covered with their rug andsound the Tunduns. The boys are then shownthese and threatened with spears if they reveal anything.
The women are told that he lives upon"Barlejan" (platypus). The Jeraeil are not allowedto eat the female of any animal except perhapswambat - not can they eat porcupine. But they mayeat some emu for no one can tell the male from the female.
Last edit 10 months ago by
ALourie
tip70-10-33-5 Howitt to Fison 7/7/1873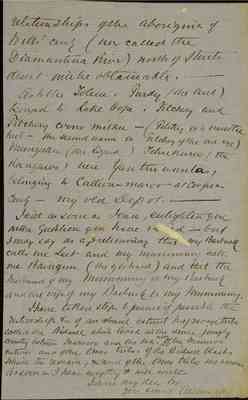 relationships of the aborigines ofWills' creek (now called theDiamantina River) north of Sturtsdesert will be obtainable.
As to the Totems. Purdy (the ant)belonged to Lake Hope. Pitchery andPitchery [?cerno milee?] - (Pitchery is a narcoticherb - the second name is Pitchery of the one eye)Mungallee (the Lizard) Tchukurer (theKangaroo) were Yantruwuntas,belonging to [?Callion-maroo?] at Cooperscreek - my old Depot
I will as soon as I can, enlighten youon the questions you have raised - butI may say as a preliminary that my Barbuckcalls me Leet and my mummung callsme Baingun (the g is hard) and that thehusband of my mummung is my Barbuckand the wife of my Barbuck is my Mummung.
I have taken steps to procure if possible therelationships +c of an almost extinct half savage tribecalled the Bidwell which lived in the dense junglycountry between Maneroo and the sea. Also of the Maneroonatives and of the Omeo tribe. Of the Bidwell blacksI think two remain, and of the Omeo tribe one woman.As soon as I hear anything I will write.
I am my dear SirYours sincerelyA W Howitt
Last edit 27 days ago by
ALourie
tip70-10-33-7 Howitt to Fison 29/12/1873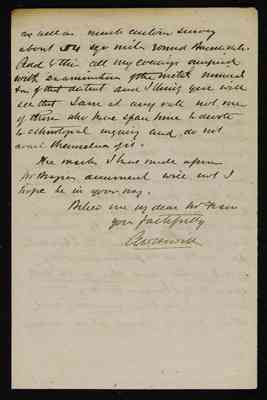 as well as much cautious surveyabout 54 sqr miles round BairnsdaleAdd to this all my evenings occupiedwith examination of the metals mineral+c of that district and I think you willsee that I am at any rate not one of those who have spare time to devoteto ethnological inquiry and do notavail themselves of it.
The marks I have made uponMr Brazier's document will not I hope be in your way.
Believe me my dear Mr Fisonyours faithfullyA. W. Howitt
Last edit 27 days ago by
ALourie
tip70-10-33-9 Howitt to Fison 14/6/1874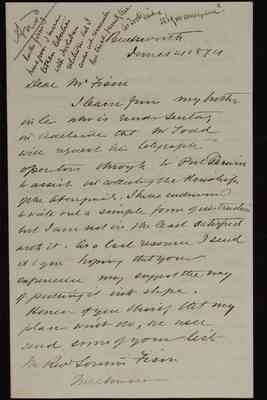 [written at top of the page]AnsdIn the form I have given I havetaken libertieswith Toolebar'srelations but Icould not rememberhis true family tree.As Toots said"It's of no consequence"
Dear Mr FisonI learn from my brotherin law who is under secretaryin Adelaide that Mr Toddwill request his telegraphoperators through to Port Darwinto assist in collecting the kinshipof the Aboriginals. I have endeavoredto write out a simple form of instructionbut I am not in the least satisfiedwith it. As a last resource I sendit to you hoping that yourexperience may suggest the wayof putting it into shape.
However if you think that myplan will do, we willsend some of your list
The Revd Lorimer FisonMelbourne
Last edit 4 months ago by
ALourie
tip70-10-33-11 Howitt to Fison 5 April 1876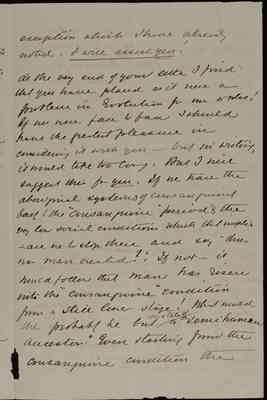 exception which I have already noted. I will assist you!
At the very end of your letter I findthat you have placed as it were aproblem in Evolution for me to solve!If we were face to face I shouldhave the greatest pleasure inconsidering it with you - but in writing,it would take too long. But I willsuggest this for you. If we trace theaboriginal systems of consanguinityback to the "consanguinine" period + thevery low social conditions which that implies- are we to stop there and say "thuswas man created!" If not - itwould follow that man has riseninto the "consanguine" conditionfrom a still lower stage! What wouldthis probably be but the state of a "semi humanancestor" Even starting from theconsanguine condition the
Last edit 4 months ago by
ALourie
tip70-10-33-29 Howitt to Fison 26 November 1879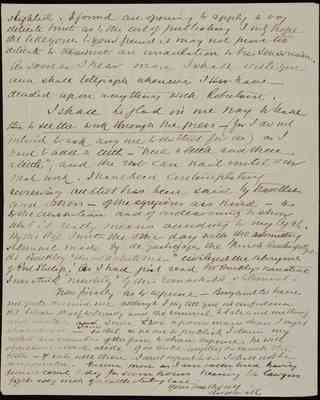 slighted. I found an opening to apply a verydelicate hint as to the cost of publishing I only hopethat like yours to your friend it may not prove toodelicate to transmit an [??] to his sensoriumAs soon as I hear more I shall write youand shall telegraph whenever I havedecided upon anything with Robertson
I shall be glad in one way to haveto see the work through the press - (for I do notintend to ask any one to do that for us) as Iwant to add a little -"here a little and therea little"; and the rest can wait until ourreal work. I have been contemplatingreviewing all that has been said by travellersand stress - of the egregious ass kind - asto the Australian and of endeavouring to show what it really means according to my lights.By the Bye I met the other day with the astoundingstatement made by de Quatrefages the French Anthropologistthat Buckley "the wild white man" civilized the aboriginesof Port Phillip! As I had just read Mr Buckley's narrativeI was struck "muchly" by this remarkable statement.
Now finally as to expense- Berry and co havenot quite drained me although I may tell you in confidencethat between Black Wednesday and the removal to Sale and one thingand another [and- crossed out] I am some £300 a poorer man than I oughtto have been - so that as we are to publish I claim myrights as a member of the firm to share expense. We willshare and share alike - if we make anything so much thebetter - if not well then - I don't expect to so I shall not bedisappointed. Excuse me as I am rather tired havingbeen in court today for seven hours hearing two lawyersfight every inch of a cattle stealing case.Yours faithfullyA W Howitt
Last edit 27 days ago by
ALourie