Search for Rufus*
XM21_ICDMS_lowres Charles Barrett to Howitt 28 September 1907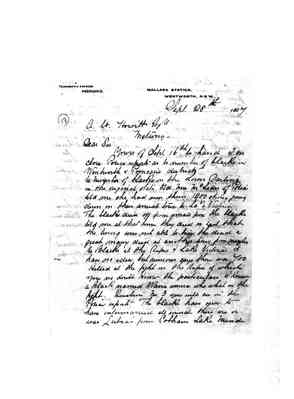 Telegraphic AddressPooncarieMallara StationWentworth, NSW
A W Howitt Esqr Metung
Dear SirYours of Sept 16th to hand I am close to Police reports as to numbers of blacks in Wentworth + Pooncarie districts i.e numbers of blacks on the Lower Darling in the original state. Old Mrs McLean of Poliatold me she had seen them 1200 strong going down on their annual tour to Lake Victoria. The blacks died off from small pox. The blacks told me at that time they died so fast that the living were not able to bury the dead a great many died at another time from measles. The Blacks at the Rufus + Lake Victoria Ihave no idea but rumour says there was 700killed at the fight on the Rufus of which you no doubt know the particulars. I know a Black named Warra wonna who what [sic] in the fight. Question No. 3 you will see in the Police reports. The blacks have seen to have intermarried all round. There are orwas Lubras from Cobham Lake Mundi
Last edit 2 months ago by
ALourie
hw0175 Percy to Howitt 20/12/1907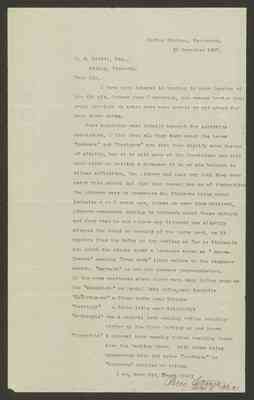 Police Station, Wentworth20 December 1907A. W. Howitt, Esq.,Metung, VictoriaDear Sir,I have long been delayed in tending to your inquiry of the 6th ult. longer than expected, one reason having sev-erely sprained my ankle have been unable to get about forsome three weeks.
From inquiries made locally amongst the survivingaborigines, I find that all they know about the terms"Mukwara" and "Keelpara" are that they signify some degreeof afinity [sic], but it is said some of the Aborigines can tellupon sight on meeting a stranger if he or she belongs toeither definition. Dan Limbery and Lucy say that they haveheard this stated but that they cannot say so of theirselvesDan Limbery says he remembers Mr. Richards being aboutMenindie 4 or 5 years ago, thinks he came from Ballarat,Limbery remembers talking to Richards about these mattersand from what he and others say Richards has slightlyaltered the sound or meaning of the terms used, as itappears from the Rufus up the Darling as far as Wilcanniaand Louth the blacks speak a language known as "Marra-Yowera" meaning "True word" (this refers to the langauge spoke). "Maraura" is not the correct pronunciation.In the area mentioned abobve there were many tribes such as the "Kandel-ko" or Kandel lake tribe, near Menindie"Muthring-ko" a River tribe near Tolarno"Barkingy" a River tribe near Weinteriga"Wombeegie" was a general term meaning tribes residinghigher up the River Darling as now known"Kungarlie" a general term meaning tribes residing lowerdown the Darling river. Both terms beingsynonymous with the terms "Northern" or"Southern" peoples or tribes.I am. dear Sir, Yours trulyPercy [??]Segt of Police
Last edit about 2 months ago by
ALourie
hw0350Draft of Howitt to Siebert 14/10/1878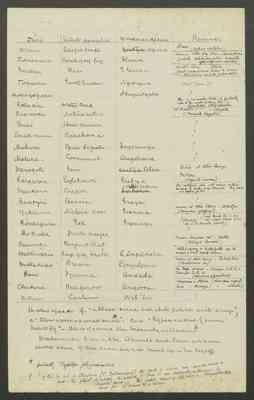 Dieri Siebert's description Wonkaranda name Remarkswoma carpet snake apma obma (python spilotes)Tidnamara small grey frog Ilana Common little frog totem = Unchichera(Probably Heleioporus pictus or possiblyLion nodynastes ormatus)Maiaru rat Elaura At Alice Springs = Iblutadon't know species belongs to genusconiluras one of the jerboa-rats)Topairu Earth swallow Ngityera don't know itMilkityelparu Alngantyala ?Kaladiri Water toad There is no water toad : he probablyrefers to the water holding frogCheinoleptes platycephalusPira moku Native rabbit at Charlotte Waters = Urgata(Peragale lagotis)Punta Shrew mouse ?Small mouse Karabana ?Muluru Spinx Ligustri Ingonunga ?Malura Cormorant Angebara ?Warogati Emu Alea Erlia at Alice SpringsKarawora Eaglehawk Eretya Iritcha(Aquila andax)Markara Codfish Angabedna The 'codfish' does not occur withinhundreds of miles of the Arunta. They haveno name for itKunytyiri Acacia Ereya ?Yikaura Native cat Eremaia name at Alice Springs = Achilpa(Dasyurus geoffroyi)Kirrhapara Eel Erpanga Irpurega (Don't think this is aneel indeed I know of noeel in the Arunta country)Kokula Pouch mouse ?Kanunga Kangaroo Rat Common Kangaroo rat = Malla(Betongia lesueuri)Milkiwaru Large grey Hawk Lönpilkala Ullakupera + Kuttakutta are the names of two hawk totemsMudlakupa Bream Longulpara name at Alice Springs = Interpitua(Chatoëssus sp.)Kani Iguana Ankada The large iguana = Irunpa in the S. +Echunpa in the N(Varanus giganteus)Chukuru Kangaroo Angorra Kangaroo = Okira (Macropus rufus)Euro = Arunga ( ditto robustus)Willuru Curlew Wil'lu ?
He also speaks of a "black crane with white patches on its wings",a "slow worm - a small snake *", and "Pig face called by somenative fig" - this is of course the Mesembury [?au Chenum?]ØWonkarnda I read the Arunta and I am not surewhether some of these names are not mixed up in his list
*probably Typhlops polygrammicus
Ø ? if this be not a Claytonia (C. Balonncusis) the seeds of which are much used asfood = the plant is widely distributed. There is no [?mescemburyanthenum?] inArunta land. The native name of the seed is Ingwitchikawhich gives its name to a totem.
Last edit 5 months ago by
ALourie