Search for hog*
Box 252 List of supplies 1885, YB, YH Emery Pay 1887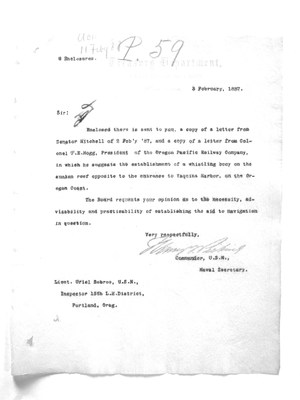 2 Enclosures.
3 February, 1887.
Sir: Enclosed there is sent to you, a copy of the letter from Senator Mitchell of 2 Feb'y '87, and a copy of a letter from Colonel F.E.Hogg, President of the Oregon Pacific Railway Company, in which he suggests the establishment of a whistling buoy on the sunken reef opposite to the entrance to Yaquina Harbor, on the Oregon Coast. The Board requests your opinion as to the necessity, aivisability and practicability of establishing the aid to navigation in question. Very respectfully, ??? Commander, U. S. N., Naval Secretary.
Lieut. Uriel Sebree, U.S.N., Inspector 13th L.H.District, Portland, Oreg.
Last edit over 1 year ago by
jwallace
Visitor Logs August 15th 1887
1891
September 16
Miss Charity BurhnamMartha MyersMrs. C. W. DayLulu MyersAlfred Harmon 1479
September 18
Edward Johnson MonmouthErnest Palmer 1481
September 20
Erhard Bliḉfeldz SaguinnaSvenn Hogevoll YaquinaWm R. Megginson Cape FoulweatherL A Crandall LebanonH. C. Miller Mt Zion IowaA. J. StimpsonMrs. J. [C. or T.] HumeJ. W. Gray Oregon City Ore.Mrs M. L. BerghAgnes HumeS. A. TharpG. H. TharpEmeline TharpWinnie BuckinghamClyde C. TharpMrs Ed Sulivan Salem OregonMiss Hefty Salem Oregon 1498
September 22
R G SmithClara E. Smith 1500
September 23
T H Halleck MonmouthLillie Lanktree MonmouthDexter Lanktree MonmouthMrs C [Jory or Joey] Monmouth
September 24
Mrs Amanda Royal Newport Or.
September 27
Mrs Clara Conner Ballston OrMr N. M. Conner Ballston OrMiss Dora Hasbrook Ballston Or
Last edit about 1 month ago by
CM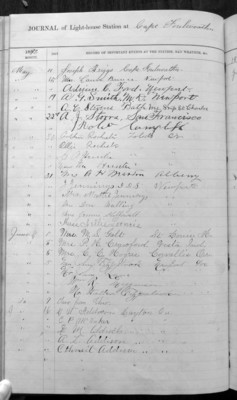 1892
May 11
Joseph Briggs Cape Foulweather
May 15
Mrs Laura Bunce NewportAdrian C. Ford Newport
May 19
A. G. Smith M. D. NewportA. C. Stevens Bath Me. Ship St Charles
May 22
A. J. Storrs San FranciscoRobt Campbell
May 30
Arthur Rochester Toledo OrOllie Rochester Toledo OrE [A or P] Hunter Toledo Or[Mrs Mr?] Hunter Toledo Or
May 31
Mrs A H Marton AlbenyJ Jennings DDS NewportMrs Mattie Jennings NewportMrs Dora Walling NewportMiss Nellie Loomis Newport
June 1
Mrs M. S. Galt St. Louis Mo.
June 5
Mrs. P. H. Crawford Vesta Ind.Mrs C. C. Hogue Corvallis Or.Mr John Fitzpatrick Newport OreMr John Lane Newport OreWm R. Megginson Newport OreMr Walter Fitzpatrick Newport Ore
June 9
Two from Ohio.
June 16
C W Addison Dayton OreC. P. McVicker Dayton OreL. M. Aldrich Dayton OreA. L. Addison Dayton OreOthneil Addison Dayton Ore
Last edit about 1 month ago by
CM