Search for Berbira*
XM689_ICDMS_lowres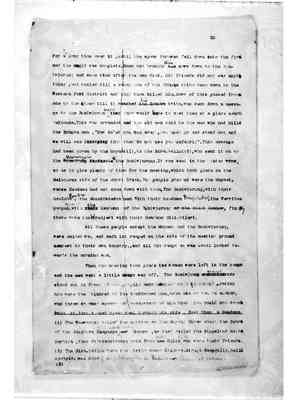 30
for a long time over it, until the spear thrower fell down into the fireand the majic complete. Some one brought this news down to the Bunwurungans some time after the man died. His friends did not say any-thing, but waited till a young man of the Echuca tribe came down to theWestern Port district and they then killed him. News of this passed fromone to the other till it reached his tribe, who sent down a mess-age to the Bunwurung saying that they would have to meet them at a place nearMelbourne. This was arranged and the old men said to the men who had killedthe Echuca man, "Now don't you run away, you must go and stand out andwe will see that they do notuse you unfairly." This messagehad been given by the Meymet (1), to the Nira-balluk (2), who sent it on bythe Wurrunjeri to the Bunwurung. It was sent in the interim,so as to give plenty of time for the meeting, which took place on theMelbourne side of Merri Creek. The people present were the Meymet,whose headman had not come down with them, The Bunwurung, with theirHeadman Benbu, the Mount Macedon men with their Headman Ningulabul, the Werribeepeople, with the Headman of the Bunwurung (of the coast Benbow) (crossed out), finally,there were the Wurunjeri with their Headman Bili-bileri.
All these people except the Meymet and the Bunwurung, were onlookers, and each lot camped on the side of the meeting groundnearest to their own country, and all the camps as was usual looked to-wards the morning sun.
When the meeting took place the women left in the campsand the men went a little way off. The Bunwurung manstood out in front of his people armed with a shield. Facinghim were the kindred of the dead Meymet man, some nine or ten in number,who threw so many spears and boomerangs at him that you could not countthem. At last a (?) spear went through his side. Just then a Headman
(1) the Woeworung called the natives by the Murray River about the junctionof the Goulburn Campaspe (??) Meymet, as they called the Gippsland nativesBerbira, thus distinguishing both from the Kulin tribes who were their friends.(2) The Nira-balluk were the tribe about Kilmore. Nira = a deep gully, balik =people, and of (?) and probably adjoining the (?) tribe at Echuca.
Last edit about 1 month ago by
ALourie
XM691_ICDMS_lowres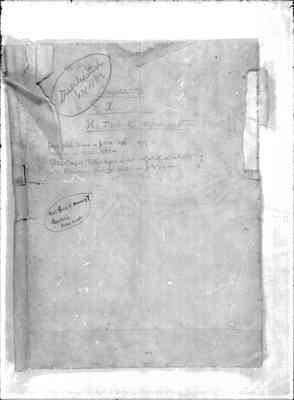 XM759_ICDMS_lowres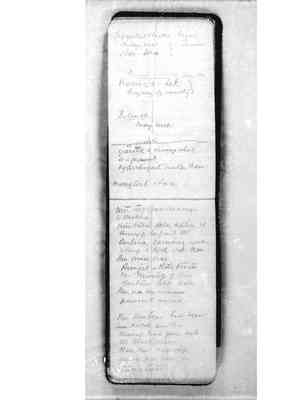 Gippsland blacks legend
[Beyond? or legend?] sections are theWarri-je-[lek?]long way off country
Echuch?]May met
yarŭk or yarūk = messenge stickas a present.Njŭrrŭgait - makes them.
mangūrt = [ball?]
[next page]
mūrūp - gives the [s?mp?]to Doctors.Kŭr būrū - told Kūlin atBunyip he find that Berbira coming and to keep a look out then.
This man was Bunjil - Kŭr būrū[no?] Mūrŭp of this [Kurbŭru?] [held? or had?] him This was the mans personal name.
This bear had been killed and his Mūrŭp had gone into the blackfellow. Then the Mūrŭp would find him a [fūngūrū?]
Last edit over 1 year ago by
Christine
hw0391 Notes by Howitt on Kulin from Barak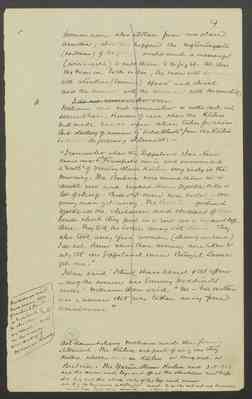 4Women were also stolen from one place or another; when this happened the ngŭrŭngaeta (headman) of the place would send a messenger (wiri-giri) to call them to a fight. At this the men on both sides, the men with the men with wŭnkim (boomerang) spear and shield and the women with the women with the yam sticks.
[I do not remember cases - crossed out]
William did not remember or rather did not seem to have known of cases where the Kūlin had made raids upon alien tribes for wives. As to stealing of women by "Wild Blacks" from the Kūlin he made the following statement: -
"I remember when the Gippsland Ber-biracame over to where Mansfield now is and surrounded a "mob" of Yeerŭng illum Kūlin very early in themorning. The Berbira were round them in a double row and rushed them together like a lot of sheep. Three old men were killed. One young man got away. The Berbira gathered together all the children and chopped off their heads which they put in a row on a log and left there. They took the bodies away with them. They also took away five women (showing one hand). I do not know where these women were taken to only that one Gippsland man Būnjil Laena got one."
I then said "I think I have heard of that affair– one of the women was Tommy Hoddinot'smother". William then said "No – his mother was a woman that was taken away from Cranbourne."
4As to Cannibalism William made the following statements. The Kūlin eat parts of any one theykilled whether he was Kūlin or Mey met or Berbira. The Yerŭn illum Kulin and 3. 5. 7. 13 eat the arms and legs cut off at the shoulders and hips. Nos 6. 9 eat the skin only of the legs and arms.Nos 8 . 9 the legs arms & kidney fat and 2. 4. 12 eat not only the arms and legs but also drank the blood.
[written in left side margin]This woman would have been crow if a native of Cranbourneor Eagle hawk if from elsewhere. Note my remarks in K + Kre this woman when speaking of McLennan's theories.
Last edit about 1 month ago by
ALourie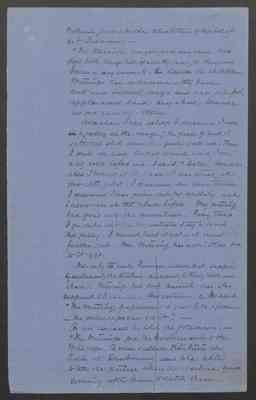 16William gave a further illustration of his belief as to Dreams: "The Mūrŭps can get food any where. With their little things like spears they can get KangaroosEmus – any animals. Besides the Whitefellows Mūrŭps can do the same – they have carts and bullock drays and can get food, apples and bread anywhere, because no one can see them.
Once when I was asleep I dreamed I was in a gully in the ranges; the piece of rock I sate on slid down the gully with me. Then I stood up and looked round and I saw a big rock before me. I said "Hallo! because when I looked at it I saw it was stuck all over with gold. I dreamed this three times. I dreamed I was going out for wallaby and I never was at that place before. My Mūrŭp had gone into the mountains. Every time I go out into the mountains I try to find this gully. I cannot find it yet – it must be further out. My Mūrŭp has not taken me to it yet.
Not only [is - crossed out] was each human individual supposed [by William - crossed out] by the Kūlin according to King Williamto have a Mūrŭp but each animal was also supposed to have one. For instance as he said "The Mūrŭp of a possum is just like a possum – the wirriraps can see it".
As an instance he told the following: - "The Mūrŭp give the Coroboree songs to the Wiriraps. A man called Kŭrbūrū who lived at Dandenong used to be able to tell the Kūlin when the Berbira were coming after them to catch them.
Last edit 2 months ago by
ALourie
hw0429 Questions for William Berak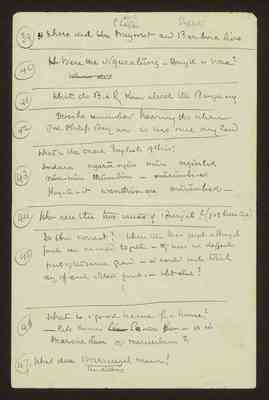 39 Where did [the - crossed out] Meymet and Berbira live
40 Were the Nguralŭng - Bunjil or Waa?[Where did - crossed out]
41 What do B + R know about the Banjerang.
42 Does he remember hearing that wherePort Phillip Bay now is was once dry land
43 What is the exact English of this:-Indara ngarū ngŭn mŭn ngŭrliknŭn-nŭn thŭm-bŭn - mŭrŭmbi-ekKoy-ū-it wanthŭn-ara mŭrŭmbiek.
44 Who were the two wives of Bunjil? ([?Y + E Pisces Aust?])
45 Is this correct? When the Waa people + Bunjilpeople were camped together - they were in differentparts of the same ground - and could not touchany of each others food - what else?
46 What is a good name for a house?- like Kurnai [Lean - crossed out] Lu-an hun - is itMarine ilum or mariuilum?
47 What does Warriugal mean?Heidelberg
Last edit 2 months ago by
ALourie