Search for "Port Phillip"
tip70-10-24-3 Taplin to Fison and Smithsonian Schedule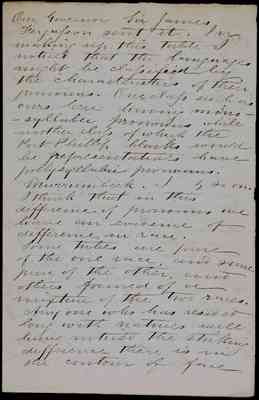 Our Governor Sir JamesFerguson sent it. Inmaking up this table Inoticed that the languagesmight be classified bythe characteristics of their pronouns. One class such asours here having mono-syllabic pronouns while another class of which the Port Phillip blacks wouldbe representatives havepollysyllabic [sic] pronouns.Murrumbeek. I & so on.I think that in thisdifference of pronouns wehave an evidence of difference in race.Some tribes are pureof the one race, and somepure of the other, andothers formed of amixture of the two races.Any one who has residedlong with natives willhave noticed the strikingdifference there is inthe contour of face
Last edit about 1 year ago by
ALourie
tip70-10-37-3 Rev Stahle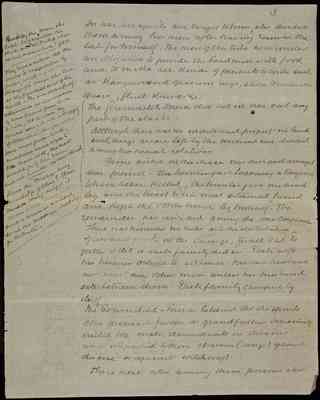 In war all spoils were brought to him, who dividedthem among his men after having reserved thebest for himself. The men of the tribe were underan obligation to provide the head man with foodand to make all kinds of presents to him suchas Kangaroo and opossum rugs, stone tomahawksspears, flint knives +c.The Gournditch Mera did not in war eat anypart of the slain.Although there was no individual property in landsuch things as were left by the deceased were dividedamong his nearest relatives.Game killed in the chase was divided amongstthose present. [crossed out - The hunter gave] Supposing a Kangarooto have been killed, the hunter gave one hindleg and the breast to his most esteemed friendand kept the other hind leg himself. Theremainder was divided among the other companions.There was however no rule as to the distributionof cooked food in the camp, for all eat together - that is each family did so. Each wifewas however obliged to sit beside her own husbandnor near any other man unless her husbandsate between them. Each family camped byitself.The Gournditch Mera believed that the spiritsof the deceased father or grandfather occasionallyvisited the male descendants in dreamsand imparted to them charms (songs) againstdisease or against witchcraft.There were also among them persons who
[in side margin]Buckley the man who lived 32 years with the blacks at Port Phillip says in his narrative: p 57They have a notion that theworld is supported byprops, which are in the charge of a man who livesat the farthest end of the earth. They were dreadfullyalarmed on one occasionby news passed from tribeto tribe, that unless theycould send him a supplyof tomahawks for cuttingsome more props with,and some more rope to tie them with, the earthwould go by the sunand all kinds be smothered.
Have the Mera any knowledge of this?Their[crossed out - head m] chief might itseems to me have been such a man as wouldsend the message - callingfor tribute.
Last edit 27 days ago by
ALourie
hw0404 Notes on Kurnai 150 pages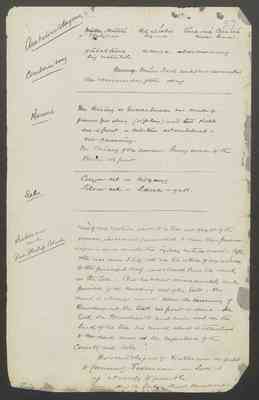 57Australian Aborigines
Corroboree songmŭlla-mŭllé Kūrūitba tára-irá tára-iráPlatypus big rock river bend
gūialtūra nanga ebermernanbig water hold
[Murry - crossed out] Mŭri Jack could not rememberthe remainder of the song.
KurnaiThe Kaiŭng or bridda briada was made ofpossum fir string (15 ft long) and two kiltsone in front = nit-tŭn and one behind =nit-gwannŭng.The Kaiung of the women hung down to the knees in front.
EelsConger eel = noyangSilver eel - lana-yak
Batman and Port Phillip Blacks"one of my natives went to a tree out of sight of thewomen, who were not permitted to know their freemasonarysigns - and made the Sydney natives mark. Afterthis was done I took with me two or three of my nativesto the principal chief, and showed him the markon the tree. This he knew immediately and pointed to the knocking out of the teeth. Themark is always made when the ceremony ofknocking out the teeth in front is done. Hetook the tomahawk and cut out in theback of the tree his mark which is attached to the deed and is the signature of the country and tribe."This is said to be part of Batman's despatchto Governor of Tasmania - Look itup and verify if possible.[??] did the Geelong blacks knockout
Last edit 21 days ago by
ALourie
hw0417 Notes from Bonwick's Book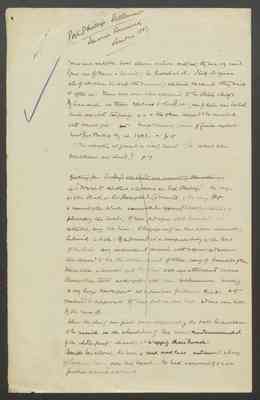 Port Phillip SettlementJames BonwickLondon 1883
"as we went out of the boat eleven natives met us; they were very civil I gave one of them a biscuit: he looked at it. I did it again ate of it, when he didthe same; whatever he said they said it after us. There was one who appeared to be their chief.
They handed us their spears to look at; one of them was barbed and one with two prongs. x x x two of them appeared to be marked with small [pix?]. p 5. James Flemming journal of Grimes exploits round Port Phillip Bay in 1803. - p 15
"The country in general is newly burnt" (ie, about where Melbourne now stands) p 17
Quoting from Tuckey's who wrote an account of the [attempted?] voyage to establish a colony at Port Phillip" he says as other blacks at Port Phillip Heads (Sorrento). He says that a number of the blacks assembled apparently with the intention of plundering the boat; they were [?] upon with [?] and [retreated?] away [the?] [trees?]. A large party was then seen assembling behind a hill: they advanced in a compact body to the [?] of the [tribe?] every individual armed with a spear and some who appeared to be the attendants of others carrying bundles of them. When within a hundred yards the - chief with one attendant came down to the trees and spoke with great vehemence holding a very large war spear in a position for throwing. [?] [/?] [?] approach they now put on with [ball?] and one man [?].
They then ran off.
when the chief was first seen approaching the boat he was seen to be carried on th shoulders of two men and surrounded by the whole pack. Shouting and clapping their hands. Beside his cloak he wore a reed necklace and several strings of human hair over his breast. He had a coronet of 2 [swan?] feathers round his head.
Last edit 8 months ago by
Christine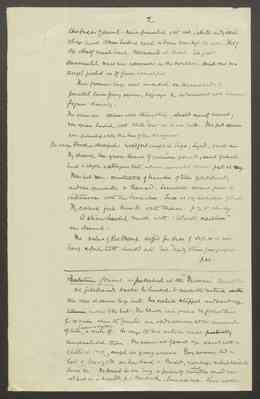 2.the faces of several were painted with red, white and yellow clays and others had a reed or bone run through the nose. That of the chief must have measured at least two feet.
Ornamental scars were common on the shoulders, and one was deeply pitted as if from small pox.
Their possum rugs were marked on the skin sides by parallel lines forming [?], [?] to and [?] with human figures dancing.
The arms were spears with throwing sticks; shields neatly carved; war spears barbed with white "spar" or sharks teeth. The fish spears were pointed with the bone of the Kangaroo.
He says Food is; shellfish, wild fowl caught in traps, lizards, gnats, [etc?] They chewed the green leaves of various plants, several of which had a slight astringent taste and an aromatic smell p 28 et seq.
When huts were constructed of branches of trees [?licity?] and the open side to [lee wind?]. Sometimes coarse grass is interwoven with the branches. Fires at every entrance of huts. They carried fire brands with them. p 28 et seq.
A straw basket made with 'tolerable neatness' was observed.
The native of Port Phillip different from those of [?] S.W. in [?] hairs a front tooth knocked out but "hairy then [?] perfect."p 30.
--------------------------------------------------------------------------------------------
Batman's journal as published in the "Yeoman" Aug 30/62 At Gilebrand Harbour he landed to meet the natives who were at seven large huts. His natives stripped and went up naked to the huts. The blacks were gone - He followed them for 10 miles when they found an old woman and the remainer of tribe (women & children) a mile off. He says that his natives could partially understand them. The women all of small size & each with a child at [breast or back?], [ex?] by any woman. Every woman had a load of 60 - 70 lbs on her back: Baskets, net bags, native tomahawks bones etc. He found in one bag a piece of cartwheel tire ground down and put in a handle for a tomahawk. Since iron [?]. Since wooden
Last edit 21 days ago by
ALourie
hw0416 Notes from Shillinglaw's book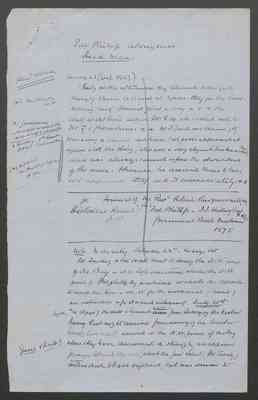 Port Phillip AboriginesHead Man
Head manSunday 23rd Oct 1803"Early in the afternoon they returned with a greatmany of them (x): and at 2 pm they in the boatcoming back observed 70 in a body x x x thechief at this time seized Mr G (x) who called out toMr T x to fire on them x x Mr T fired over them, theyran away a small distance, but soon approachedagain with the King (who wore a very elegant truban - crown)and was always carried upon the shouldersof the men. Whenever he desired them to haltor to apporach they did it immediately x x
Journal of the Revd Robert Knopswoom A MinHistorical Records of Port Phillip J J Shillinglaw FRSSp. 92 Government Printer Melbourne1870
Note In the entry Saturday 22nd he says thatMr Tuckey + two boats went to survey the N.W. pointof the Bay - it is left uncertain whether the N.W.point of Port Phillip Bay is intended or whether the oppositeshores of the Bay - N.w. from the settlement (Sorrento) are intended - for it is said subsequently Friday 21st"at 50 past 7 the cutter + launch returned from Surveying the harborhaving last night arrived from surveying the Harborhaving last night arrived in the N.W. point of the baywhere they have discovered a straight an apparentpassage towards the sea, which the first Lieut Mr Tuckeyintended to have explored but was driven to
[written in left side margin](x) the blacks AWH
(x) Gammon a masters mate of theH. M. Ship Calcutta
x Tuckey 1st LieutH.M.S Calcutta
(2) footnotesee Buckley's life +cp. 72
[??] strait?
Last edit 21 days ago by
ALourie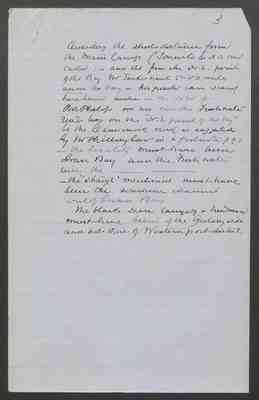 3Considering the short distance fromthe main Camp (Sorrento as it is nowcalled) - and that from the NE pointof the Bay Mr Tucker went 5 or 6 milesacross the bay - his position can scarcely have been at the NW ifPort Phillip nor can the Freshwaterriver in the "NE point of the bay"be the Cananook creek as suggestedby Mr Shillinglaw in a footnote p 92-the locality must have beenSwan Bay and the Freshwater river the - the "straight" mentioned must havebeen the southern channelout of Swan Bay
The blacks seen carrying a headmanmust have been of the Geelong sideand not those of Westernport district
Last edit about 2 months ago by
ALourie
hw0391 Notes by Howitt on Kulin from Barak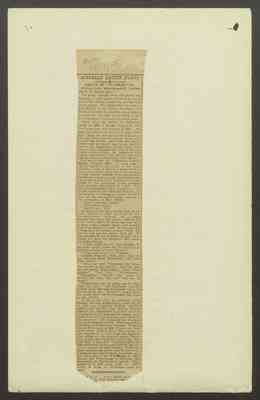 [newspaper article]Argus28/4/06Suburban Native NamesOrigin of "Prahran," &c.Writing from Merchiston-Hall, Geelong, Mr. G. F. Belcher says: -"In going through some old papers not long since I came across a letter from an old friend, Mr George Langhorne, dealing with native names. Mr Langhorne was sent to Port Phillip by the Sydney Governor (Sir Richard Bourke) to establish an aboriginal protectorate, the chief object being to look after the moral training of native boys.
"Soon after my arrival in Melbourne (early in 1839) I became acquainted with Mr Langhorne, who arrived in 1836. His camp was situate on the Yarra, near "Punt Hill.' Many an evening I spent with him in his tent, which was surrounded by the mia-mias of the natives. As a rule, the natives never cared to remain long in any locality, and so Mr Langhorne moved about fromtime to time, changing his camp to suit the wishes of his proteges. Mr Langhorne held a great influence over the natives, and often was the means of preventing tribal fights."
The letter from Mr Langhorne is dated Botany, October, 1889. It runs thus: - "With regard to the origin of the word 'Prahran' – now, I believe, a large town or city – on a mizzley, rainy day of late autumn in 1837 Robert Hoddle (surveyor-general) strolled into my hut, at the Government sta-tion at Pur-ra-ran, for so I named it - a com-pound of two aboriginal words, meaning land partially surrounded by water. This was the aboriginal station assigned to me by the Governor (Sir Richard Bourke), for the purpose of forming a nucleus establish-ment for the care and Christian training of the aborigines of Port Phillip.
" 'Busy? said my visitor." 'Yes; always busy.'" 'Lovely spot, this.'
"It was a lovely spot, at the bend of the river, opposite to what we call the 'Go-vernment-house Paddock,' on a rising ground, forming a fine, grassy slope to the river, well cropped by sheep that had been a short while camped there after landing from Van Diemen's Land. In the rear was a large and picturesque swamp, which thenatives told me was named after me. To the southward was a rising ground, from which we could see Hobson's Bay, about two miles distant.
" 'I have called on you,' said Hoddle, 'to get some native names for the districts or parishes around in county Bourke.'
" 'I am glad to hear it,' I replied.
"Hoddle went on, 'Now, first, what do you call this place, 'Purrarhan,' and 'Jika Jika' after?'
" 'After the chief, Wanorong, who claims the district as his country. And you may call one parish "Kulbundora," others "Ker-bukena," "Yall Yall." Tullamarena,""Tallanghata." "Tarook" (the names of several fine boys, who were with me in camp).'
"Kulbundora was the eldest son of Jika-Jika, the chief. Old Tukulneen was the former chief, but was superseded owing to his advanced age. 'Tarook' I named after the black crow, which abounded that time in the district.'
"A day or two after my interview with Hoddle, the boy Kulbundora, a fine lad of 14, who was acquiring English rapidly, walked into my hut, and, seating himself close to me, commenced to exhibit proof of his progress in the language by singing 'what shall we do with the drunken sailor early in the morning?' He mimicked the drunken man as he sang the refrain. The song he had learned at a brickmakers' canteen. When I visited Melbourne in 1851 (I have not been there since), passing down Collins-street I was startled by a voice from the opposite side calling out my (native) name, Tukul-reen, when a tall black ran over to me. 'Ah, Yall Yall, is that you?' I inquired after the lads mentioned above, and received the sor-rowful answer to each inquiry, 'To-Ke-Ko lang' (all dead and gone), only 12 years after I resigned the care of them. I presume now that very few of the Wawarongs of Mel-bourne, the Watowrongs of Geelong, the Borawongs of Westernport remain. They numbered in 1837 about 1,000 or 1,200; within 50 miles of Melbourne none re-main."
Last edit about 1 month ago by
ALourie
hw0429 Questions for William Berak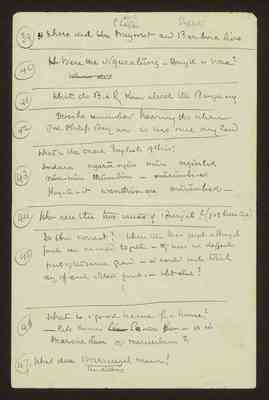 39 Where did [the - crossed out] Meymet and Berbira live
40 Were the Nguralŭng - Bunjil or Waa?[Where did - crossed out]
41 What do B + R know about the Banjerang.
42 Does he remember hearing that wherePort Phillip Bay now is was once dry land
43 What is the exact English of this:-Indara ngarū ngŭn mŭn ngŭrliknŭn-nŭn thŭm-bŭn - mŭrŭmbi-ekKoy-ū-it wanthŭn-ara mŭrŭmbiek.
44 Who were the two wives of Bunjil? ([?Y + E Pisces Aust?])
45 Is this correct? When the Waa people + Bunjilpeople were camped together - they were in differentparts of the same ground - and could not touchany of each others food - what else?
46 What is a good name for a house?- like Kurnai [Lean - crossed out] Lu-an hun - is itMarine ilum or mariuilum?
47 What does Warriugal mean?Heidelberg
Last edit 28 days ago by
ALourie
tip70-10-33-29 Howitt to Fison 26 November 1879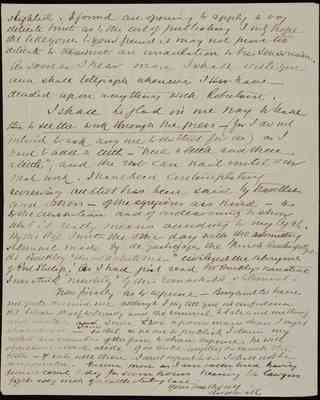 slighted. I found an opening to apply a verydelicate hint as to the cost of publishing I only hopethat like yours to your friend it may not prove toodelicate to transmit an [??] to his sensoriumAs soon as I hear more I shall write youand shall telegraph whenever I havedecided upon anything with Robertson
I shall be glad in one way to haveto see the work through the press - (for I do notintend to ask any one to do that for us) as Iwant to add a little -"here a little and therea little"; and the rest can wait until ourreal work. I have been contemplatingreviewing all that has been said by travellersand stress - of the egregious ass kind - asto the Australian and of endeavouring to show what it really means according to my lights.By the Bye I met the other day with the astoundingstatement made by de Quatrefages the French Anthropologistthat Buckley "the wild white man" civilized the aboriginesof Port Phillip! As I had just read Mr Buckley's narrativeI was struck "muchly" by this remarkable statement.
Now finally as to expense- Berry and co havenot quite drained me although I may tell you in confidencethat between Black Wednesday and the removal to Sale and one thingand another [and- crossed out] I am some £300 a poorer man than I oughtto have been - so that as we are to publish I claim myrights as a member of the firm to share expense. We willshare and share alike - if we make anything so much thebetter - if not well then - I don't expect to so I shall not bedisappointed. Excuse me as I am rather tired havingbeen in court today for seven hours hearing two lawyersfight every inch of a cattle stealing case.Yours faithfullyA W Howitt
Last edit 21 days ago by
ALourie