Search for England*
XM9_ICDMS_lowres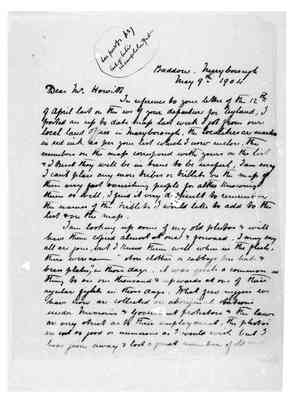 [see parts ... early .... incomplete yet]
Baddow Maryborough May 9th 1904
Dear Mr. Howitt In reference to your letter of the 12th of April last on the eve of your departure for England, I posted an up to date map last week I got from our local land office in Maryborough. The localities are marked in red ink as per your list which I now enclose. The number on the map correspond with yours in the list & I trust they will be in time to be useful. I am sorry I can't place any more tribes or triblets on the map of these very fast vanishing people for altho knowing them so well, I find it very difficult to remember the names of the triblets I would like to add to the list & on the map. I am looking up some of my old photos & will have them copied almost at once & forward. I may say all are gone, but I knew them well when in the flesh. There were no "[....] clothes or cabbage tree hats & brass plates" in those days, it was quite a common thing to see one thousand & upwards at one of their regular fights in those days. What few "niggers?" we have now are collected on aboriginal stations under "Missions?" & Government protectors & the laws are very strict as to their employment. The photos are not as good or numerous as I would wish but I have given away & lost a great number of old ones.
Last edit over 2 years ago by
nburgess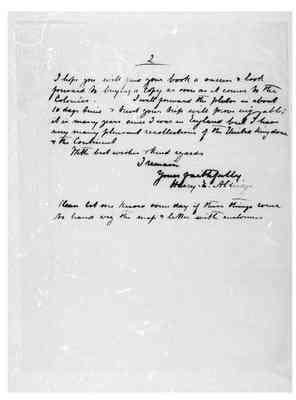 2
I hope you will find your book a success & lookforward to buying a copy as soon as it comes to thecolonies. I will forward the photos in about10 days time & trust your trip will prove enjoyable;it is many years since I was in England but I havevery many pleasant recollections of the United Kingdom& The Continent.With best wish & kind regardsI remainYours faithfullyHarry E. Aldridge
Please let me know some day if these things cometo hand [...] the map & letter with [.......]
Last edit 26 days ago by
ALourie
XM268_ICDMS_lowres J C Muirhead to Howitt 18 June 1902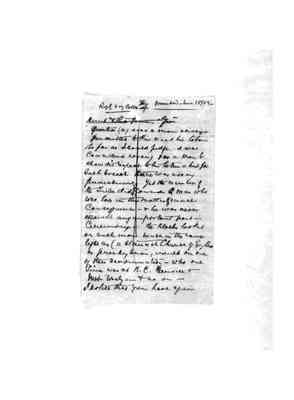 Reply to my letter numbered June 18/02
Hunt + kill game "Yes"Question (4) was a man alwayspermitted to kill + eat his totemso far as I could judge. It wasconsidered wrong for a man toshow disrespect to his totem = but forsuch breach there was not anypunishment. Yet the members ofthe Tribe did not consider a man whowas lax in the matter of muchconsequence- + he was never allowed any important part inCeremonys [sic]. The Blacks lookedon such a man much in the samelight as (a staunch Church of Englandor Presbyterian, would do oneof their Denomination who one time was at R.C. Service-next Wesleyan + so on.I notice that you have again
Last edit 6 months ago by
ALourie
hw0139 John Fraser to Howitt 26/4/1882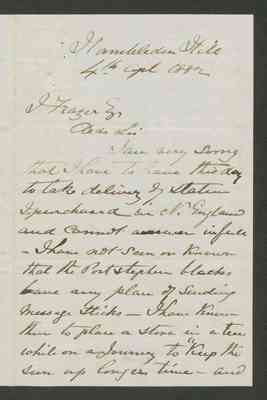 Hambleden Hill4th Apl 1882
J Frazer EsqrDear SIrI am very sorrythat I have to have this dayto take delivery of stationI purchased in N. Englandand cannot answer in fullI have not seen or known that the Port Stephen blackshave any plan of sending message sticks. I have knownthem to place a stone in a treewhile on a Journey to "Keep thesun up longer time - and
Last edit 7 months ago by
ALourie
XM291 Reuther to Howitt 6/4/1904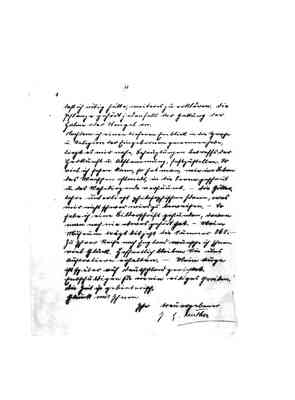 daß ich nötig hätte, weiteres zu erklären. Die Pflanze gehört jedenfalls der Gattung der Halme oder Stengel an.
Nachem ich meinen (einsamen?) Einblick in die Sprache u. Religion der Eingeborenen gewonnen habe, liegt es mir nahe, Behauptungen betreffs der Herkunft u. Abstammung, festzustellen. So viel ich sagen kann, so hat man, wie im Leben der Menschen oftmals, in die Ferne geschaut u. das Naheliegende versäumt. —die (Gottes-?)lehre unterliegt philosophischen [??], was mir nicht schwer wird zu beweisen. - So habe ich eine Bilderschrift gefunden, deren [??] noch nie etwas gehört hat. -Mein Museum trägt bis jetzt die Nummer 865.—Zu Ihrer Reise nach England wünsche ich Ihnen viel Glück. Hoffentlich bleiben Sie uns Australiern erhalten. Mein Auge ist später auf Deutschland gerichtet.
Entschuldigen Sie mein eiliges Schreiben - die Zeit ist gebieterisch.
Glück mit Ihnen
Ihr ergebenerJ.G. Reuther
the need for further explanation. In any case, the plant belongs to the genus of stalks or stems.
After gaining my lonely(?) insights into the language and religion of the natives, I am inclined to make some claims regarding origins and genealogy. As far as I can tell, one has, as so often in human life, missed the obvious by looking into the distance. — the doctrine/theory of (god?) is governed by philisophical [??], as I will have no difficulty to substantiate. I have found a picture-script, which one [??] has not yet heard. Thus far, my museum has the number 865. I wish you the best of luck for your travels to England. I hope you will not be lost to us Australians. I have my eyes on Germany for the future. Please excuse my hasty letter - time is commanding.
May luck be with you.Your loyal J.G. Reuther
Last edit 27 days ago by
Anna Weinreich
tip70-10-34-13 Howitt to Fison August 1880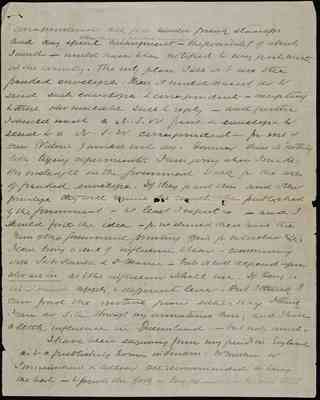 correspondence all goes under frank stamps(other than by franked envelopes)-[this line inserted above line 2]and any special arrangement - the possibility of whichI doubt - would have to be notified to every post masterin the country. The only plan I see is to use thefranked envelopes. Then it would scarcely do to send such envelopes to correspondents - exceptingto those who would be sure to reply - and furtherI should want a N.S.W. franked envelope tosend to a N.S.W. correspondent - for one ofours (Victoria) would not do. However there is nothinglike trying experiments. I am going when I makethe onslaught on the government to ask for the useof franked envelopes. If they [?pass] this and otherprivileges they will require the results to be publishedby the government - at least I expect so - and Ishould foster the idea - for we should then have the ear of the Government printing office for circulars etc.I can bring a deal of influence to bear - commencingwith [?] & Dr Hearne - but it will depend uponwho are in as to the influence I shall use. If [?] isin I must apply a different lever. But I think I can find the [?motive] from either way. I think I can do S.A. through my connections there; and I havea little influence in Queensland - but not much.
I have been enquiring from my friends in Englandas to a publishing house in London. McLennan or [L?] & Allen are recommended as beingthe best - to push the book - my friends write me that
Last edit about 2 months ago by
HelenB