Search for "Lake Condah" Condah*
XM746_ICDMS_lowres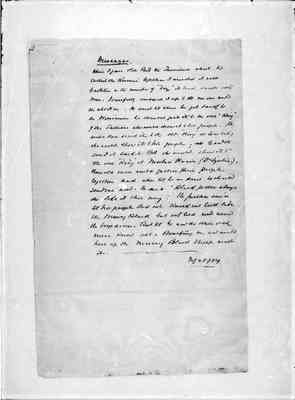 MessagesWhen I gave old Bob the Turndun which had called the Kurnai together I marked it with6 notches as the number of "boys" it had made intomen. I carefully wrapped it up so that no one wouldsee what it was. He said that when he got back tothe Wimmera he should give it to the old "King"of the Tathara who would shew it to his people. Hewould then send it to the old "King" at Condah,who would shew it to his people; he would thensend it back to Bob who would shew it to the old "King" at Morton Plains (Dr [??])These old men would gather their people together and when that he was done he shouldsend me news. He said "Black fellow alwaysdo like it this way." He further saidthat his people did not knock out teeth likethe Murray Blacks but only tied cord roundthe boys arms. But that he and the other oldmen know what a Bourbŭng was and would[?have?] up the Murray Blacks to help makeit.Feb 26/89
Last edit 3 months ago by
ALourie
hw0421 Notes by Howitt on the Wotjobaluk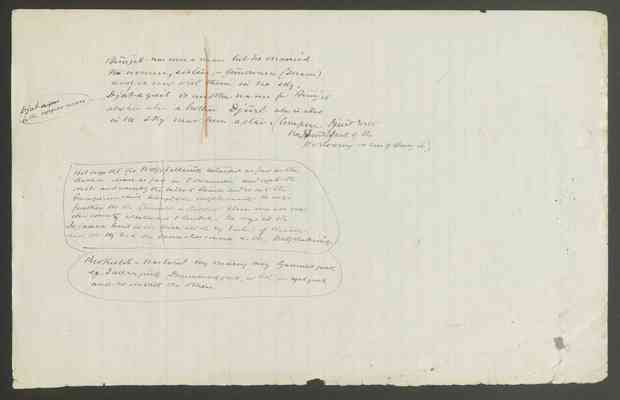 Bunjil was once a man but he married two women, sisters- gūnowara (swan) and is now with them in the sky. Djataguil is another name for Bunjil who has also a brother Djūrt who is also in the sky near him a star. (Compare Djūrt withthe DjūrtDjurt of theWoiwurong - a son of Bunjil)
Bob says that the Wotjoballaiŭk extended as far as theAvoca down as far as Towaninny and up to theHills and round by the hills to Stawell and so on to theGrampians which belonged to the Wotjoballaiŭk. He says further that the Gamutch + Krokitch classes were well overthis country and extended to Condah. He says that theJajaura lived in the Hills all the way Eastward of Stawelland that they had the same class names as the Wotjoballaiŭk.
Krokutch = wart wut may marry any Gamutch gulkeg Jallan gūlk, [?Durunuruk?] gulk, or Batjan ngul gulkand so on with the others
[written in left side margin]Djat [agui - crossed out]is the upper arm
Last edit 3 months ago by
ALourie
tip70-10-33-6 Brazier to Howitt 28/10/1873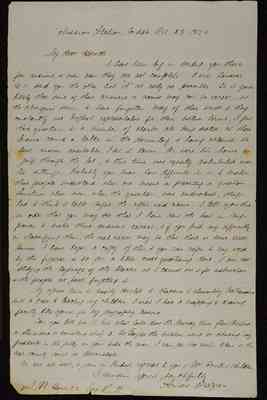 Mission Station, Condah, Oct 28 1873
My dear HowittI have been long in sending you thesefew answers, + even now they are not complete. I will howeverD. V. send you the other list "A" as early as possible. It is quitelikely that some of these answers or names may not be correct, asthe aborigines seem to have forgotten many of their words, + theyconstantly use English representations for their native terms. I putthese questions to a number of blacks all being seated at theirleisure round a table in the dormitory, + having obtained thebest answer available, I set it down. We were two hours ingoing through the lot, + this time was equally distributed overtwo sititngs. Probably you know how difficult it is to makethese people understand what one means in presenting a question.Sometimes also even when the question was understood, theyhad to think + talk before the right word came. I tell you thisin order that you may see that I have done the best in mypower to make these answers correct, + if you find any difficultyin classifying them, the real cause may be that there is some error.However I have kept a copy of this, + you can refer to any wordby the figures, + so get a little cross questioning done. I am notstudying the language of the blacks, as I cannot use it for instruction+ the people are fast forgetting it.
My spare time is mostly devoted to classics + elementary mathematicswith a view to teaching my children. I wish I had a mapping + drawingfaculty like yours, for my geography lessons.
Can you tell me (1) Into what lake does the Murray River flow/ Victoriaor Alexandria or something else) 2. Is Taylor the butcher using or abusing mypaddock in the gully on your side of the river. I can get no rent. When is thenext county court at Bairnsdale
We are all well, + join in kindest regards to you + Mrs Howitt + childrenI remain yours faithfullyAmos Brazier
A. W. Howitt Esq P.M.
Last edit about 2 months ago by
ALourie
tip70-10-33-17 Howitt to Fison 3 April 1875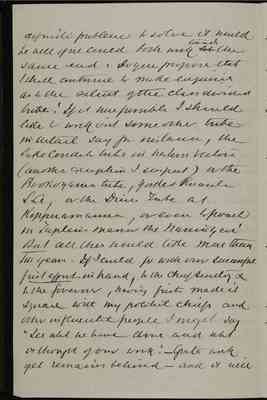 definited problem to solve it wouldbe well if we could both work towards [at - crossed out] thesame end. Do you propose thatI shall continue to make enquiriesas to the extent of the class dividedtribes? If it were possible I shouldlike to work out some other tribein detail say for instance, the Lake Condah tribe in Western Victoria(another exception I suspect) or theBookoyama tribe, Yorkes PeninsulaSA, or the Dierie Tribe atKopperamanna, or even to poachin Taplin's manner the NarranyeriBut all this would take more thanten years. If I could go with our successfulfirst efforts in hand, to the Chief Secretary +to the Governor, having first made itsquare with my political chiefs andother influential people I might say"See what we have done and whatis thought of our work". Grate [sic] workyet remains behind - and it will
Last edit about 2 months ago by
ALourie
tip70-10-34-9 Howitt to Fison 10 April 1880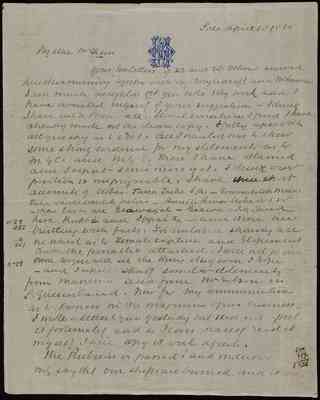 Sale April 10 1880
My dear Mr FisonYour two letters of 22 and 26 [??] arrivedhere this morning together with my [??] and McLennan.I am much delighted that you like my work and Ihave availed myself of your suggestions - I thinkI have used them all. Several corrections I [??] I havealready made on the clean copy. I fully agree withall you say as to No 1. All I wanted was to showsome strong evidence for my statements as [?][??] and my 2. These I have obtainedand I expect some more yet. I think ourposition is impregnable. I have three shortaccounts of tribes [Jurra] Tribe S.A. - Gournnditchmaratribe - Lake Condah [?] - Hunter River tribe NSW- [there] each are Geawagal - Geawa = [no] andhave [Kubba] and [??] - and [there/these] [are/all][bristling/bursting] with facts; For instance showing allwe [??] as to female captives and Elopementand the openalties attached. I will not [p with]more as you will see the thing itself soon I hope- and I expect [??] similar statements from Maneroo and from Mr Gibson in S. Queensland. Now for my communicationsas to [??] in the magnum opus business.I wrote a letter to you yesterday but still not postit fortunately and as I can [scarcely] read itmyself I will copy it out afresh. The Rubicon is passed! and [??]my say that our ships are burned and there
IN LEFT MARGIN UPSIDE DOWN62,,10500/425062.10
IN MARGIN BOTTOM RIGHT500 (underlined)250175 (underlined)£325 (underlined)
Last edit 4 days ago by
ChrisK