Search for "Bellum Bellum"
XM188_ICDMS_lowres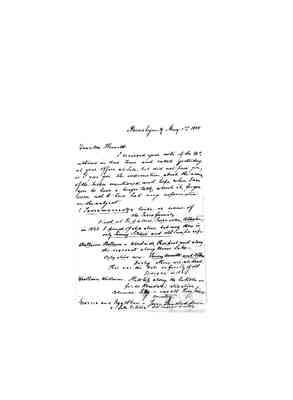 Dear Mr. HowittI received your note of the 26thultimo in due time and called yesterdayat your office at Sale, but didnot find you,so I give you the information about the nameof the tribes mentioned, andhope when I seeyou to have a longer talk about it, for youseem not to have had any informationon the subject.
I Tarrawarracka Tribe, or news ofthe Tarra family.lived at Port Albert, Tarraville, Alberton;in 1862 I found 17 still alive, but now there isonly Jimmy Fetched and old Lamfrie's wife
Bellum Bellum - Woodside, Prospect and alongthe seacoast along Reeves Lake.Only alive now: Tommy Arnott and AlbertDarby others are all dead.This was the tribe or family of oldMorgan in 1862.
Woollum Wullum, Hilltop along the Latrobe asfar as Rosedale; still aliveColeman, Lily - was old King Jimmycountry.
Moona and Ngattbau - from Stratford downto Lake Victoria old Ngary's country.
Last edit 4 months ago by
ALourie
hw0404 Notes on Kurnai 150 pages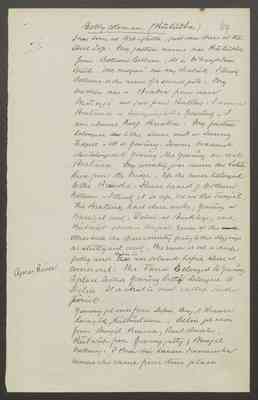 64Bobby Coleman (Kūlŭtba)I was born at Brt-gŭtta, just over there at theHill Top. My father's name was Kūlŭtbafrom Bellum Bellum, that is McNaughtensStraits. "Old Morgan" was my Babŭk. I thinkBellum is the name of a small fish. Mymother was a Brabra from nearMūnji not far from Butlers. I am aBrataua – belonging to the Yonŭng – Iam almost half Briaka. My fatherbelonged [the – crossed out] to the same mob as JemmyFidgett – that is Yonŭng. Tommy Hoddinotalso belonged to Yonŭng. The Yonŭng are realBrataua. My country goes down the LatrobeRiver from the bridge. Up the river belonged to the Briaka. I have heard of NollumNollum – I think it is up near the Tanjil.The Brataua had three mobs, Yonŭng atWarrigal creek, Delin at Buckleys, and Kŭtwŭt which is the first river at the [end – crossed out]other side the open country going to the diggingsat Sticky aid creek. The river is in a deepgully and [has – crossed out] there is an island before when itcomes out. The Tarra belonged to Yonŭng.A place called Yonŭng [?Gatti?] belonged to Delin. It is what is now called Tuckerpoint.Yonung get wives from Delin, Bunjil KrauraRamayŭk, [?Kŭtbrŭitaura?]. Delin got wivesfrom Bunjil Kraura, Baul Baul.Kūbwŭt from Yonung gatty, Bunjil Nellung. I know this because I remember women who came from these places.
[written in left side margin, next to line about Sticky aid creek]Agnes River
Last edit 3 months ago by
ALourie